makeup looks
Catwalk Collab: Our L'Oréal Paris X Karl Lagerfeld Makeup Collection
January 31, 2020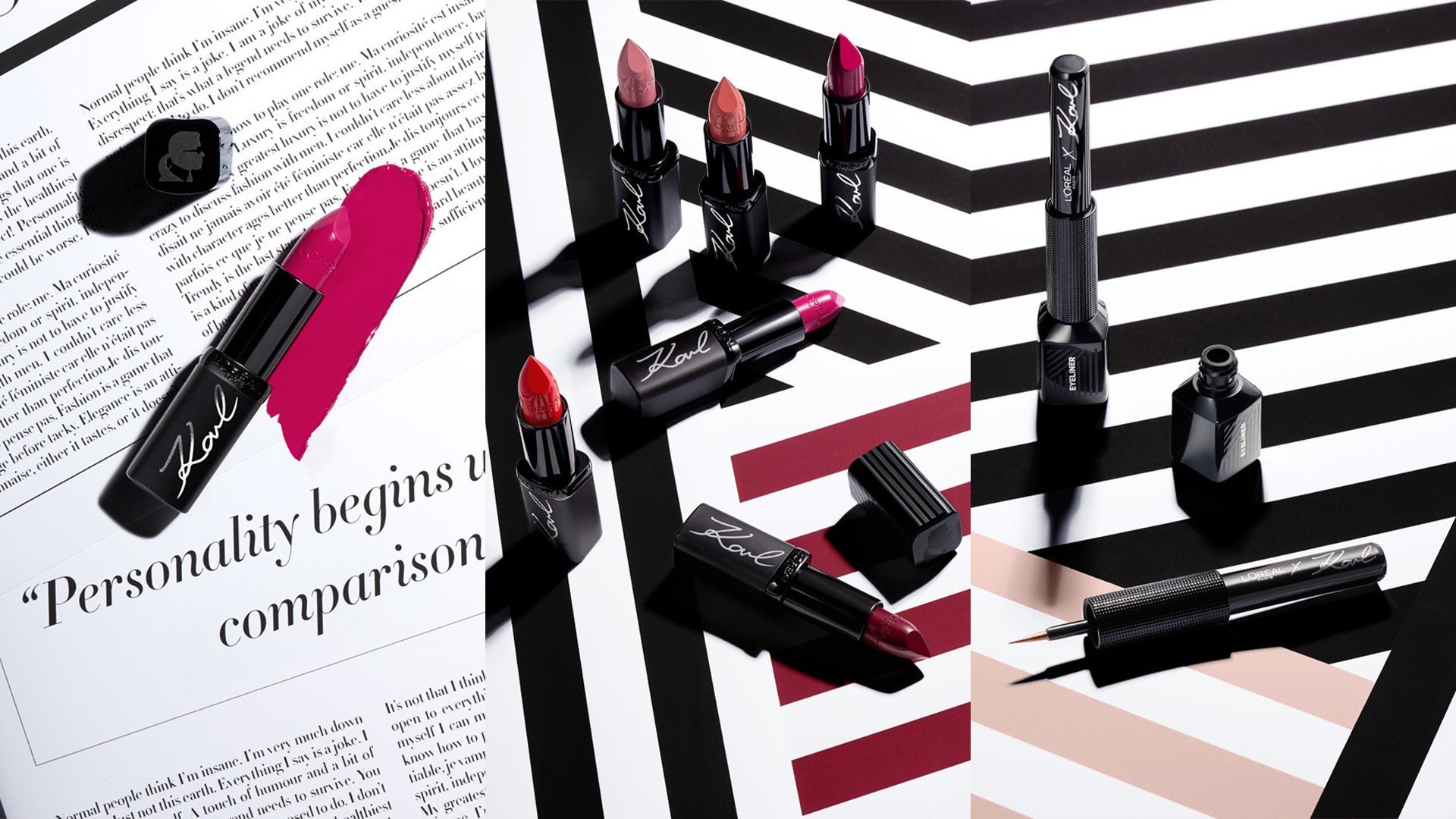 There are few things we love more than announcing a new makeup launch, but one thing that can top it is revealing a makeup collab with one of our favorite fashion designers—like Karl Lagerfeld. And that's exactly what's happening! Bringing together two iconic Parisian brands, we've crafted a makeup collection that features feminine shades with a rock-chic touch for a signature look that's fresh and sophisticated. As Karl once said, "Tomorrow I could be the opposite of what I am today," which is just what this collection dares to explore. Available exclusively at Ulta, allow us to introduce you to the range of L'Oréal Paris X Karl Lagerfeld eye and lip makeup products, which will leave you looking straight off the runway.
THE COMPLETE L'ORÉAL PARIS X KARL LAGERFELD MAKEUP COLLECTION
We're sure you're eager to learn about (and get your hands on) the products from the line, so perhaps you'd like to be introduced. The three products that make up the collection provide everything you need to create a stunning makeup look, whether you prefer to be a bare-faced beauty or a rocker-chic sophisticate. Read on for the details on each product.
L'Oréal Paris x Karl Lagerfeld Colour Riche Lipsticks: We're strong believers that your lips should be dressed in couture color—and that's what this lipstick line is for. Each of the six luxurious, statement-making shades offers something different, from siren red to dramatic plum. The rich and creamy formula is packed with hydrating ingredients like omega 3, vitamin E, and argan oil to dress your pout in comfort—but make it fashion.
L'Oréal Paris x Karl Lagerfeld Volume Mascara: Who doesn't want to add a new mascara to their makeup bag? We'll be the first ones to admit we're always looking for a new tube. The blackest black mascara, this launch is perfect for amping up your lashes and adding edge to your look. The extra-black maximizing mascara is pure Karl—a lesson in overstatement for your lash fringe. The unique brush and volumizing formula work together to thicken and evenly build lashes in one simple swipe with virtually no flakes, smudges, or clumps. Bonus: Even sensitive eyes can rock daringly dramatic lashes with this mascara. Need we say more?
L'Oréal Paris x Karl Lagerfeld Graphic Liquid Eyeliner: The third and final product in the collection may be last on our list, but it's certainly not least. This graphic eyeliner is the perfect way to upgrade your cat eye as it's offered in two rebellious shades that'll transform your gaze. There's black, and then there's Karl Lagerfeld Black—the chicest shade for playing up your eyes. This bold black hue has a shimmery finish that's guaranteed to take your eye makeup look to the next level. Want to try something different? Opt for the metallic, pinkish-silver shade, which is sure to light up every face. These highly-pigmented formulas are totally budge-proof and designed like an ink pen so you can create lines as sharp as Karl's wit!
Next up: Love the idea of combining your love for beauty and fashion? So do we! Check out our article, How to Translate 3 Popular Fashion Trends into Your Beauty Routine, for more ways to do just that.
Discover more tips & tricks
Keep your skin happy
See all articles
Improve your routine
Show your new look more love:
makeup