beauty trends
Fashion Meets Beauty: Our L'Oréal Paris x Balmain Lipstick Collection
September 21, 2017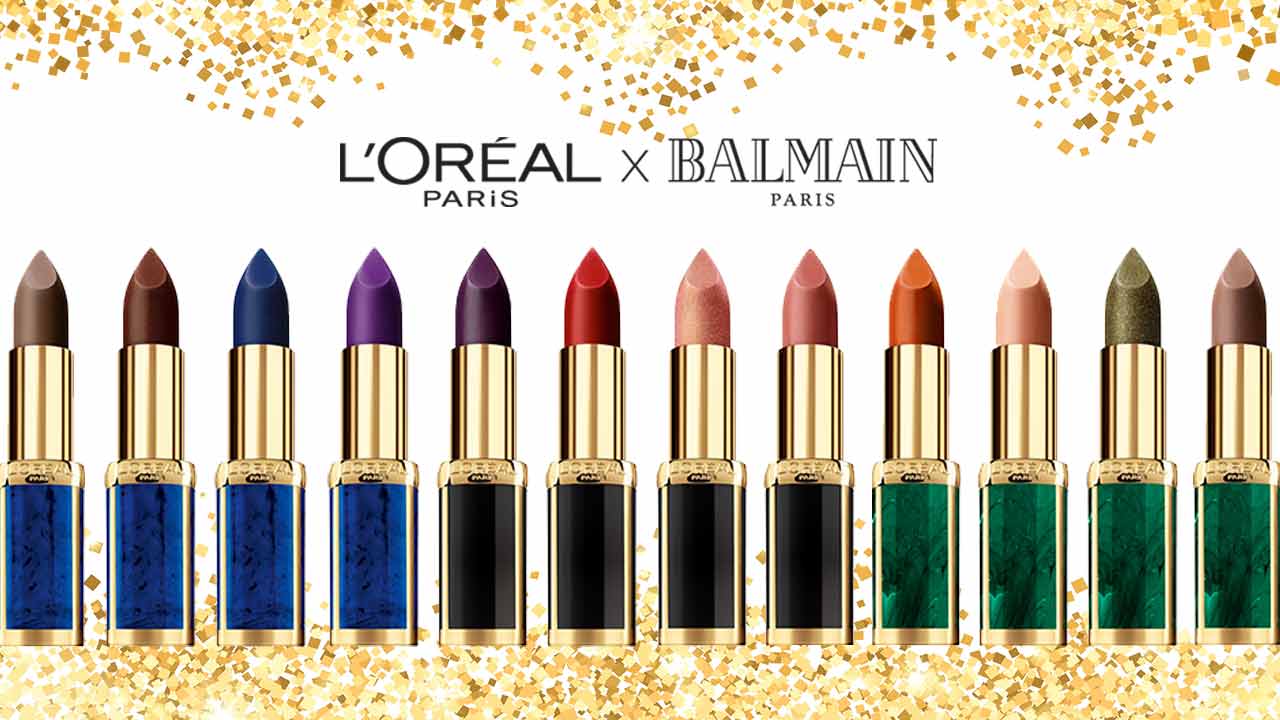 Your favorite fashion house just became much more accessible—and your favorite lipstick all the more stylish. Wait, what does that mean!? A collaboration, of course! L'Oréal Paris has paired up with high fashion brand, Balmain.
Balmain brought its iconic vision and creative direction to L'Oréal Paris lipstick in its first ever beauty collection. Aimed to empower women around the world with the theme "United We Are Invincible," the collection brings a joint vision of inclusive beauty to life.
As for the actual lipstick collection, it features 12 fashion forward shades in the creamy Colour Riche Matte formula, inspired by a diverse range of models and three runway themes that define Balmain's modern tribes. Each tribe distinguishes a different form of femininity with an associated earthy stone (reflected in the oh-so-chic packaging): green marble for the nature-inspired Glamazone, onyx for the glamorous Couture, and malachite for the edgy Rock.
Doesn't that have you just dying to hear more about the tribes and their specific shades? Well, we won't deny you that—everything you want to know is below.
The Glamazon Tribe
The Glamazon collection and each of its four shades are meant to awaken fierceness and earthly sensuality in everyone who wears them. The lipstick colors chosen are taken from tones that come from the earth, recalling the beauty of the Amazon jungle.
Urban Safari: You heard it here first, this is the ultimate nude lip. What more could you need to hear?
Glamazone: If you're looking to branch out a bit, this grey shade is just right for creating an exotic look.
Fever: Imagine a hot lava explosion but less scary and more stylish and this is what you get.
Balmain Instinct: We're pretty sure it isn't possible to do a jungle-inspired collection without a khaki green hue. Swipe on this shade when you're feeling like your most adventurous self.
The Couture Tribe
You can't talk about Balmain without covering couture, making this collection a must. Celebrating Balmain's historic Parisian couture origins, the tribe is a tribute to glamour and fashion.
Confidence: Layer this pearly shade over any other lipstick to illuminate the face—just like a sparkling Balmain gown.
Liberation: Add instant drama to your look with a deep mulberry tone.
Domination: You can't go wrong with red lipstick. After all, it's a classic. This crimson shade is no exception. Just match it to your fiery spirit.
Confession: How about an ultra-flattering peachy nude? If the shade reminds you of something—it's the color of post-passion.
The Rock Tribe
When you want to be made over to look like a rock star, turn to the Rock tribe for your coolest lip color. Taking cues from music, the collection celebrates breaking the rules, rebelling, and always being true to yourself—concepts that translate perfectly into beauty.
Freedom: This electrifying violet will have you catching everyone's eyes with a single coat. Hope you're ready to be a star!
Power: When you need to feel fearless, wear this brown shade. The best part? It looks striking no matter your skin tone.
Legend: Reptilian leather may not be a normal part of your day-to-day often, but now's your chance to try a taupe inspired by it.
Rebellion: What's a rocker without their denim? This deep blue-jean color will surely make you stand out in a crowd.
Our limited-edition lipstick collection is available at barneys.com.
Prepare to rock your new lip hues with a little help from our articles, 5 Mistakes You Could Be Making When Using Matte Lipstick and How to Pair a Matte Lipstick with a Matte Lip Liner.
Discover more tips & tricks
Keep your skin happy
See all articles
Improve your routine
Show your new look more love:
makeup