makeup looks
How to Create a Holographic Ice Queen Makeup Look for Halloween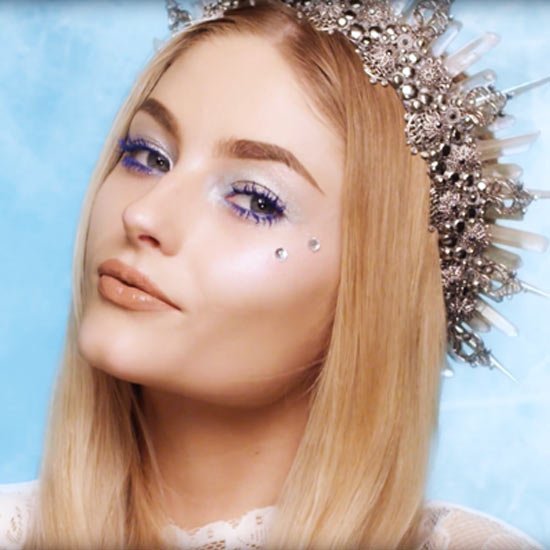 Let's be honest, who wouldn't want to be royalty for a day? If you think being a princess or a queen is totally overrated for Halloween—think again. With an added icy twist, being part of the monarchy is anything but basic. This holographic ice queen costume has everything you could want out of a pretty Halloween makeup look—it even capitalizes on the holographic makeup trend, which we can confirm is here to stay. Tempted to give it a try? Well, lucky for you, we have a step-by-step guide including everything from your makeup primer to your lipstick—that will make your October 31st transformation a total breeze. Keep reading to learn how to create this long-wear makeup look.
How to Create a Holographic Ice Queen Makeup Look
Ready to take your throne? Here's how to create a makeup look worthy of your holographic ice queen costume:
Step #1: Prep Your Face
First, apply the L'Oréal Paris Infallible Pro-Glow Lock Makeup Primer to your face to create a smooth base for the rest of your makeup. This primer will also blur any imperfections on your skin—it doesn't get much better than that!
Then, apply the L'Oréal Paris Infallible Pro-Glow Foundation to give yourself a flawless-looking complexion. Use your fingers to dot the product onto your cheeks, forehead, and chin, then buff the product out using the L'Oréal Paris Infallible Blend Artist Foundation Blender.
Step #2: Apply Eye Shadow
To create a blue holographic eye, use a flat eye shadow brush to apply the L'Oréal Paris Infallible Galaxy Stick in Astro Blue to your eyelid. This will be the base of your eye shadow look. Then, apply the L'Oréal Paris Infallible 24 HR Eye Shadow in Silver Sky to your lids, blending out toward your crease, inner corner, and along your lower lash line.
Step #3: Define Your Crease
To add some dimension to your eye shadow, apply an icy hue like the L'Oréal Paris Infallible 24 HR Eye Shadow in Timeless Blue Spark to your crease and inner corner.
Step #4: Line Your Eyes
Use the L'Oréal Paris Infallible Pro-Last Waterproof, Up to 24HR Pencil Eyeliner in Cobalt Blue to line the outer rim of your eyes and add a bit more blue to your look. For added drama, you can take the optional step of creating a wing with the L'Oréal Paris Infallible The Super Slim Liquid Eyeliner in Black.
Complete your eye makeup with a few coats of the L'Oréal Paris Voluminous Original Mascara in Cobalt Blue. To take this look to the next level and amp up the holographic vibes, you can also apply a coat of blue mascara to your eyebrows.
Step #5: Highlight Your Face
Use your highlighter stick from earlier to add shimmer to your cheekbones and the bridge of your nose, blending out with your fingers.
Editor's note: If you would rather have an all-over silver look as opposed to one with blue tones, swap the stick for silver eye shadow and skip the blue shadow, mascara, and eyeliner. For lining your eyes, reach for the L'Oréal Paris Infallible Pro-Last Waterproof, Up to 24HR Pencil Eyeliner in Grey instead.
Step #6: Paint Your Pout
To finish this pretty Halloween makeup look, apply the L'Oréal Paris Pro-Matte Liquid Lipstick in Angora or Nudist for a long-wearing, high-coverage matte lip.
Step #7: Lock in Your Look
Now that your makeup is complete, apply a setting spray to keep it looking "just applied" all night long! We recommend the L'Oréal Paris Infallible Pro-Spray & Set Makeup Extender Setting Spray. Spray it over your face in an "X" and "T" motion.
Bonus Step: Add Details
If you're totally loving this makeup look but are wondering how to take your ice queen costume to the next level, we have a few ideas!
Option 1. Get glitzy. Royals love their jewels, don't they? Add gems to your cheekbones to emphasize your killer highlight.
Option 2. Spice up your strands. A special occasion is the perfect time to try a new hair color—even if it's only temporary. Use the L'Oréal Paris Colorista 1-Day Spray in Silver to place icy strands throughout your mane. This temporary hair color is perfect for Halloween because it requires no bleaching and will wash out with one shampoo.
Want more Halloween makeup inspiration? Head over to our article, How to Create a Festival Fairy Makeup Look for Halloween.
Discover more tips & tricks
Keep your skin happy
See all articles
Shop Featured Makeup products
Discover More