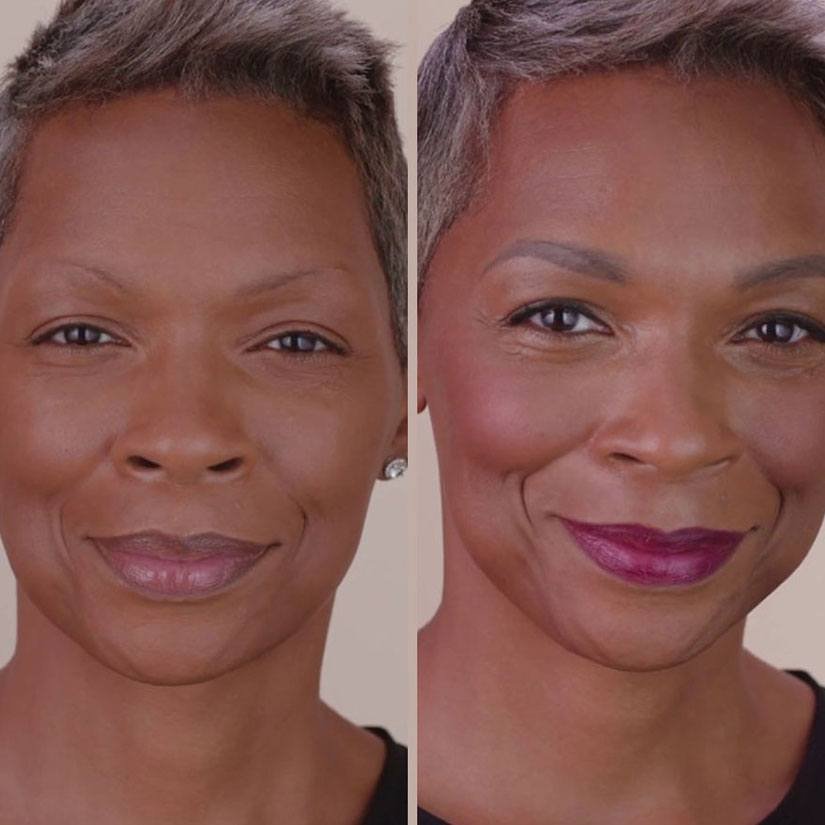 It's no secret that as you get older, your skin starts to change. Moisture is lacking, and skin concerns like fine lines and wrinkles begin to make an appearance. And while you may be in the know about how to accommodate your aging skin via your skin care routine, there's one area of your beauty look where you could be forgetting to make the necessary changes: your makeup!
Just as the same skin care products you've been using since your teens won't cut it as your skin matures, you'll find the makeup products you once swore by might not do their job like they used to. Luckily, you don't have to sacrifice a killer makeup look when you have aging skin. By switching to products meant for mature skin, like those in the L'Oréal Paris Age Perfect Makeup line, your makeup game can keep advancing right alongside your age. Read on to learn how to put the collection to use in a step-by-step, foolproof makeup tutorial for aging skin.
STEP #1: MOISTURIZE YOUR SKIN
First thing's first, you'll want to begin by moisturizing your skin prior to applying any makeup. Smooth the L'Oréal Paris Age Perfect Hydra Nutrition Honey Day Cream over your face for lasting, nourishing hydration.
STEP #3: HIDE DARK CIRCLES
Have circles you'd like to cover? Reach for the L'Oréal Paris Age Perfect Makeup Radiant Concealer with Hydrating Serum for the extra coverage you need. Dot the concealer under your eyes, then blend the product out with your fingertip.
STEP #4: PERFECT YOUR COMPLEXION
Like we mentioned, mature skin tends to need a little extra hydration. While using a proper moisturizer is key, it's also important to look for a foundation that has a hydrating, non-drying formula. You wouldn't want to emphasize dry patches on your face, would you? We thought not!
The good news is, just because you need a hydrating formula doesn't mean you have to pass on powder formulas. Just try the L'Oréal Paris Age Perfect Makeup Creamy Powder Foundation with Minerals. Infused with a ceramide antioxidant complex and minerals, this powder foundation blurs lines, pores, and dark spots. The formula offers buildable coverage that won't cake or settle into lines, leaving skin with a satin, shine-free yet luminous complexion. Use the included pad to bounce the foundation over your skin.
STEP #5: FILL IN YOUR BROWS
Notice your brows aren't as full as they used to be? Not a problem! This is where the L'Oréal Paris Age Perfect Makeup Brow Magnifying Pencil with Vitamin E comes into play. Using the precise pencil tip, fill in uneven areas with light, feathered strokes. Comb and blend using the soft spoolie brush for a subtle and natural brow look.
STEP #6: LINE YOUR EYES
Eyeliner is a must if you want to create the illusion of fuller, thicker lashes—and who doesn't want that? Use the L'Oréal Paris Age Perfect Makeup Satin Glide Eyeliner with Mineral Pigments to line your upper lash line and boost your lash look!
STEP #7: COAT YOUR LASHES
What's a makeup look without a few coats of mascara? The L'Oréal Paris Age Perfect Makeup Lash Magnifying Mascara with Conditioning Serum is designed for mature lashes for a soft, defined fringe that looks longer.
STEP #8: ADD SOME COLOR
Now that you've focused on your eyes, it's time to add some color to your complexion. Use a blush brush to sweep the L'Oréal Paris Age Perfect Makeup Radiant Satin Blush with Camellia Oil over your cheeks. Available in six radiant shades, the creamy, satin blush is specifically formulated for mature skin to instantly give cheeks healthy, luminous color that won't cake or dry.
STEP #7: COLOR YOUR POUT
Last but not least, you'll want to add some color to your lips, no? Start by lining your lips with the L'Oréal Paris Age Perfect Makeup Anti-Feathering Lip Liner - Smooth Application.
After you've prepped your pout, it's time to apply a lipstick for mature skin. The L'Oréal Paris Age Perfect Makeup Luminous Hydrating Lipstick + Nourishing Serum is a hydrating lipstick that contains a nourishing serum and pro vitamin B5. The anti-aging formula will help your lips look smoother and feel suppler over time. With a range of 10 shades, what's not to love? Sweep your favorite one over your pout to complete your look.
Next, let's talk skin care. Here's Your 6-Step Age Perfect Skin Care Routine.
{ "@context": "https://schema.org/", "@type": "WebPage", "speakable": { "@type": "SpeakableSpecification", "cssSelector": ["speakable-content"] }, "url": "https://www.lorealparisusa.com/beauty-magazine/makeup/makeup-looks/age-perfect-makeup-routine" }
Discover more tips & tricks
Keep your skin happy
See all articles
Shop Featured Skin Care products
Discover More
{ "@context": "http://schema.org", "@type": "BreadcrumbList", "itemListElement": [ { "@type":"ListItem", "position": 1, "item": { "@id": "/", "name": "Home" } } , { "@type":"ListItem", "position": 2, "item": { "@id": "https://www.lorealparisusa.com/beauty-magazine", "name": "Beauty Magazine" } } , { "@type":"ListItem", "position": 3, "item": { "@id": "https://www.lorealparisusa.com/beauty-magazine/makeup", "name": "Makeup Tips For Every Look" } } , { "@type":"ListItem", "position": 4, "item": { "@id": "https://www.lorealparisusa.com/beauty-magazine/makeup/makeup-looks", "name": "Makeup Looks" } } , { "@type":"ListItem", "position": 5, "item": { "@id": "https://www.lorealparisusa.com/beauty-magazine/makeup/makeup-looks/age-perfect-makeup-routine", "name": "age-perfect-makeup-routine" } } ] }