face makeup
How This Blurring Primer Performed On My Uneven Skin Texture And Acne Scars
February 10, 2021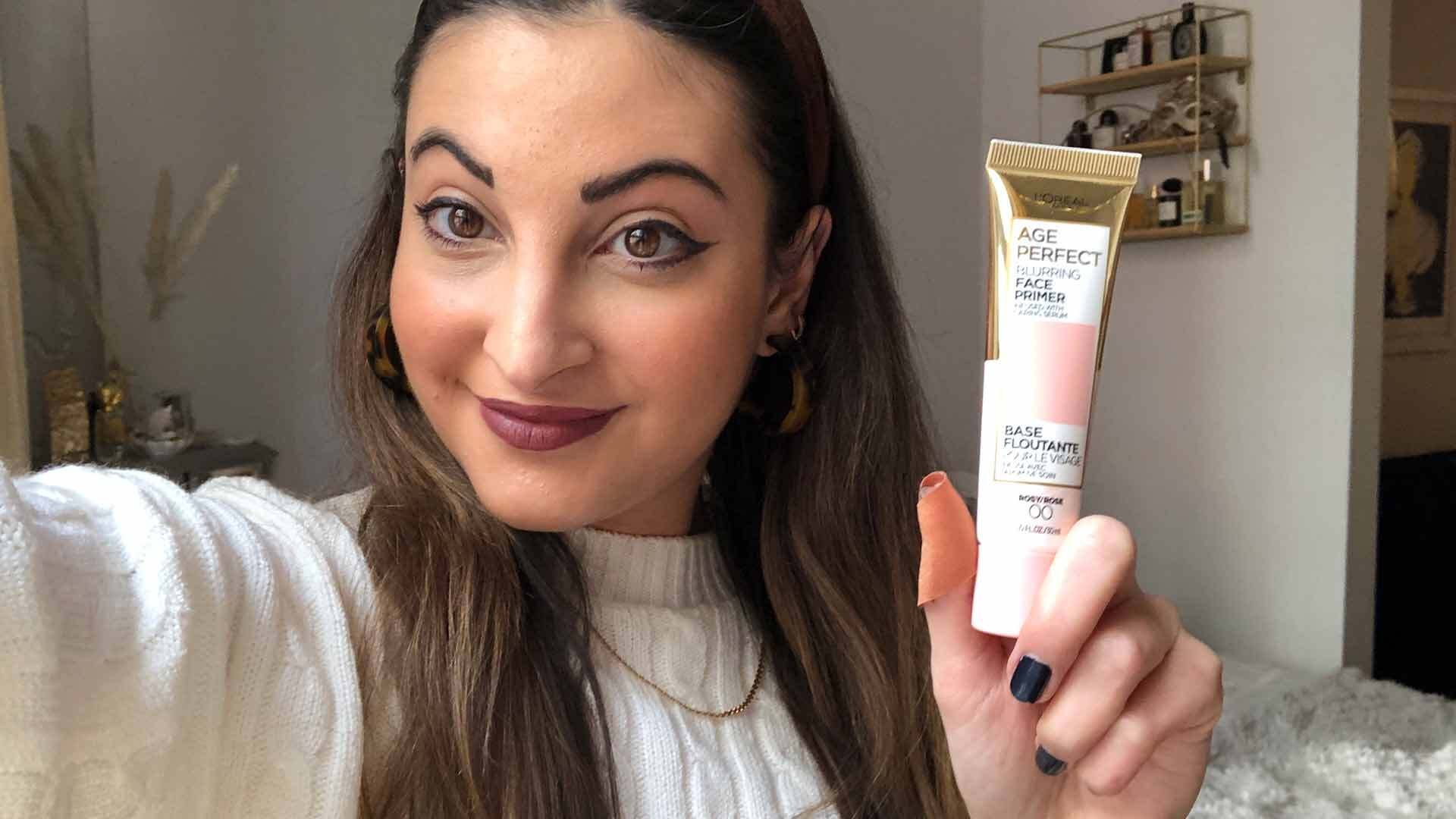 Between acne scars, dry patches and the occasional breakout (more often recently, thanks to protective face masks), my skin has never been flawless. What's more, I've always struggled with uneven face texture. This makes applying foundation or CC cream difficult because it can easily skip, smudge and crease throughout the day. To mitigate this, I've been relying on blurring primers to help minimize the appearance of bumps and flakes — smoothing out these rough areas. That's why I was so excited when the L'Oréal Paris Age Perfect Blurring Face Primer Infused with Serum, Rosy came across my desk. I've tried a ton of blurring formulas out there, so I was excited to see how this one would hold up.
Although this primer is designed for mature, dry skin types, that didn't deter me from wanting to give it a go on my twenty-something face. It's infused with a rosy-hue to help boost the appearance of the skin, giving you a healthy, radiant flush. The blurring finish also minimizes fine lines and wrinkles in addition to textured spots, promising a soft-focus effect. No matter your age, a healthy glow is always a good look.
When I pumped out the blurring formula onto the back of my hand, I immediately noticed the velvety-smooth texture. I warmed up the product with my finger, then tapped it all over my cheeks, down my nose, forehead and chin and began to blend it in with my fingers. It melted right into my skin, giving it a silky, pillowy finish. However, the true test was the next step in my routine—applying my face makeup and concealer over it. After waiting a few moments, I blended a layer of my CC cream on top and watched as it softly diffused into my skin. It took almost no effort to get it to absorb and blend—the blurring primer snatched it right up. Next, I applied my concealer, which also glided on easily, and finished with some setting powder. Instantly, my face looked radiant and plump.
Throughout the day, my skin remained as soft-looking as it had when I first applied my makeup early that morning. I didn't run into any issues with creases or smudges, and my uneven spots looked totally camouflaged. I only reapplied my powder once throughout the day to get rid of a little shine (combination skin woes), but didn't feel the need to reach for a concealer on my textured areas like I usually do when I have to touch up.
I was truly impressed by how much the L'Oréal Paris Age Perfect Blurring Face Primer Infused with Serum Rosy brought out the best in my skin. It did an excellent job at holding my makeup in place, and didn't allow my flakes or bumps to be the focus of my look. You don't have to have aging or mature skin to fall in love with this must-have and I can't wait to incorporate it as a staple into my daily makeup routine.
Photo Credit: Alanna Martine Kilkeary
Next: The Best Primer for Your Skin Type


Discover more tips & tricks
Keep your skin happy
See all articles
Shop Featured Makeup products
Discover More