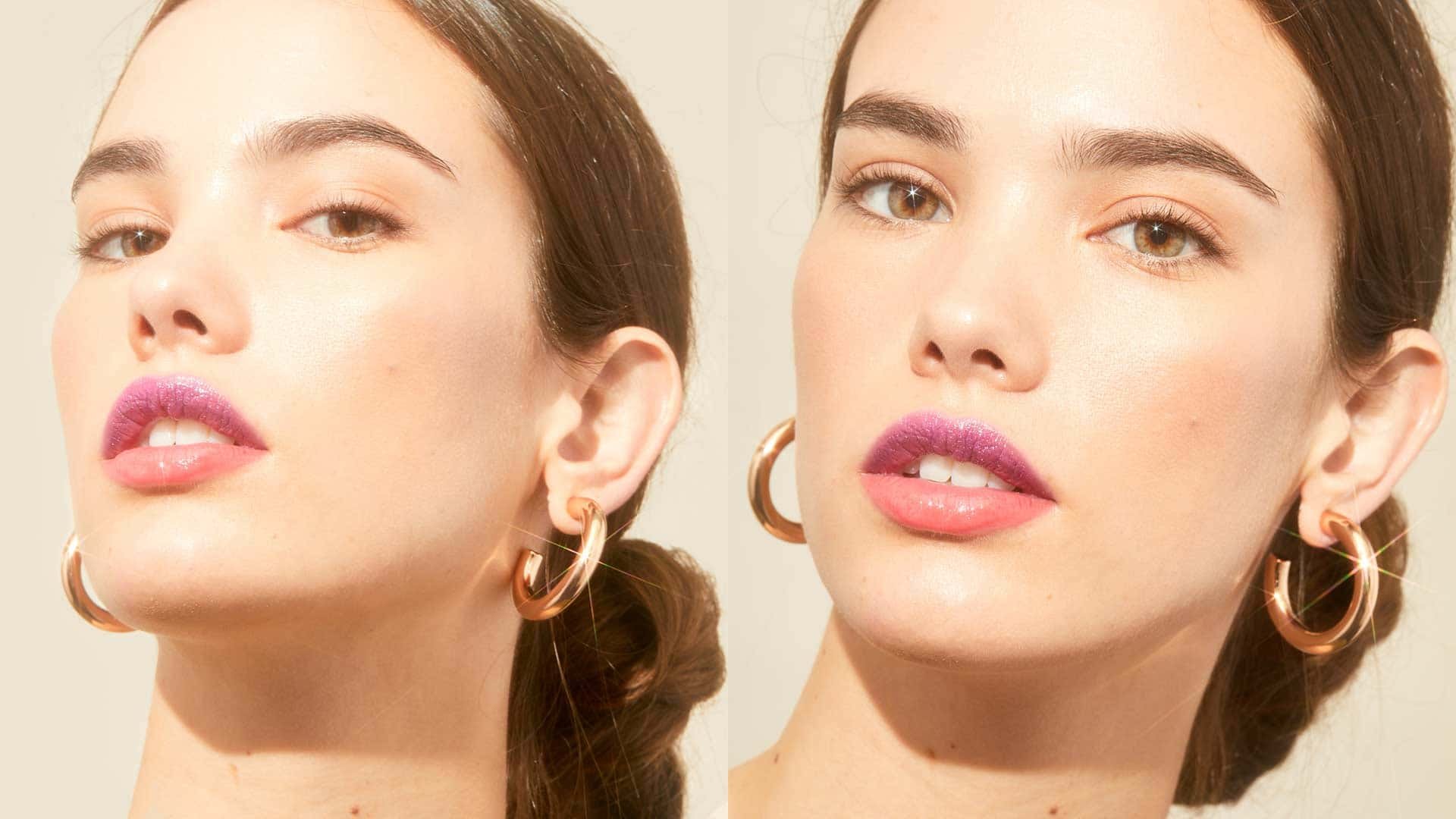 lip makeup
How To Pull Off Two-Tone Lipstick
Whether it's winter, spring, summer or fall (or in the case of the Northeast, any of its 11 seasons), colorful makeup looks are always on trend. And for as long as women have been painting their pouts, lipstick has been a game changer in taking a look from basic to brilliant. It's often the go-to when you want to elevate your style with only one product and a few swipes. If you're a true lipstick lover you might find it hard to narrow it down to which pretty lip shade you want to rock on a day to day basis. So don't—go for two! Two-tone lipstick is a stunning way to show off your creative side and go bold with your lip look. You don't have to be a pro makeup artist to play with different colors either. Check out some of these two-tone lipstick looks that we love for some inspiration to get you in on the trend.
Editor's Tip: Before you reach for your lipstick shades, be sure to prep your lips with a scrub like the L'Oréal Paris Pure-Sugar Nourish & Soften Cocoa Scrub. Formulated with coconut oil, crushed cocoa, and rich cocoa butter it works to gently exfoliate your lips, remove flakes, and offer the pout softer feel. Apply a small amount of the scrub to dry lips. Use wet fingers to massage it in, and then wipe the scrub away with a wet, lukewarm cloth.
Vertical Ombré/Inner Fade
For a two-tone lipstick look that's easy to try (and you've likely seen before), go with an ombré style that includes a darker shade on the outside of the lips and fades lighter in the center. If you use two similar colors the fade is subtle but can be pretty hues such as lavender or lilac.
Horizontal Ombré
Another pretty ombré option lets you get a gradient from the outer corners into the middle of both lips (top to bottom). Try a deep purple like the L'Oréal Paris Colour Riche Ulta Matte Highly Pigmented Nude Lipstick in Berry Extreme and pair it with the shade Power Petal and use a lipstick brush to blend the colors where they meet.
Black Lip Liner + Lipstick
While '90s pop divas made dark lip liner a popular pairing with natural or light-colored lips, it's a style that is currently a staple for two-tone lip looks. Black liner makes for the starkest contrast, and when blended the right way, can look really elegant while giving the lips dimension.
Classic Two Colors
Of course you can opt for a classic two-tone lipstick look with one color on the top lip and one color on the bottom. You can go for bold contrast, pairing shades opposite each other on the color wheel, or keep it in similar color families for a slight change in hue. Need some shade recommendations? Try the L'Oréal Paris Colour Riche Satin Lipstick in Mason Marais with the shade Pink Flamingo. Or pair the L'Oréal Paris Rouge Signature Matte Lip Stain in Empowered with the shade I Empower, to show how empowered people empower people (and look amazing doing it).
Subtle Shimmer
Layering a coat of shimmery lipstick down the center of a matte shade or simple satin in the same hue can give off a two-tone effect. It adds a hint of drama when it catches the light, and draws the eyes to the pout without competing with other makeup.
Natural Progression
For the most natural two-tone lip look you can grab one color of lipstick close to the actual color of your lips and shade in just the top or bottom. If your lips are two different colors the change will be very obvious and if your lips are the same shade throughout, it'll enhance the color on the lip that you coat.
Photo Credit: Chaunte Vaughn
Next: 6 Mistakes You Could Be Making When Wearing Matte Lipstick
Discover more tips & tricks
Keep your skin happy
See all articles
Shop Featured products
Discover More