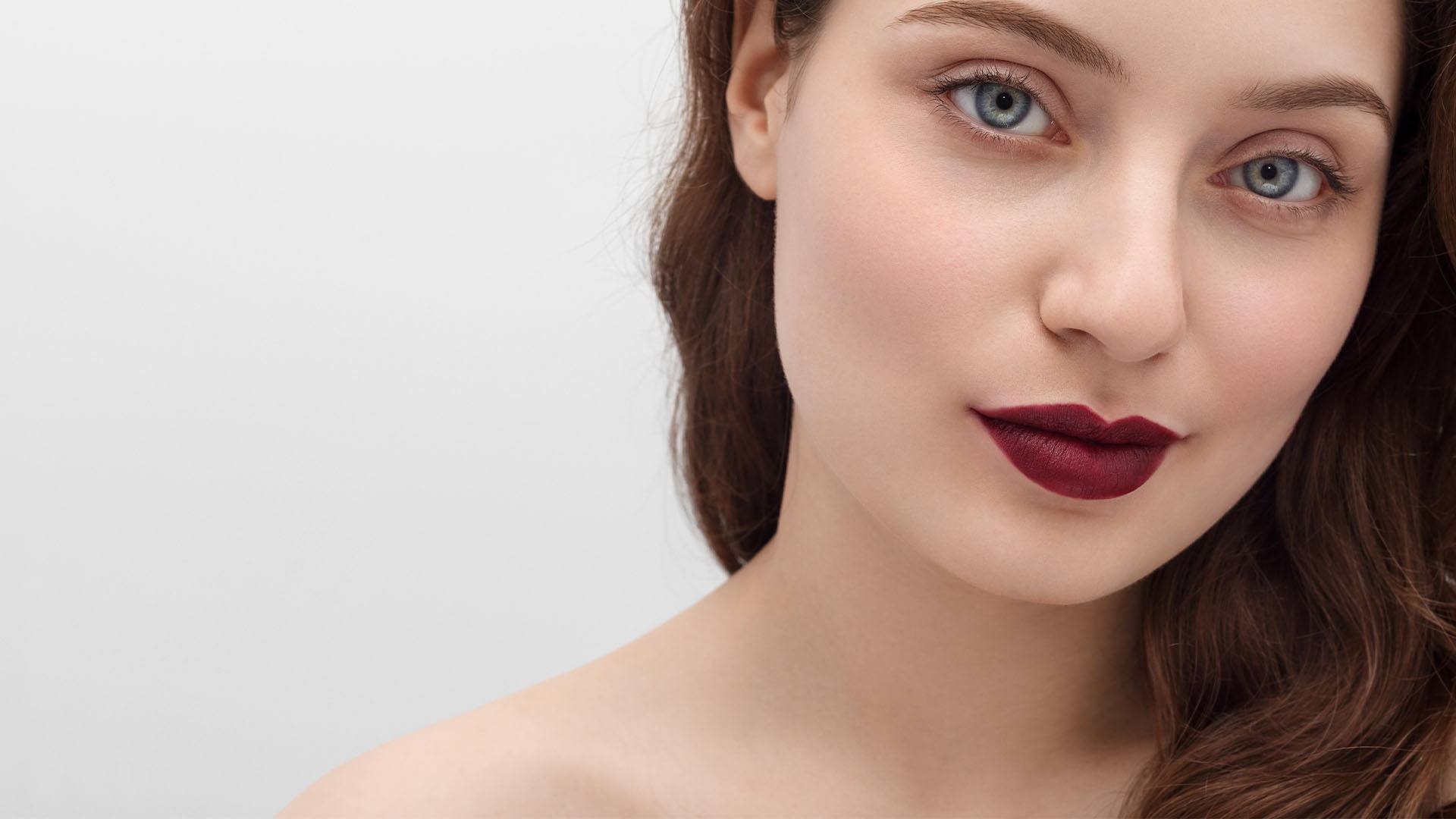 lip makeup
6 Ways To Wear Burgundy Lipstick This Season
Burgundy lipstick is a tried-and-true shade for fall and winter. There's just something about the deep, purple-meets-red lip color that instantly makes us think of holiday decor and maybe even meeting someone under the mistletoe. But wearing the same lip makeup look can get old—which is where we come in. Ahead, we share six ways to wear burgundy lips, from classics like matte burgundy lipstick to a trendsetting two-toned lip.
1. True Burgundy
First and foremost, we couldn't neglect to mention a true, beautiful burgundy lip. To pull off this look, it's important to first exfoliate away any dead skin cell buildup with a lip scrub. Use the L'Oréal Paris Pure-Sugar Nourish & Soften Cocoa Scrub to do just that. Then, smooth on a lip balm to restore moisture and prep your pout for your burgundy lipstick. To bring your burgundy lip to life, apply the L'Oréal Paris Colour Riche Satin Lipstick in Raisin Rapture.
2. Two-Toned
One of the easiest ways to upgrade your burgundy lip look is to combine two shades into one. Yup, you don't have to stick to just burgundy lipstick. Instead, trace your upper lip with a burgundy shade and your lower lip with a complementary color. We recommend giving a royal purple, like the L'Oréal Paris Colour Riche Satin Lipstick in Golden Grape, a try.
3. Metallic Twist
Sure, we know that all that glitters isn't gold, but it's safe to say that a lip look that glitters is right on the money. Upgrading your burgundy lips with a metallic finish is perfect for the holiday season. First, paint your pout with the L'Oréal Paris Matte Lip Crayon, Lasting Wear, Smudge Resistant in Cherryfic. Then, top off your lips with the L'Oréal Paris Rouge Signature Matte Lip Stain in Pure Gold. So chic!
4. Ombré
Not only are ombré lips stunning, but they're also a sneaky way to create the illusion of fuller-looking lips. We call that a win-win. And while this illusion may seem difficult to master, it actually takes just a few more steps than your everyday lip look. Here's what to do.
Step #1. Line your lips. Use a lip liner in a hue that resembles your natural lip color to line the shape of your pout. Feel free to draw just outside your actual lips to help fake larger lips.
Step #2. Color the edges. Reach for a dark burgundy lipstick. Then, use a lip brush to precisely paint the shade onto the outer corners of your lips.
Step #3. Fill in the middle. Next, grab a light burgundy lipstick. Use a clean lip brush to fill in the center of your pout.
Step #4. Blend, blend, blend. To create the transition of shades that ombré looks are known for, move the lip brush in circular motions to blend the two shades together.
5. Matte
Let's go back to the classics for a second—we couldn't leave out matte burgundy lipstick. Sure, this isn't a new take on burgundy lips, but it's one that we feel will never go out of style. For foolproof burgundy lips, swipe on the L'Oréal Paris Infallible Pro-Matte Liquid Lipstick in Stirred.
6. Topped With Gloss
If you're not a fan of matte lip looks, you can head in the opposite direction. We happen to love burgundy lips topped with a high-shine lip gloss—and it seems like the beauty world does, too. As you can probably guess, the look is relatively simple to bring to life. After applying your burgundy lipstick of choice, smooth a clear gloss on top for that glossy finish. If you want to take your burgundy hue a step further, you can use a burgundy lip gloss instead, like our L'Oréal Paris Infallible 8 HR Le Gloss in Glistening Berry.
Next up: Now that you're well-versed in a variety of ways to wear burgundy lips, perhaps you'd like to learn some makeup tricks for taking your pout to the next level. To help you get started, here's How To Use Concealer For Defined Lips.
Discover more tips & tricks
Keep your skin happy
See all articles
Shop Featured Skin Care products
Discover More