face makeup
L'Oréal Paris True Match Lumi Shake & Glow Dew Mist Review
April 05, 2019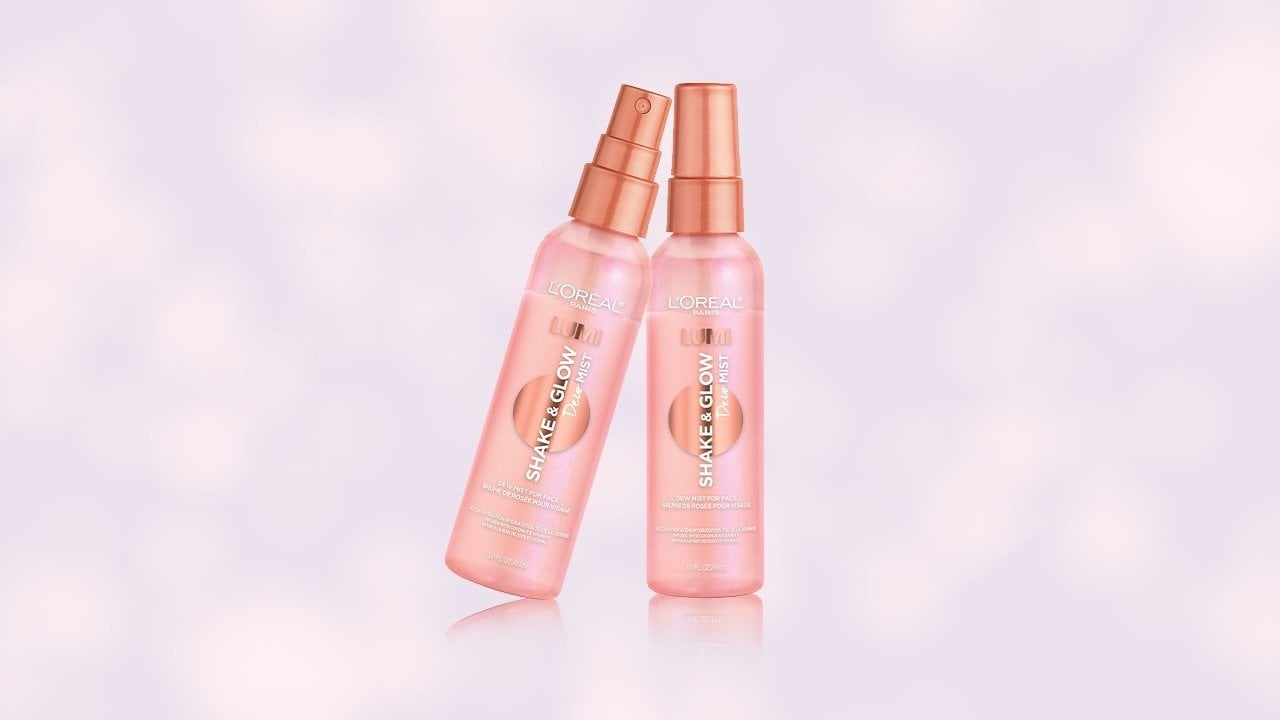 It's no secret that we all want a glowing complexion—that dewy glow that screams healthy, happy skin. But what is a secret is one of the easiest, quickest, and flat out best ways to get your glow on. We're talking about the L'Oréal Paris True Match Lumi Shake & Glow Dew Mist, which will prime and awaken your complexion with a boost of hydration, leaving an instant glow behind. Curious about how to add this glow-boosting face mist into your own skin care and makeup routines? Learn everything you need to know about this instant glow-in-a-bottle from our L'Oréal Shake & Glow Dew Mist Review.
L'Oréal Paris True Match Lumi Shake & Glow Dew Mist Review
Whether you're looking to try out the glass skin trend for yourself, keep your complexion hydrated underneath your makeup, or just appear more radiant thanks to a healthy glow, this facial mist is a must. Formulated with coconut water and vitamin C, this dew mist keeps your skin healthy while also adding an instant dewy glow. What's more, it's also multi-use, which we'll get to in a minute!
HOW TO USE L'OREAL'S SHAKE & GLOW DEW MIST
Now that we've convinced you to try our glow-boosting dew mist, you'll surely want to know all the ways you can use it. Here's how to get the most out of this one stellar product.
USE #1: MAKEUP PRIMER
One of the best ways to use this facial mist is as a makeup primer. Priming your face is a must if you want your makeup look to last, but adding an extra step to your beauty routine can be a bit annoying, especially if you prefer to take a minimalist approach to your beauty routine. But, we have a proposal: Instead of taking time to smooth on a traditional primer, why not quickly spritz your face with this mist? It only takes an extra second, trust us! Plus, if you're already using this mist for one (or all) of its other uses, this way you won't have to purchase a separate primer. To use the mist as a makeup primer, simply shake up the bottle and spray onto clean skin, holding the bottle four to six inches away from your face. Make sure you spritz on an even layer of product all over your complexion, then wait a minute or two until it dries before you apply your face makeup.
USE #2: SETTING SPRAY
Not only can you start your makeup look off right by spraying your face, but this mist is the perfect way to end your makeup routine, too. After you've applied all of your makeup—eye makeup and lip color included—shake the bottle again and quickly mist your face to set your makeup in place all day long. This final misting will also ensure your makeup has an all-over glow. So pretty!
USE #3: GIVE YOUR MAKEUP A DEWY FINISH
Perhaps you've caught wind of the glass or honey skin trends, and you want to try them out for yourself. Good news—you don't have to purchase a bunch of new face makeup products! Instead, this multi-use face mist can help transform your regular foundation or concealer into one with a dewy finish. To illuminate your go-to makeup, spray some of this face mist onto your makeup blender or brush before blending out your foundation or concealer. It will add an instant glowing finish to your favorite face makeup, it's as easy as that!
USE #4: COOLING FACIAL MIST
Thanks to a formula containing skin-soothing ingredients, this face mist can also be used on its own to keep skin hydrated and healthy. For a cool treat, store the mist in your fridge—the cool temperature will feel refreshing and indulgent. To use this face mist on its own, spray onto your entire complexion—morning or night—after your regular facial cleansing and moisturizing routine. For those with dry skin, adding a hydrating facial mist to your routine can help keep dryness at bay.
Looking for more ways to fake a gorgeous glow? Consider self-tanner for adding a sun-kissed touch to your complexion. All you need to do is find the right self-tanner! Pick the perfect product with a little help from our article, The Best Self-Tanner for Every Situation.
Discover more tips & tricks
Keep your skin happy
See all articles
Shop Featured Makeup products
Discover More