face makeup
Our Best Foundation with 40+ Shades
July 10, 2018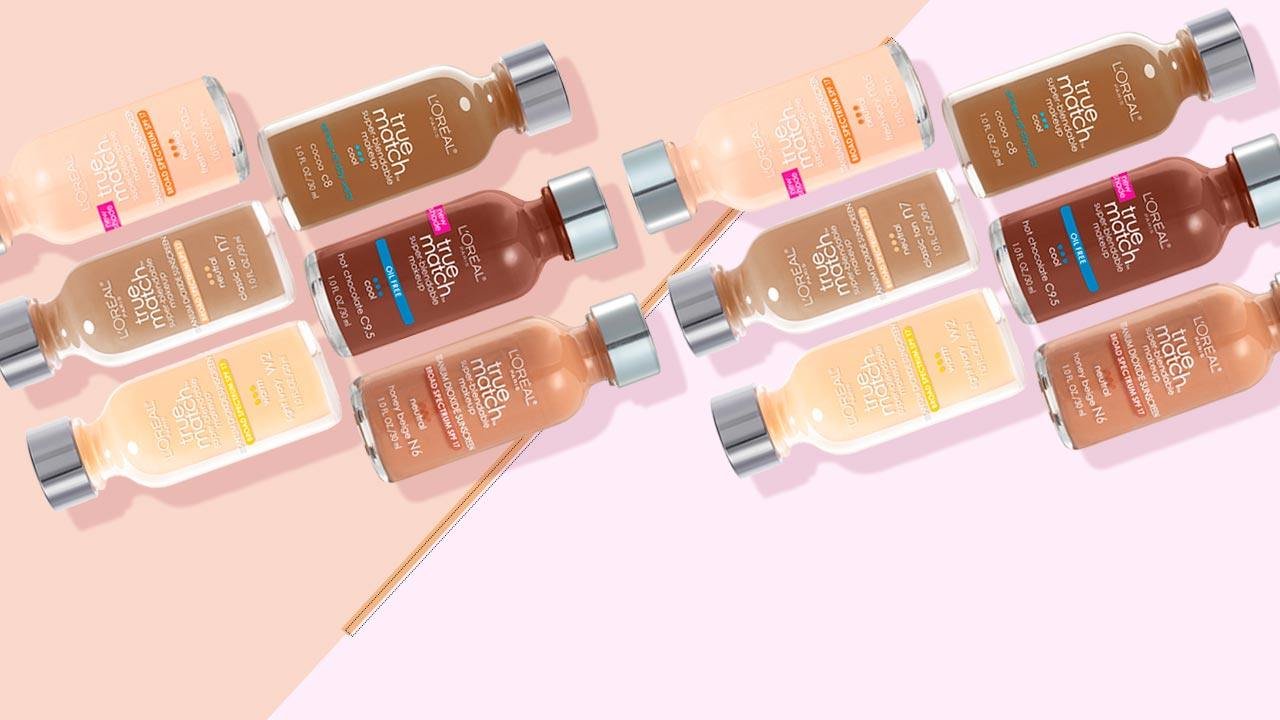 Makeup shopping should always be fun, but it wasn't very long ago that finding a foundation anywhere close to your skin tone was a real challenge, seeing as there were only a few shades to choose from. In some cases, for those with very dark or very pale skin tones, there simply wasn't a perfect match available—no matter how hard they searched. And as you can probably imagine, that put a serious damper on the foundation shopping experience. Thankfully, while we can't say this problem has been eradicated altogether, the beauty industry is moving in the right direction and expanding face makeup shade ranges to accommodate a wider range of skin tones. A prime example, the L'Oréal Paris True Match™ line, now features a foundation with more than 40 shades. So, you don't have to search high and low—or even leave the drugstore—to get your hands on a foundation in your correct shade. Read on to get the scoop on our best foundation with 40+ shades, including how to identify which shade is right for you.
Our Best Foundation with 40+ Shades
Ready to end your face makeup search struggle and have finding your perfect foundation match be NBD? Let us introduce you to the L'Oréal Paris True Match™ Super Blendable Makeup. This foundation is available in more than 40—45, to be exact—shades, nearly guaranteeing you'll be able to find one that works with your skin tone. And not only that, it has a super blendable, buildable, oil-free formula, that you're sure to love.
How to Find Your Foundation Match
Don't worry, you won't have to swatch all 45 foundation shades to determine which is right for your skin tone. Follow these simple steps to find your match:
1. Assess your skin tone
Your skin tone can range from fair to deep, and it's essential in picking the right foundation. Thankfully, all you have to do is look at your skin to know whether you have a fair, light, medium, or deep skin tone.
If you have a fair skin tone…you've probably been described as having porcelain skin a time or two in your life.
If you have a light skin tone…you're still pale—just not quite as much as your fair friends.
If you have a medium skin tone…you're caught in the middle! Your skin tone isn't super-dark or super-light but somewhere in between.
If you have a deep skin tone…your complexion is dark.
2. Determine your undertone
When you're sure of your skin tone, move on to appraising your undertone. Start by looking in the mirror and seeing if you can spot your undertone.
If you have warm undertones…you'll notice hints of yellow, peach, or golden hues.
If you have cool undertones…your skin leans on the pink, red, and bluish side.
If you have neutral undertones…your skin features an even mixture of warm and cool tones.
Still not sure? Flip your wrist over and start take a peek at your veins. If your veins appear blue or purple, you have a cool undertone, while green veins indicate warm-toned skin. If you're not sure, you very well might be neutral.
3. Pick your product
Once you know your undertone, L'Oréal Paris True Match™ makes it easy to find the right foundation for your skin tone. Each foundation is labeled with a letter—either W, C, or N—for warm, cool, or neutral. Look for the foundation shades featuring the letter that coordinates with your undertone, then find the specific shade that most closely matches your skin tone.
How to Create a Complete True Match™ Routine
No one could possibly blame you for wanting all of your makeup to be well-suited to your skin tone—not just your foundation. Complete your skin tone-specific makeup routine with the following products:
For concealer…try the L'Oréal Paris True Match™ Super-Blendable Multi-Use Concealer.
For face powder…try the L'Oréal Paris True Match™ Powder.
For blush…try the L'Oréal Paris True Match™ Blush.
Don't forget, makeup primer can make a major difference in how your (perfectly matched) foundation looks and wears. Next, learn How to Find the Best Primer for Your Skin Type.
Discover more tips & tricks
Keep your skin happy
See all articles
Shop Featured Makeup products
Discover More