eye makeup
How to Do Double-Flicked Eyeliner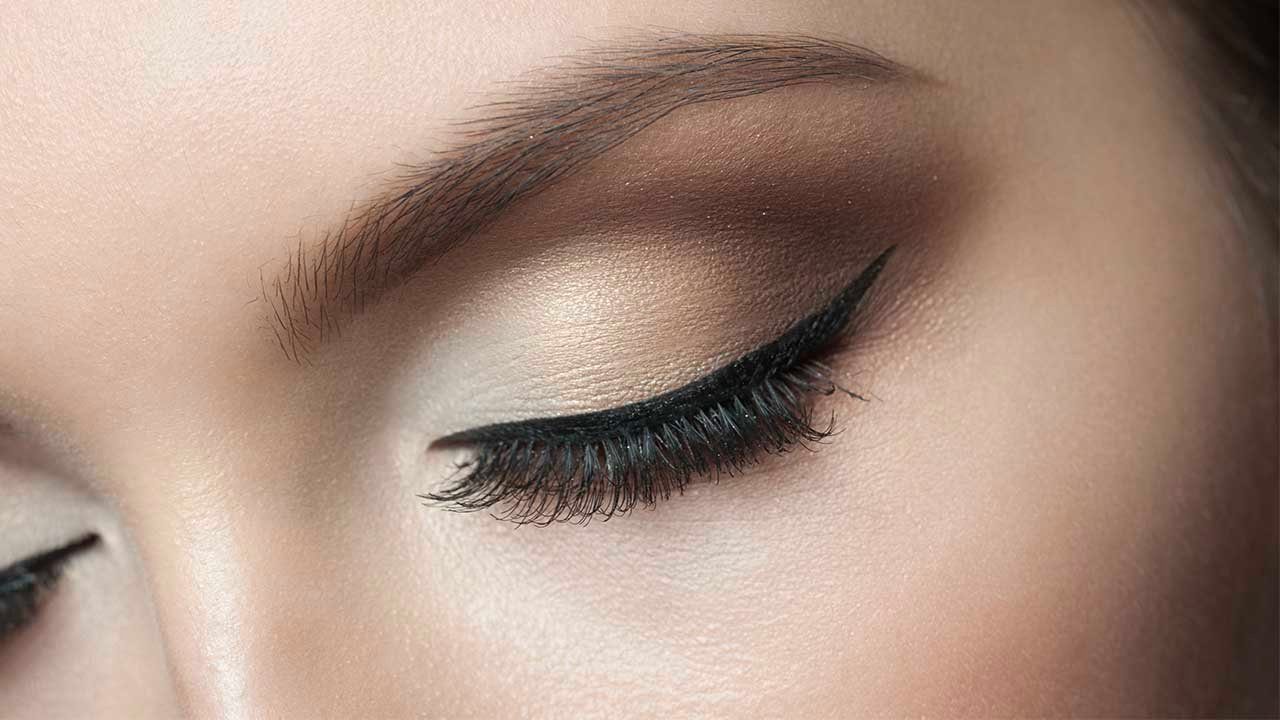 Maybe you wear eyeliner on the daily, maybe you don't. Either way, it never hurts to have a new way to wear the classic eye makeup product. Instead of a kitten tip or full cat eye, what if we told you that you can combine the two for an eye-catching double-flick that adds a certain je ne sais quoi to your makeup look? You'd be all about it, right? Yup, we thought so. And that's exactly why we're delivering you with not only how to achieve the head-turning statement eye look, but the face makeup to pair with it, too.
How to Do Double-Flicked Eyeliner
Scooch over single eyeliner looks, there's a new beauty trend in town. Here's how to do double-flicked eyeliner.
Step 1: Line Your Upper Lash Lines
We don't know about you, but whenever we're trying to create an ultra-precise upper lash line, we reach for liquid eyeliner. So, try the L'Oréal Paris Voluminous Lash Paradise Liquid Eyeliner in Black or Rose Gold. Whichever shade you choose, tract your upper lash line starting at your inner corner and work your way out to your outer edge.
Step 2: Line Your Lower Lash Lines
Next, use the same color you used in the first step—or another one if you're craving a color-blocked beauty look—and again, trace from the inner corner to the outer edge. If you're not the most steady-handed eyeliner applicator, you may want to switch out your liquid eyeliner for a gel eyeliner or creamy eyeliner pencil, like the L'Oréal Paris Infallible Pro-Last Waterproof Eyeliner Pencil in Black. Whatever you do, just be sure not to connect your upper and lower outer lash lines. Instead, be sure to leave a tiny space between them, as this space will be maintained between your double-flicks.
Step 3: Combine Your Inner Corners
This step is optional for the sole purpose that some people love the halo lash line look and others don't. If you're about it, simply join your upper and lower lash line at your inner corners by creating a soft swoop of color.
Step 4: Create Your Flicks
Now, onto the fun part—the flicks! Since you didn't join your upper and lower lash lines at your outer corners, use your eyeliner to draw ever-so-slightly upturned kitten tips, maintaining the space between them. Voila!
Step 5: Clean Up the Edges
If at any point you veered a little outside the lines, no worries! That's what micellar water is for—plus, practice makes perfect, right? To tough up your edges, dip a small angled brush in some of the L'Oréal Paris Micellar Water Complete Cleanser Waterproof – All Skin Types and gently dab the brush along your mistakes to make them disappear.
Now, that wasn't so difficult was it? If you want to add an extra allure to your eye makeup look, consider pairing your double-flicks with a seriously shiny metallic eye shadow. We're currently obsessing over the L'Oréal Paris Infallible Crushed Foils Metallic Eyeshadow. Since ultra-shimmer eye shadows can cause fallout, your best bet is to start your eye makeup look off with a touch of the L'Oréal Paris Infallible Pro-Glow Lock Makeup Primer. Not only can this primer help your eye makeup look wear evenly throughout the day, it can also help it apply smoothly. After dusting on an even coat of eye shadow, perform the step-by-step tutorial you learned above and finish your statement double-flicked eyeliner look with a dramatized lash. To do so, start with a swipe of the L'Oréal Paris Voluminous Lash Paradise Mascara Primer/Base and follow it up with a coat of the L'Oréal Paris Voluminous Lash Paradise Mascara in Mystic Black.
If you loved learning how to switch up your eye makeup look, you'll be happy to learn that we have tons of makeup tutorials to help you embrace new beauty trends daily. Whether you're looking to achieve a color-blocked eyeliner look, a full face of coral makeup, statement-making colorful eyebrows, or a bold statement eye with bare skin—we have an article for it. To start you on your next adventure in beauty, check out our article, How to Incorporate Ultra-Dark Lipstick Colors Into Your Summer Beauty Routine.
Discover more tips & tricks
Keep your skin happy
See all articles
Shop Featured Skin Care products
Discover More