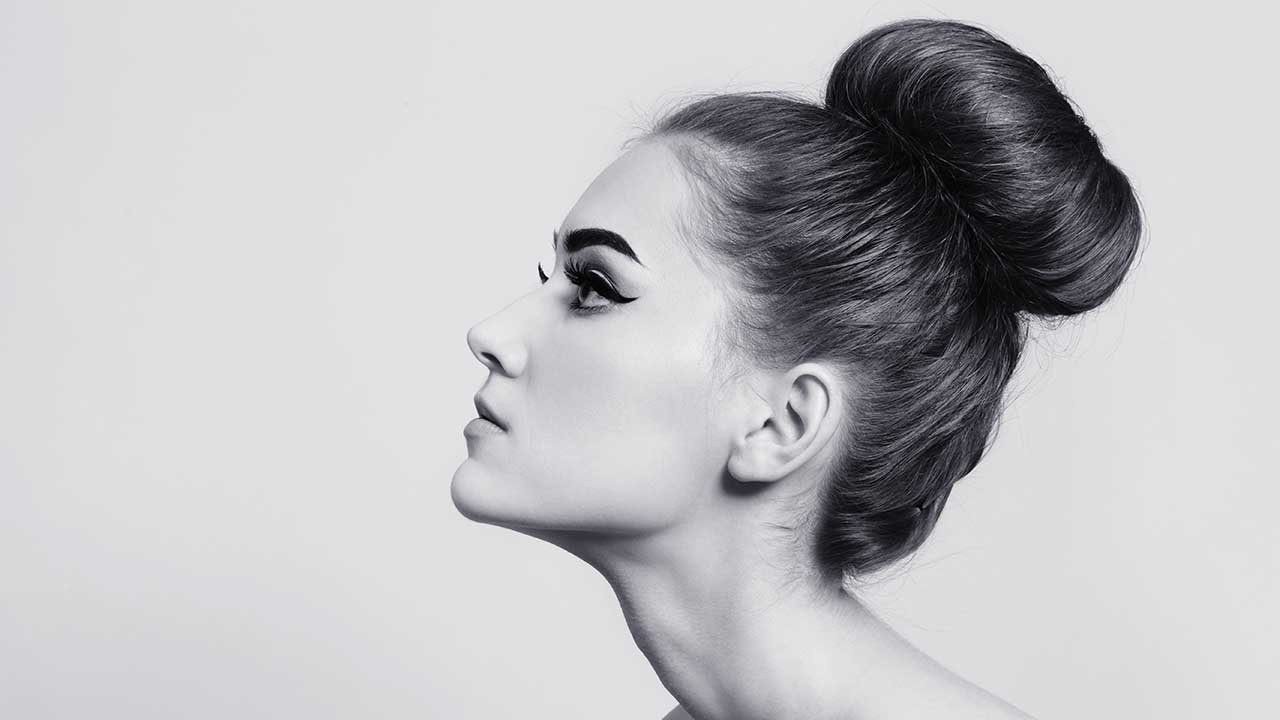 updo and bun hairstyles
3 Sophisticated Hairstyles to Try
As much as we all love a perfectly imperfect messy bun, there's no denying that there are times that call for a bit more sophistication. Whether you're headed to a job interview, a wedding, a major presentation, or a client event, we have the updos to put all eyes on you in the best possible way. Ahead, you'll find three hairstyles—along with the steps to create them and the hairstyle products to help make them last—to choose from to instantly elevate your beauty look.
Hairstyle #1: Gibson Tuck
With a series of purposeful flyaways and twists, this hairstyle is sure to nail the sophisticated beauty look you're aiming for.
What you'll need:
Rat tail comb
Clear elastic
Bobby pins
L'Oréal Paris Elnett Precious Oil Satin Hairspray
Get the look by following these simple steps:
Step 1: Part Your Hair Down the Middle
This hairstyle looks especially stunning when created with a center part. Use a rat tail comb to create a super-precise line down the middle of your head.
Step 2: Twist Two Small Sections of Your Hair Back into a Low Half-Up Ponytail
On each side of your head, grab a section of hair and twist it in an upwards direction, continuously grabbing more hair from underneath until you reach the back of your head. Combine both twisted sections and secure them into a low ponytail with a clear elastic.
Step 3: Tease Your Hair
Tease your remaining hair from ends to roots to help create a more voluminous end look.
Step 4: Tuck Your Hair
Gently gather your loose hair and tuck it up and over your half-up twists, tucking the ends into what we'll refer to as a little hair hammock. Gently piece at your hair hammock so that your full tuck looks voluminous without gaps. Once it looks just right, use bobby pins to pin your look in place.
Step 5: Add the Finishing Touch
To add a whimsical touch to your sophisticated hairstyle, gently pull a few strands out from around your hairline along your temples. Finish with an allover spritz of hair spray to add hold and shine.
Hairstyle #2: Ballerina Bun
If you just can't bear the thought of ditching your favorite bun altogether, consider sprucing things up with a ballerina bun. The prim and proper smooth bun is sure to send sophisticated style vibes to everyone in your presence.
What you'll need:
L'Oréal Paris Advanced Hairstyle BLOW DRY IT Quick Dry Primer Spray
Boar bristle brush
Clear elastics
Hair donut (if you have fine/thin hair)
Bobby pins
L'Oréal Paris Advanced Hairstyle LOCK IT Weather Control Hairspray
Get the look by following these simple steps:
Step 1: Blow-Dry Your Hair
A super-smooth ballerina bun is made possible with blow-dried hair, thanks to the professional-looking hair texture. After towel-drying your hair, spray hair with a heat protectant and use a round boar bristle brush to give yourself a DIY blowout.
Step 2: Brush Your Hair into a High Ponytail
After blow-drying your hair, brush it into a high ponytail using your boar bristle brush. Boar bristles are known to expertly smooth hair for a soft, shiny appeal every time. Secure your ponytail with a clear elastic once all lumps and bumps are smoothed out.
Step 3: Perfect Your Ballerina Bun
If you have thick hair, twist your hair to the ends before wrapping it around itself, pinning the ends in place. If you have thin or fine hair, you can still rock a big, beautiful ballerina bun with the help of a foam hair donut. Simply slip one over your ponytail and spread your hair around the donut, making sure that it's fully covered (you don't want people to see your secret). Once the donut is totally concealed, place an elastic over the donut to hold your hair in place. Next, begin wrapping your ends around the base of the bun, pinning them in place as you go.
Step 4: Finish with Hair Spray
Since this look is all about looking super-smooth, take the time to spray your hairstyle with a weather-control hair spray to help prevent humidity from messing with your look.
Hairstyle #3: French Twist
Simple, sophisticated, and effortlessly stylish: What's not to love?
What you'll need:
Brush
Grips
Bobby pins
L'Oréal Paris Advanced Hairstyle LOCK IT Bold Control Hairspray
Get the look by following these simple steps:
Step 1: Brush All Your Hair to One Side
Depending on which side you want your finished look to twist to, that's the side you should brush all your hair to. Want it to twist to the left? Sweep all your hair to the left. Want it to twist to the right? Sweep it all to the right.
Step 2: Use Grips to Hold Your Hair in Place
Use grips (they're larger than bobby pins and work best in this style) to keep your hair brushed to the side. Spray it with some hair spray to boost all-day hold.
Step 3: Smooth Your Strands
Brush your loose hair so that your twist will be equally as smooth. Be sure to not pull too hard so as to not disturb the pinned hair.
Step 4: Create Your Twist
Gently twist all the hair that's swept to one side and pin it in place. Be sure to tuck the ends in for a more sophisticated look.
Step 5: Finish with Hair Spray
Another spritz of hair spray to ensure your twist stays put and you're ready to slay the day!
Now, on the opposite end of the spectrum, if you love a more laidback look, you'll be glad to feast your eyes on our article, 12 Hairstyles That Are Perfect for Lazy Girls.
Discover more tips & tricks
Keep your skin happy
See all articles
Shop Featured Hair Style products
Discover More