updo and bun hairstyles
How to Create a Criss-Cross Ponytail Hairstyle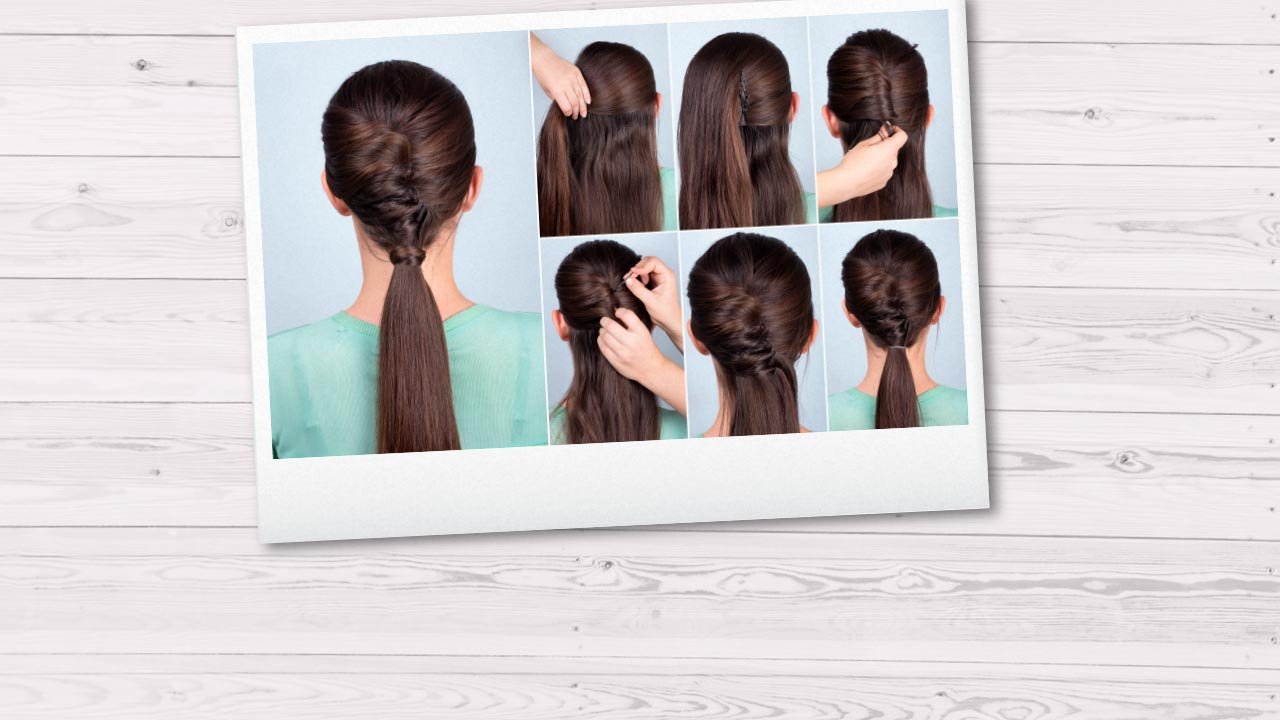 Let's be real: Who doesn't love a good ponytail? While we all tie our hair up every once in a while, sometimes a traditional ponytail can get a little bit boring. The good news is, there are plenty of variations of the classic hairstyle that will make quite the impression. One we love, in particular, is a criss-cross hairstyle! That's right, the criss-cross ponytail offers a game-changing twist that will take your overall beauty look to the next level. The best part? It's super-simple to create! Below, we walk you through the step-by-step process so that you can master this criss-cross pony hairstyle in a flash. Ready to rock a new updo? Keep reading!
HOW TO PERFECT A CRISS-CROSS PONYTAIL
Follow our criss-cross hairstyle tutorial below to learn how to get the look.
Step 1: Add texture to your hair
Whether you're working with freshly washed or second-day hair, it never hurts to give your locks a little extra grip to help your style stay in place. To get that added texture boost, spray dry strands with the L'Oréal Paris Advanced Hairstyle BOOST IT High Lift Creation Spray. Spray all over and use a rattail comb to tease hair for a texturized finish.
Step 2: Divide your hair
Using your fingers, separate your hair into three sections, with the majority of your hair tied back in a low ponytail with two smaller (but still substantial) sections of hair framing your face on each side.
Step 3: Divide again—and cross the hair behind
This time, start on one side of your head and divide your free-hanging, face-framing section of hair into a top and bottom layer. Take the top section of hair and pull it back behind your head, pinning it in place on the opposite side of your head above your ponytail.
Step 4: Repeat step three on the other side
Only this time, be sure to grab the little tail end of the first cross-over and pin it with the newly added section of hair.
Step 5: Repeat steps 3 and 4
To complete this criss-cross hairstyle, cross the remaining sections of hair over to the opposite side of your head and pin them in place, making sure to incorporate all the little hanging pieces from the previous section. When you finish pinning these last two pieces in place, you'll notice that you have a strand of hair on either side of your ponytail. Wrap those strands around the underside of your low pony and continue encircling the base of your ponytail until you can pin the short ends underneath.
We told you it was simple! Want to perk up your criss-cross ponytail? Stick the tail end of a rattail comb into the hair at the crown of your head and gently tug upward to create a more voluminous, almost retro hairstyle. You can also pull a few face-framing wisps out around your face to achieve a swoon-worthy ethereal finish. Once everything looks just right, amp up the shine with a quick spritz of the L'Oréal Paris Elnett Precious Oil Satin Hairspray. Voila!
THE BEST MAKEUP LOOK TO ROCK WITH YOUR CRISS-CROSS HAIRSTYLE
Your criss-cross ponytail pairs perfectly with a model off-duty makeup look. To get the look, prime your skin with the L'Oréal Paris Infallible Pro Glow Lock Primer, and follow it up with a lightweight luminous highlighter, like the L'Oréal Paris True Match™ Lumi Glotion Natural Glow Enhancer, all over your face. From there, use a makeup blender to blend a few drops of the L'Oréal Paris True Match™ Lumi Glow Amour Glow Boosting Drops onto your cheekbones, brow bones, and down the bridge of your nose for a dewy glow from every angle.
Top your makeup off with a swipe of the L'Oréal Paris Colour Riche Shine Lipstick in Shining Peach, and you're ready to slay the day like your favorite runway models.
Next up: For more ways to upgrade your ponytail, here are 10 Easy Ponytail Hairstyles.
Discover more tips & tricks
Keep your skin happy
See all articles
Shop Featured Hair Style products
Discover More