updo and bun hairstyles
The 5 Best Hairstyles to Wear When You're on Vacation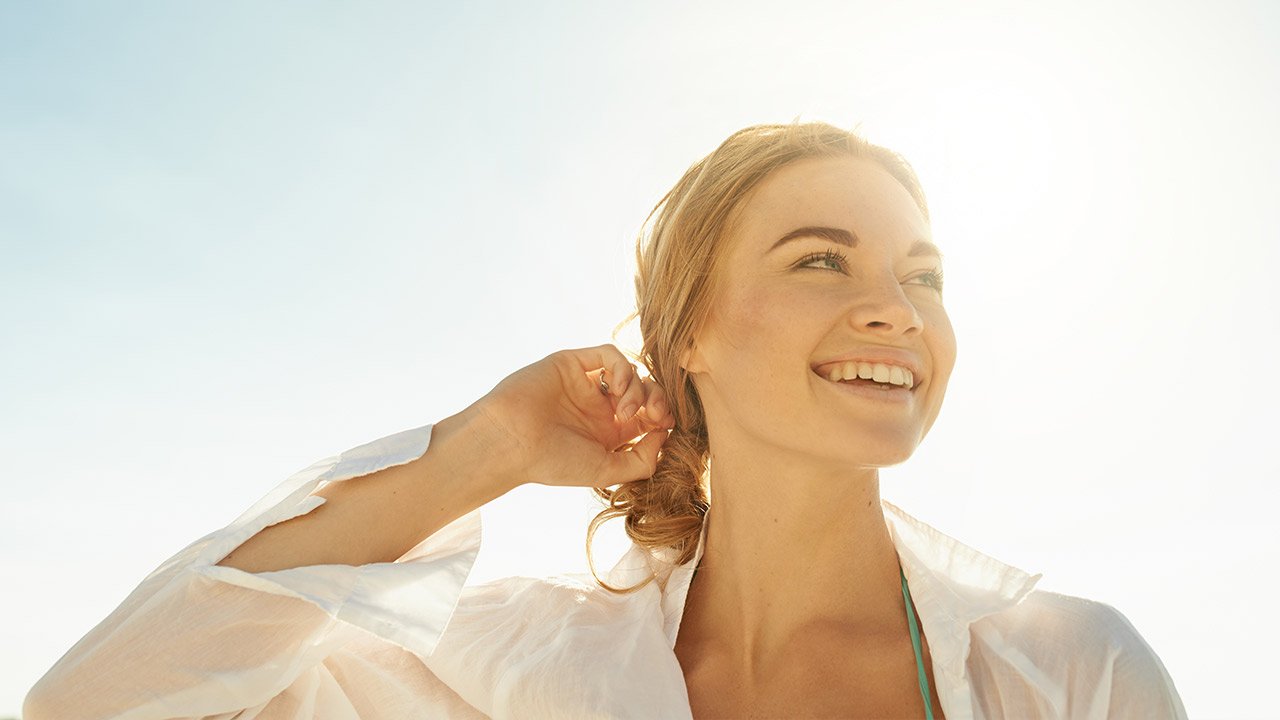 It's finally that time of year where visions of bikinis, outfits, toiletries, and everything else you need to pack for a trip fill your mind. With every vacation comes a bit of pre-travel stress—that's to be expected, of course. But what if we told you that you can cut down on it—at least when it comes to worrying about your hair, that is? So often one of the biggest travel woes is trying to pack everything necessary into a carry-on bag, but with so many hair products and tools necessary for the journey, how's a girl to bring everything her heart desires? By cutting out the heat styling, that's how! Now, before you run gasping in the other direction at the very thought of a style-less 'do on your much-anticipated getaway, keep reading to educate yourself on our five favorite heat-free looks you can rock with confidence and sheer style sense all vacation long.
You might be nervous to leave your favorite hot tools at home, but trust us when we say that you'll be able to achieve just as much style with these heat-free looks. The best part is, none of the following styles require much effort—or too many products to do. Meaning—more time for you to enjoy your trip (and more room in your suitcase!).
The only products you'll need to create these five looks:
L'Oréal Paris Advanced Hairstyle AIR DRY IT Wave Swept Spray
L'Oréal Paris Advanced Hairstyle AIR DRY IT Undone Style Cream
L'Oréal Paris Advanced Hairstyle AIR DRY IT Ruffled Body Mousse
Vacation Hairstyle #1: Double Fishtail Braid
We're no stranger to braids and what better time to get in on a little woven action than on vacation? The intricate detailing of a fishtail braid will look equal parts laidback and star-studded. Pair this look with anything from a bikini to your favorite LBD and you're ready to take your vacation by stylish storm.
Get the look by following these simple steps:
Step 1: Add styling cream to damp hair. Massage a small dollop of the L'Oréal Paris Advanced Hairstyle AIR DRY IT Undone Style Cream, then let it air dry.
Step 2: Pull all hair to one side of your head. Create a side part and pull all of your hair over to the shoulder corresponding with the larger section of the part.
Step 3: Clip a small underside section of hair out of the way. Think: About a quarter of your entire pony. You'll work with this section later on.
Step 4: Fishtail the larger section of hair. Divide the unclipped section of hair into two sections and fishtail braid all the way to the ends. Tie it off with a clear elastic.
Step 5: Pancake your braid. Just like your favorite breakfast treat, you want your braid to be extra fluffy. To get the look, gently tug at each section of your weave, working from the bottom up to the top.
Step 6: Unclip and detangle your other section of hair. Pull it around in front of the finished fishtail.
Step 7: Fishtail this section of hair all the way to the ends. Pretty self-explanatory.
Step 8: Pancake your braid. The same way you did with the first fishtail braid, fluff this one up, too!
Step 9: Tie your braids together at the ends. Grab another clear hair tie and tie your braids together, with your smaller fishtail laying on top of the larger one.
Step 10: Pin the top braid to the bottom braid with bobby pins. To make your braid look like one masterpiece, tuck a few bobby pins in place to secure the top braid to the bottom. Gorgeous, right?
Vacation Hairstyle #2: Headband Beach Waves
Texture spray not enough to transform your straight tresses into wavy beach babe locks? Girl, we feel you. Luckily, with a spritz of a wave spray and a little headband wrapping action, anything is possible!
Get the look by following these simple steps:
Step 1: Add texture spray to damp hair. To achieve your beachiest heatless waves, spray some of the L'Oréal Paris Advanced Hairstyle AIR DRY IT Wave Swept Spray into towel-dried hair.
Step 2: Put on a stretchy headband. While your hair is still damp, slip a stretchy headband around your head just above your ears.
Step 3: Divide, twist, and wrap your hair. Split your hair into four sections, twist each section and wrap it around the bottom of the headband one by one.
Step 4: Go about your day or night. You want to give this style a few hours to set in before letting it down.
Step 5: Let your hair down. After your style has set, gently unwrap and untwist each section to reveal beautiful beachy waves.
Editor's tip: If you want this style to work double duty for you, try wearing it wrapped to the beach and don't let it down until it's time to go out at night. One routine, two gorgeous looks to translate from morning to night. Doesn't get much better than that!
Vacation Hairstyle #3: Bubbly Pony
Looking for something sporty yet stylish to keep your hair out of your face for a long day of beach volleyball, boogie boarding, and bike riding? Give this updated pony a try! The bubble shape adds a chic air to the classic look.
Get the look by following these simple steps:
Step 1: Add mousse to damp hair. Bubbles are big and beautiful. So, to make sure that your ponytail lives up to the traditional inflated look, start by adding an egg-sized dollop of the L'Oréal Paris Advanced Hairstyle AIR DRY IT Ruffled Body Mousse to damp hair.
Step 2: Create a small half-up pony at the crown of your head. Using your fingers, divide the top section of your hair into a small half-up pony. Secure it with a clear elastic and use a small section of hair to hide the hair tie before moving on to the next step.
Step 3: Create a small pony an inch or two under it, including the hair from the first pony. Be sure to conceal the hair tie after securing your second pony.
Step 4: Continue the process all the way to the ends. Easy enough!
Step 5: Pump up your bubbles. Starting at the bottom of your pony, gently tug each bubble to create a more voluminous look.
Vacation Hairstyle #4: Head Scarf Updo
Day two hair not cooperating? We've all been there—especially at the beach. There's just something about the sun, sand, and salt that has the ability to make hair go a little haywire. Instead of hopping in the shower once again in hopes of smoothing your strands, why not embrace the texture and style it up with a scarf? Not only will it look super-cute, but if you go out to the beach later on, you can always take it off and let it double as a wrap! It's a win-win!
Get the look by following these simple steps:
Step 1: Create your messy bun. However you like to rock your disheveled look—go ahead and do it!
Step 2: Put a bow on it. Fold your scarf so that it makes either a long thin rectangle or a triangle. Center your scarf under the bottom of your head and tie the ends together in front of your messy bun. Whether you go for a bow or a knot, the end look is gorgeous and perfect for vacay days.
Vacation Hairstyle #5: Half-Up Fishtail Braid Crown
If you're like us, then you're all about all things mermaid—especially during this mythical creature revival that seems to be taking social media by storm. While you might have the lips and glow on point, this is—without a doubt—the hairstyle to take your nautical look to the next level.
Get the look by following these simple steps:
Step 1: Spray your hair with wave spray. Spritz on the L'Oréal Paris Advanced Hairstyle AIR DRY IT Wave Swept Spray to towel-dried hair before moving on to creating a fishtail braid. After all, the more texture your hair has, the better your braids look and last.
Step 2: Part your hair down the middle. You got this!
Step 3: Begin fishtailing at your hairline on each side. Work your way down from your part all the way to your ear, taking in new sections of hair as you go before braiding the rest of the strands to the end.
Step 4: Pancake your braids. Fluff. Them. Up.
Step 5: Pin braids behind your head. Place your braids behind your head and pop in a bobby pin or two to keep them in place.
OK, beachy mermaid queen, we see you!
Now that you have five stellar heatless styles to add to your vacation line-up, you can set your other hair products and tools aside in favor of a few more of your favorite vacation wardrobe essentials. We're talking strappy sandals, colorful sarongs, broad-brimmed sun hats, and adorable floral dresses.
Discover more tips & tricks
Keep your skin happy
See all articles
Shop Featured products
Discover More