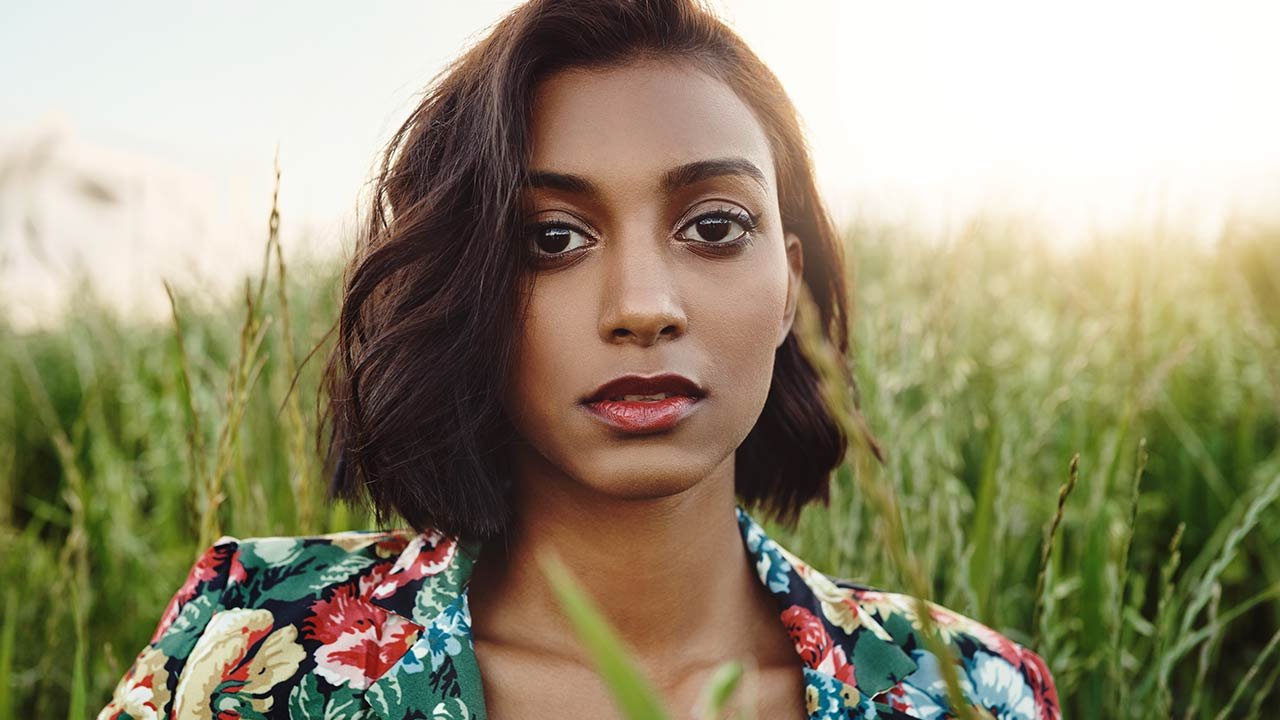 short hairstyles
The Best Short Hairstyles and Haircuts for Summer 2019
Flowers are blooming, temperatures are rising, sundresses are making their debut—all signs point to our favorite time of year: summer! The warmer months ahead are something we all probably look forward to all year long. And when it comes to your mane, the summer serves as the perfect opportunity to debut a new short hairstyle or haircut. Need a little inspo? Keep reading for 40 of the best short hairstyles for 2019, including braids and updos that couldn't be better suited to summer. Grab your hair brush and follow along!
SHORT HAIRSTYLE IDEA #1: MESSY BRAIDED PONYTAIL
Messy hairstyles are a summer staple, but how about doing something slightly different than your traditional unfussy top knot? If you're open to branching out, we love the look of a messy braided ponytail hairstyle. Equal parts intricate design and relaxed flair, this short braided hairstyle is gorgeous when paired with everything from a romper at brunch to skinny jeans and a blazer at the office. All you have to do is pull your hair back loosely, secure it with a hair tie, and braid it to the ends. Pull a few wispy pieces out to frame your face and you have yourself a super-simple, totally chic new look.
SHORT HAIRSTYLE IDEA #2: ASYMMETRICAL BOB
Who says your hair has to be one length all around? If you're in the market for a new short haircut, consider switching things up with an asymmetrical bob, which is slightly longer on one side for a totally modern, edgy look.
SHORT HAIRSTYLE IDEA #3: DOUBLE-DUTCH BRAIDED UPDO
As the heat rises this season, getting your hair off your neck can offer some sweet relief. And what better way to do that than by sporting a braided updo? Simply create a Dutch braid along your hairline from your side part down to just past your ear. Then, weave another Dutch braid directly behind it before tying both into a whimsical bun hairstyle. Secure it in place with a few bobby pins and a spritz of the L'Oréal Paris Elnett Satin Hairspray Strong Hold before taking off on a magical summer adventure.
SHORT HAIRSTYLE IDEA #4: HALF-UP WAVY BRAIDS
Braids and beachy waves go together like sand and the ocean. This look incorporates just enough detail while maintaining a beautiful beach babe vibe that's not overpowering. To get the look, spray your towel-dried hair with the L'Oréal Paris Advanced Hairstyle AIR DRY IT Wave Swept Spray before braiding a small section of hair on each side of your head and bringing them together behind your crown with a clear mini elastic. Voila! Picture-perfect and pretty easy to boot!
SHORT HAIRSTYLE IDEA #5: SLEEK PONYTAIL
You can't go wrong with a classic ponytail hairstyle—particularly a sleek ponytail. This look will keep your strands pulled back and out of the way amidst all your fun summer activates. To get the look, straighten your hair with a flat iron, slick your locks back with some hair gel, and secure with a clear elastic. As for what to do if your hair isn't quite long enough to fit into a ponytail without some pieces falling out, use a few barrettes to adorn your 'do and secure your pony at the same time.
SHORT HAIRSTYLE IDEA #6: HALO BRAID
Forever a classic, a halo braid can help you achieve an angelic look that pairs nicely with just about any wardrobe choice. To create it, part your hair to one side and begin braiding on the side with more hair. French braid along your hairline, incorporating more hair as you go, continuing all the way down to the nape of your neck. Once you reach your neck, braid your strands all the way to the ends. Repeat this same process on the other side of your head. Next, to really nail the halo look, pin each braid up and around to the other side of your head. For an added touch of romantic charm, pull out a few face-framing strands before working your way through the rest of your beauty routine.
SHORT HAIRSTYLE IDEA #7: BOHO BRAIDED UPDO
While we're suckers for braids all year long, we especially love wearing them come summer—hence why you'll find a number of braided hairstyles on this list. There's just something about the tiny intricacies of braids that take a laidback short hairstyle to the next level. To get this particular look, divide your hair into four sections. With two of the sections, create Dutch braids from your hairline all the way down to your ends. Next, create a fishtail braid and a rope braid using the remaining sections. With all four braids in hand, pin them however you like to form a bun at the nape of your neck. Be sure to pancake each braid in order to give your boho braided updo as much volume and style as possible. Once everything is pinned in place, spray it with the L'Oréal Paris Advanced Hairstyle LOCK IT Bold Control Hairspray.
SHORT HAIRSTYLE IDEA #8: SMOOTH ROOTS WITH PRETTY PINS
You know us, we love a good beauty trend. And, when it comes to the season's top short hairstyles, it's hard to beat the fancy bobby pin trend. It's an effortless way to take your short hairstyle to a whole new level, so what's not to like? To get the look, start with dry hair. Give it a quick spritz of the L'Oréal Paris Elnett Precious Oil Satin Hairspray to amp up the shine while also giving it a little extra hold. Use a boar bristle brush to smooth out your strands after spraying them down. Section your hair into a middle part and slip two to three pins adorned with pearls or gems along your hairline. While you may initially feel like this is too in your face, you'll be pleased to know that visible bobby pins are all the rage right now. So much so, in fact, that they're worn by models, celebrities, and everyday it girls alike.
SHORT HAIRSTYLE IDEA #9: LIVED-IN LOCKS
Beloved by the same girls that are head over heels for no makeup, makeup, lived-in hairstyles are all about that effortless chic look. The best part is that the style goes incredibly well with day two 'dos. To get the look, refresh your hair with the L'Oréal Paris Elvive Extraordinary Clay Dry Shampoo before using a flat iron to create bends—read: not harsh kinks—in a few sections of your hair. By creating varying textures throughout your hair, you'll be able to perfectly embrace a realistic, just-rolled-out-of-bed look. And trust, everyone—including you—will be sure to love it.
SHORT HAIRSTYLE IDEA #10: FAUX HAWK
Headed to a rock concert this summer or simply want a bold hairstyle to try while you're enjoying the freedom that summer brings? Consider styling your short strands into a faux hawk, which happens to be one of the latest hairstyle trends. Learn how to get the look in our article, How to Rock a Faux Hawk Hairstyle.
SHORT HAIRSTYLE IDEA #11: "WET" HAIR
Wet strands are in! At least, faux wet strands are. This slick look is perfect for beach days when you don't plan on getting your hair wet, but still want that "just took a dip in the ocean" aesthetic. Here's How to Get the Wet Hair Look.
SHORT HAIRSTYLE IDEA #12: SLEEK AND STRAIGHT
We mentioned a sleek ponytail, but what about a short, straight mane in general? If you want to let your hair down but still rock a sleek look, you're in luck! Super-straight strands are a classic hairstyle that works with any hair length—including your short hair. Spritz on the L'Oréal Paris Advanced Hairstyle SLEEK IT Iron Straight Heatspray prior to straightening your mane, then apply a bit of the L'Oréal Paris EverSleek Frizz Finish Oil-in-Serum from mid-length to ends to smooth things out and eliminate frizz. Finish the look by sealing in your style with the L'Oréal Paris Elnett Precious Oil Satin Hairspray.
SHORT HAIRSTYLE IDEA #13: VOLUMINOUS CURLS
Regardless of your hair type (or length), you'll find that voluminous curls are a must for your hairstyle repertoire. Grab your curling iron and get to it! Here's How to Create Voluminous Curls on Any Hair Type for a step-by-step tutorial.
SHORT HAIRSTYLE IDEA #14: MESSY BUN
Suns out, messy buns out—the saying goes something like that, right? There are sure to be those hot summer days where you don't feel like putting any effort into your mane and simply want it up and off your neck. We feel you! Throw your strands into a messy bun and be on your merry way.
SHORT HAIRSTYLE IDEA #15: BLUNT BOB
Want a short haircut that'll immediately turn heads this summer? Look no further than a blunt bob. Pair this short bob haircut with blunt bangs for a look that demands attention every time you walk into a room. Need some styling inspo? Here's How to Style a Blunt Bob.
SHORT HAIRSTYLE IDEA #16: CURTAIN BANGS
Thinking about adding bangs to your short haircut? We love short strands paired with curtain bangs. This style of bang is parted in the middle for a laidback, curtain-like fringe that frames your face. So pretty!
SHORT HAIRSTYLE IDEA #17: SWEPT BACK
Sometimes the best option for summer is to simply sweep your mane back and out of your face. A short, swept back hairstyle allows you to do just that. Think this could be your summer hairstyle soulmate? Here's How to Get a Short Swept Back Hairstyle.
SHORT HAIRSTYLE IDEA #18: BED HEAD
It's undeniable—there's just something so cool about bed head. Well, not the kind that you actually wake up with, but the kind you can create with just a tiny bit of styling prowess. To get this totally effortless look, start with clean, dry hair. Then, reach for a pomade or paste—like the L'Oréal Paris Studio Line Overworked Hair Putty—and work it throughout your hair to define your mane piece by piece.
SHORT HAIRSTYLE IDEA #19: LOB
Slightly longer in the front and shorter in the back, we'd consider the lob the best of both worlds when it comes to short haircuts for summer. While the strands that frame your face will be longer, your hair in the back will be kept short and off of your neck—perfect for a hot summer day! For some style inspo, check out the 22 Ways to Style Your Lob Haircut in 2019.
SHORT HAIRSTYLE IDEA #20: LOW BUN
Looking for a short hairstyle idea for the office? A low bun is totally chic and professional, and can be done in about a minute—seriously—so you can catch some extra shut-eye instead of waking up early to style your hair. Pull your hair back into a low ponytail, secure with a clear elastic, then wrap the length of your hair around its base. Hold it in place with some bobby pins and you're good to go!
SHORT HAIRSTYLE IDEA #21: LOW PIGTAILS
Take cues from your childhood by wearing this nostalgic hairstyle. Pigtails happen to be on trend in the beauty world, you'll just want to opt for low pigtails rather than the higher alternative you likely sported as a kid.
SHORT HAIRSTYLE IDEA #22: PIXIE HAIRCUT
Pixie hairstyles are one of the trendiest short hairstyles at the moment—and they don't seem to be going anywhere any time soon! Just be sure you're ready to commit to super-short strands, as it'll take some time for your mane to grow back should you decide to make the chop. Here's What to Know About Getting a Pixie Haircut.
SHORT HAIRSTYLE IDEA #23: MIDDLE PART
How you part your hair can change up your entire look. Consider switching things up by parting your short mane down the middle. You can let your length hang free or combine your middle part with another short style from this list.
SHORT HAIRSTYLE IDEA #24: BRAIDED PIGTAILS
Remember when we said pigtails were making a comeback? Well, you can add an intricate twist to the look by rocking braided pigtails! This touch of detail will make all the difference in the vibe your pigtails give off.
SHORT HAIRSTYLE IDEA #25: HEAD WRAP
When in doubt, accessorize it out! Head wraps are one of our favorite hair accessories for summer (they're also a trendy way to disguise greasy hair!). For a few hairstyles you can pair with this on-trend accessory, check out our article, How to Wear a Head Wrap or Hair Scarf.
SHORT HAIRSTYLE IDEA #26: SIDE-SWEPT BANGS
Add some depth to your short haircut with side-swept bangs. This style of bang is great for those who want to ease into a forehead-grazing cut without going for a straight-across, bold look.
SHORT HAIRSTYLE IDEA #27: DEEP SIDE PART
Another hair part option to consider is a deep side part. This is a great option for those with thin or fine hair as it'll add more volume to the top of your mane!
SHORT HAIRSTYLE IDEA #28: FEATHERED LAYERS
One of the latest haircut trends is a feathered hairstyle. The look features tons of layers that will add loads of dimension and movement to your mane. Want to learn more? Click through to our article on the topic: Feathered Hairstyles are the Next Big Thing.
SHORT HAIRSTYLE IDEA #29: MESSY PONYTAIL
Did we mention we love messy hairstyles for summer? It may have come up a time or two—but there's one more we need to share. It's never a bad idea to throw your tresses into a perfectly imperfect, messy ponytail before heading out for the day.
SHORT HAIRSTYLE IDEA #30: STACKED BOB
Another bob hairstyle to consider, a stacked bob offers plenty of volume thanks to its gradual, textured stacked layers. Learn more about this short cut in our article on How to Rock a Stacked Bob Haircut.
SHORT HAIRSTYLE IDEA #31: SOCK BUN
Want a perfect, donut-shaped bun? This look is easy to get—with the help of a sock. Yes, just a sock! Sock buns have been best friend to the bun-obsessed for years now, and if you've yet to try one, you're missing out! To learn how to make a sock bun as well as how to use one, head over to our article, How to Create a Sock Bun.
SHORT HAIRSTYLE IDEA #32: DINO BRAID
We love half-up hairstyles—they help get your hair out of your face but still leave most of your hair down. One half-up hairstyle we can't get enough of? The dino braid! To get the look, gather a three-inch section of hair at your hairline. Use this section to anchor your braid, then create a Dutch braid going down the center of your head. When you get to the back of your head, secure your braid with a clear elastic and give the ponytail you created a boost with a gentle tug at the base. How cute!
SHORT HAIRSTYLE IDEA #33: WATERFALL BRAID
Think you need long locks to rock a waterfall braid? No way! This elegant hairstyle looks equally as dreamy when paired with a short, wavy mane. If you still aren't sold, you can always pop in some hair extensions to fake the length you crave!
SHORT HAIRSTYLE IDEA #34: CROWN BRAID
Searching for an intricate summer updo that'll give your beauty look instant boho vibes? Look no further than a crown braid! This hairstyle may appear super complicated, but we promise it's easier than it looks! For everything you need to know, here's How to Create a Beautiful Crown Braid.
SHORT HAIRSTYLE IDEA #35: BOHO ACCENT BRAIDS
Speaking of boho vibes, we love the look of boho accent braids for summer. To get the look, give your mane some loose waves. Then, create tiny braids of varying sizes (and techniques) throughout your mane to amp up the texture for a fun, carefree look!
SHORT HAIRSTYLE IDEA #36: FRENCH BRAID
When it comes to braids, it doesn't get more classic than a French braid. This is a foolproof hairstyle that works for any occasion with a tweak or two. You can dress it up with a jeweled hair accessory, dress it down by gently tugging at your braid for a messy look, or settle on something in-between by rocking neat French braid pigtails.
SHORT HAIRSTYLE IDEA #37: LOW SPACE BUNS
We're sure you know and love space buns, but when you have short hair, they can be difficult to recreate. Luckily low space buns are totally in and perfect for shorter locks. To get the look, part your hair down the middle and create an equally-sized bun at the nape of your neck on both sides. Easy, peasy!
SHORT HAIRSTYLE IDEA #38: CHIGNON
Need a bun hairstyle that's a little more formal? Put your locks into a timeless chignon hairstyle. And don't worry, we promise this hairstyle is easier to create than it is to pronounce! Here's How to Master a Chignon Hairstyle in 5 Easy Steps.
SHORT HAIRSTYLE IDEA #39: BANTU KNOTS
This protective hairstyle is a go-to for short, natural hair. Simply take a one-inch section of hair and twist it until the twist twists into itself (say that three times fast). Secure into place with a few bobby pins, then repeat the process on the rest of your mane!
SHORT HAIRSTYLE IDEA #40: PARTY PONY
Be the life of the party with this fun half-up hairstyle! Create a three-inch section at the top of your head and put that hair into a small ponytail. Secure with a clear elastic, then gently tug at the base of your ponytail to give it a lift. Hello, party pony!
Okay, you should be all set on summer hairstyles now! The only thing that's left is making sure your strands are in amazing shape to rock these styles. Since it's summer, that means you'll want to up your hair care game, which should include following our Summer Hair Protection Guide.
Discover more tips & tricks
Keep your skin happy
See all articles
Shop Featured Hair Style products
Discover More