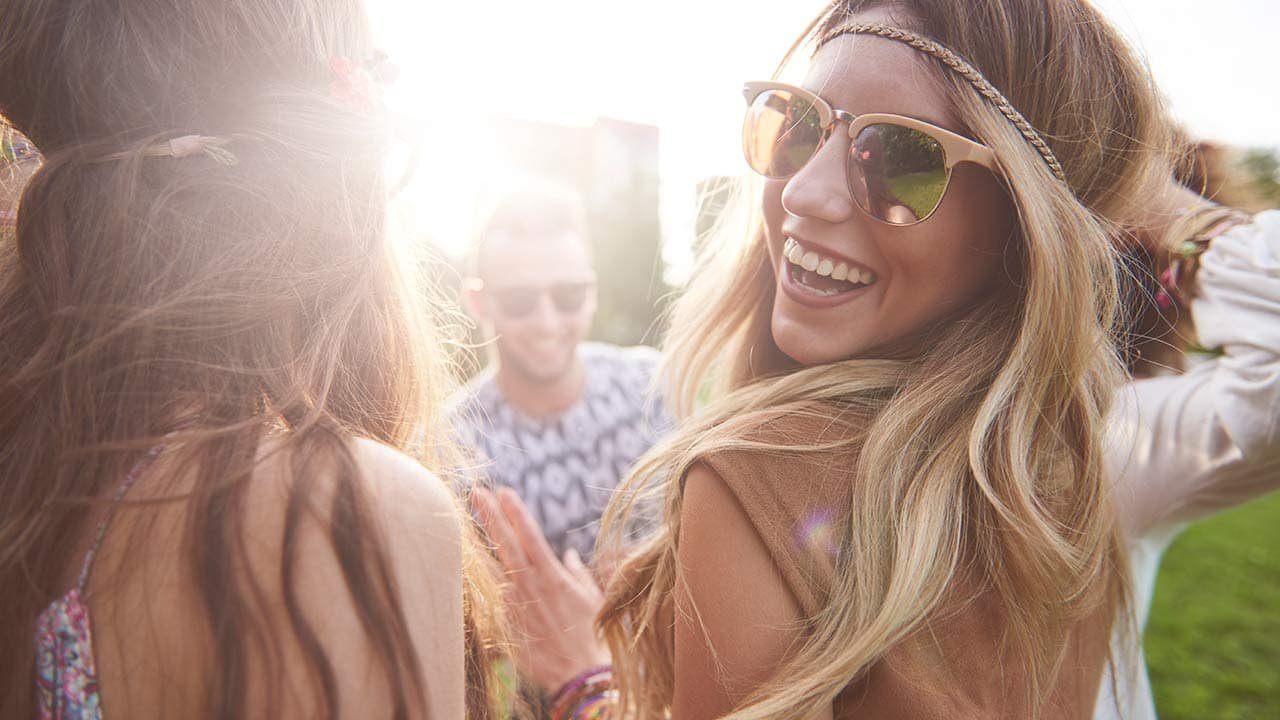 hairstyle trends
22 Boho Festival Hairstyles for the 2019 Festival Season
Ready to rock the mane stage this festival season? Before you pick up your favorite flower crown, throw in some waves, and call it a day, check out our list of dreamy boho hairstyles that are perfect for hopping between shows. From twists and updated parts, to braids and accessories, your hair will be far from boring come time for your favorite set. Here, we're sharing 22 boho hairstyles for short, medium, and long hair.
1. METALLIC BRAIDS
Turn up the heat on your traditional ropes and braids with the addition of metallic ribbon woven throughout. Use a piece that's longer than necessary in order to have tied-off tassels hanging off the ends of your pigtails. Now that's a beautiful boho look!
2. FLOWER CROWN TUCK
Flower crowns and waves are the most basic festival hairstyle out there, but since we know you're anything but basic, we have the perfect way to amp up the look. Instead of letting your hair hang loose, tuck it up into the back of the crown for a whimsical updo that will keep your neck and your style as cool as can be.
3. PRETTY PARTS
How pretty can a part be, right? Side, middle, or zig-zag, the idea remains the same. But what if we told you that you can perk up your part to be the focal point of your whole look? All you have to do is grab a bottle of the L'Oréal Paris Advanced Hairstyle LOCK IT Extreme Style Gel and your favorite loose glitter for an instantly dazzling 'do. Not a fan of loads of glitter? Pick up a hair tattoo from your local beauty store to add a geometric twist to your mane.
4. PUT A RING ON IT
When it comes to beauty, 2019 is all about finding new ways to add a unique flair to your look. While you may adore your go-to braids, why not embrace one of this year's biggest hair trends and add a few metal rings to your plait? Just slip one on for every weave and before you know it you'll have the prettiest hairstyle in your squad.
5. FLASHBACK TO PIPE BRAIDS
Think back to your favorite tropical childhood vacation. There's a good chance that along with fruity mocktails, sightseeing, and swimming with dolphins, one of your fondest memories is how dope your woven pipe braid was. Nothing was worse after a fabulous vacay than the inevitable day that your braid began to unravel, signaling that you really were back to reality. For some reason, pipe braids lost a spot on our hair radar over the years—but we're here to tell you that festival season is the perfect time for their revival! To get the look, tie a handful of different colors of embroidery thread or thinly cut fabric around a section of hair at your roots, weave them in your favorite friendship bracelet fashion all the way to the ends, and you're ready to rock! If you don't want to use your real hair, simply follow the same process but attach the embroidery thread to a clip-in extension instead. That way you can easily bring your 'do back to present day after your three-day funfest.
6. SLAY IN A SCARF
By the end of the festival, your hair might be looking a little worse for wear. Instead of succumbing and rocking a messy bun for your final day of jamming, grab your favorite scarf and get creative. Boho fashion is alive and well in 2019 so whether you tie all your hair up or leave it down to hang out, simply wrap the scarf of your choice into a headband that will be perfect for hiding greasy roots. Fold your scarf into a triangle, place it behind your head, and tie it into a half-knot in the front at your hairline. Voila! Pair it with hoop earrings and your favorite choker for a seriously stylish look.
7. HALF-UP MESSY SPACE BUNS
The best of both worlds, half-up space buns let you keep your hair up while showing off some of your length simultaneously. Less hair draping down your neck and perfectly coiled buns atop your head make for a cooler look—both literally and figuratively. To really rock the style, spritz a texturizing spray onto your strands before creating your space buns. Use clear mini elastics or bobby pins to secure your buns and you're ready to dance the day away.
8. rainbow streaks
Today's hair color formulas are practically made for festival season, seeing as they offer bright shades with zero commitment. We mean, what's a more perfect setting to rock rainbow streaks than a music festival? To try it out for yourself, grab the L'Oréal Paris Colorista Hair Makeup 1-Day Color or the L'Oréal Paris Colorista 1-Day Spray, both of which come in plenty of funky colors and wash out in just one shampoo. Choose a few different colors—whichever ones you want—and spray onto your hair working in small strands.
9. Colorful crown braid
A beautiful crown braid is a stylish way to rock a trendy hairstyle and keep your neck cool at the same time. Amp it up a notch by using one of our wash out hair color options to add colorful streaks to different sections of the braid.
10. flower-accented braid
If you love florals but think the flower crown is a bit overdone, try adding small flower accents to your braided hairstyle. Think small daisies, baby's breath, or even dandelions. The best part? You can add these small flower accents to any braided hairstyle, whether it's a basic braid, a fishtail, or literally any other variation you've chosen to rock. Once your braid(s) and flowers are in place, give your whole head a once over with a strong-hold hair spray, like the L'Oréal Paris Elnett Precious Oil Satin Hairspray.
11. ZIPPER BRAID
If you can't already tell, we absolutely love braided hairstyles. Aside from being totally on-trend and gorgeous, they're also easy to do and perfectly suited for a long day spent outdoors dancing to your favorite artists. One cool variation of the traditional three-strand braid is the zipper braid, which is a braid that almost appears as if it's been turned inside out. Interested? Here's How to Create a Zipper Braid.
12. Double dutch braids
This old-school braided hairstyle has made a comeback in a big way, and we couldn't be happier. Reminiscent of the braids we all wore in elementary school, the double dutch braided look is both nostalgic and on-trend.
13. jeweled HEADPIECE
Music festivals are quite literally the perfect time to try out a new and perhaps out-of-the box hairstyle. So, why not wear a gorgeous, statement-making hair accessory? Chances are, there aren't many opportunities in your daily life that call for a bejeweled headpiece, so now's your chance to try one out. The best part is, you can top off whichever hairstyle you've got going already—whether that's pin-straight strands, natural beachy waves, or tight curls—with a headpiece.
14. teased high ponytail
Take your ponytail to new heights with a teased look. Simply use a fine-tooth comb to gently backcomb your roots, then secure all of your hair into a tight pony that sits at the very top of your head. Tease the lengths and ends of the ponytail for an even more dramatic look. Love ponytails as much as we do? Here are 10 Easy Ponytail Hairstyles for you to try.
15. the brun
This low-maintenance look is literally a cross between a braid and a bun—hence the name, brun. It's a gorgeous updo that's nowhere near complicated to execute on your own, even if you're a braiding novice. Plus, it'll keep all of your hair high off of your back while you dance the day and night away. Here's How to Get a Brun Hairstyle.
16. high pigtails
If you haven't already heard, the '90s are back! Channel your favorite childhood pop star with the ultimate '90s hairstyle: the fun and flirty high pigtail look. Amp up the nostalgia factor even more by using multi-colored scrunchies to secure your pigtails.
17. messy, side-swept ponytail
A few days (or sets) into the festival and your hair may naturally feel its messiest—so why not embrace it. Sweep your locks into a loose, side ponytail. For a beachy effect, use the L'Oréal Paris Advanced Hairstyle AIR DRY IT Wave Swept Spray to add touchable waves to your look. Spray it onto the lengths and ends of your hair, then scrunch your strands upward using your hands to create messy yet super chic waves. Fasten your hair into a low, side-swept ponytail and you're ready to get back on the dance floor.
18. trendy head wrap
Slightly different than your regular scarf, the head wrap is one trendy hairstyle that's easy to master—and it also hides bad hair days. Simply buy a head wrap of your choice and wear it with your hair down or in double braids for an instantly boho hairstyle.
19. BRAIDED headband
For a quick and show-stopping way to accessorize your natural hair, try wearing a chic braided headband. Put it on in the same way that you would a flower crown, with the front end of the headband brushing straight across your forehead. Try it with a center part and your hair worn down.
20. micro braids
If an all-over braided hairstyle isn't your thing, try incorporating a few micro-braids into your look. To do so, simply braid a few very small sections of hair throughout your mane, securing them at the end with clear hair elastics. You can wear as few or as many micro-braids as you want and the overall look will remain the same: Boho and gorgeous!
21. slicked-back top knot
In our opinion, there's really no occasion where a slick top-knot isn't appropriate. This is an especially good choice if, say, you're rocking a dramatic or vibrant makeup look that you don't want your hairstyle to detract attention from. Here's How to Do The Perfect Top Knot.
22. mix and match braided ponytail
If you simply can't choose between all of the many different types of braids, why not try and mix them all together? We're talking about the mix and match braided ponytail, which requires just an elastic, a few bobby pins, and some creativity. If you're interested in trying it out on your own hair, here's How to Perfect a Mix and Match Ponytail Braid.
Next up: We've got lots of festival makeup ideas to share, too. Here are 7 Colorful Festival Makeup Ideas for 2019.
Discover more tips & tricks
Keep your skin happy
See all articles
Shop Featured Hair Style products
Discover More