braid hairstyles
Embrace Bohemian Vibes With This Scarf Braid Tutorial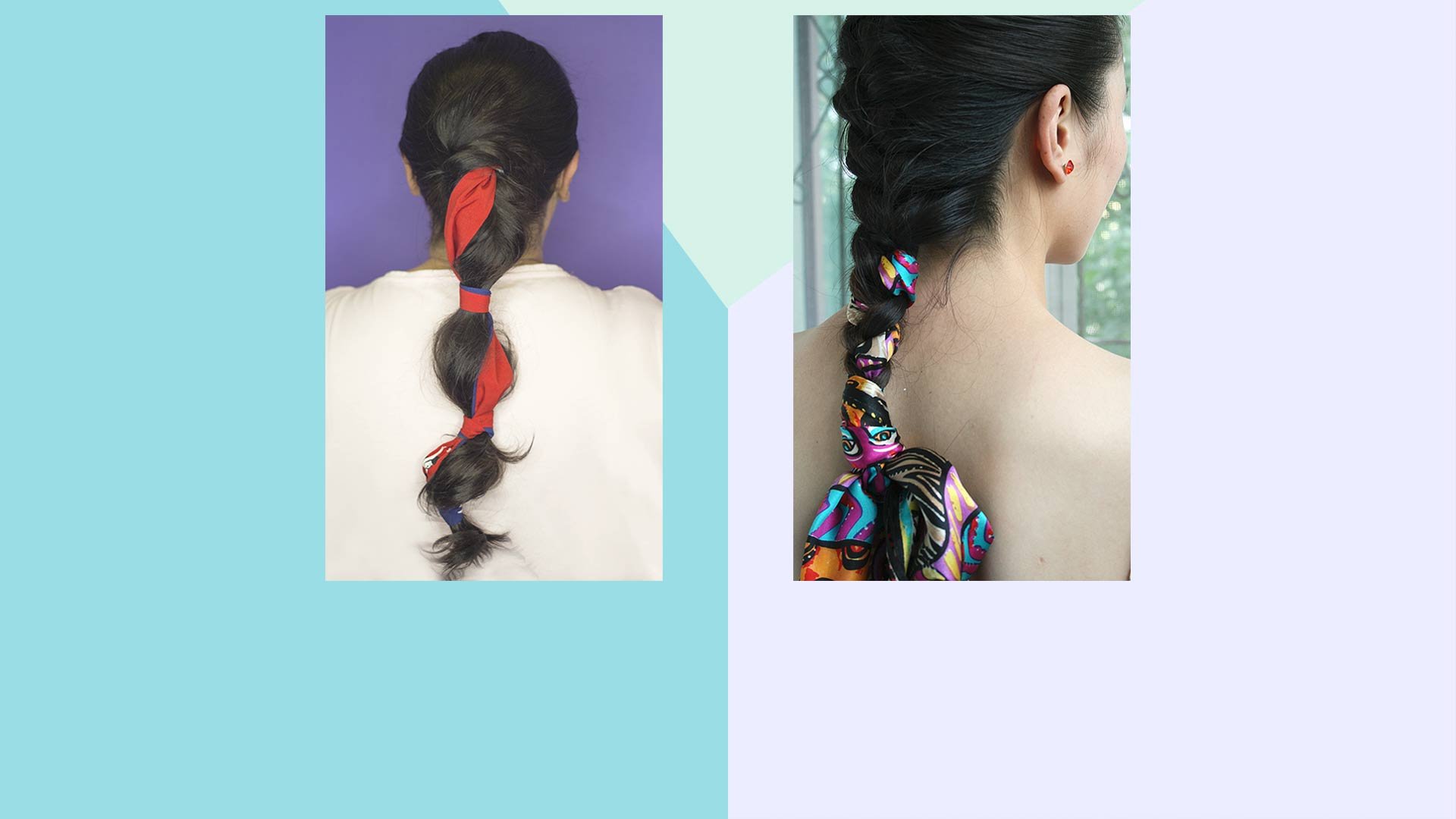 The hair scarf is one of our favorite accessories. There are so many ways to incorporate one into your hairstyle, whether you're wearing it as a headband or rocking a scarf braid. Speaking of the latter, weaving a scarf into your braid is an easy, foolproof way to upgrade a classic hairstyle. Consider it a go-to on days where you're discussing second-day strands or simply can't be bothered to break out the hot tools. Even better, mastering how to braid your hair with a scarf isn't as complicated as it looks. In fact, it's not much different from weaving a traditional braid. Ahead, we're breaking down how to create a scarf braid in a step-by-step tutorial so you can try it for yourself.
What you'll need:
Detangler spray (optional)
Dry shampoo (optional)
Volume spray
Rat tail comb
Hair scarf
Hair elastic
Get the look by following these simple steps:
Step #1. Prep Your Strands
As with any hairstyle, you'll need to properly prepare your hair before styling. This means brushing through with a hairbrush to remove any knots or tangles. If you're dealing with any unruly knots, spritz the L'Oréal Kids Burst of Sweet Pear Tangle Tamer for All Hair Types onto dry hair to add in the process. For those working with second-day hair, make sure to mist a dry shampoo, like our L'Oréal Paris Elvive Dream Lengths Air Volume Dry Shampoo, throughout your mane to absorb any excess oils.
Step #2. Add Some Volume
In our unbiased opinion, braids look even more whimsical and romantic when volume and texture is added into the mix. So, don't start weaving just yet! Spritz the L'Oréal Paris Advanced Hairstyle BOOST IT High Lift Creation Spray at your roots. Then, use a rat tail comb to gently tease the hair at the crown of your head for extra volume.
Editor's note: If you're not sure how to tease your hair or need some brushing up, read our article on How To Tease and Backcomb Your Hair.
Step #3. Choose Your Braid
There are a lot of things we love about the scarf braid, one of which is how versatile it can be. What we mean is, you don't have to work with a traditional three-strand braid. If you want, you can weave a Dutch, French, four-strand—you get the picture. Choose whatever braid you'd like to create.
Step #4. Section Your Hair
For the sake of this tutorial, we'll stick to a three-strand braid. So, split your hair into three equal sections at the nape of your neck. Set the middle and right section of hair aside. Then, add your hair scarf underneath the left section of hair. Secure it at the root with a bobby pin or two for the time being. The left section of hair and your hair scarf should now be considered one section.
Editor's note: Reminder: This process is the same for whatever type of braid you're creating! So, if you're creating a Dutch braid, start by separating three small sections of hair at the crown of your head. Then, attach your hair scarf underneath the left section of hair, grouping them together. Then, weave and add hair into the braid as you normally would.
Step #5. Weave Away
Braid your hair as you normally would, overlapping sections and making sure your hair scarf remains with the hair you originally pinned it to. When you reach the end of your braid, secure the ends with a hair elastic.
Step #6. Set Your Style
If you want to add an undone touch to your scarf braid, gently tug at the edges of the braid to add volume. You can also pull a few face-framing strands loose to amp up the style. Finish off by misting the L'Oréal Paris Elnett Satin Hairspray Extra Strong Hold Volume over your mane.
Next up: Now that you know how to create a scarf braid in no time at all, perhaps you'd like to learn about another way to upgrade your braid hairstyle of choice. Head over to our article, How To Add Dimension To a Braid, for more ideas.
Discover more tips & tricks
Keep your skin happy
See all articles
Shop Featured Hair Care products
Discover More