braid hairstyles
8 Braided Hairstyles to Spruce Up Your Winter Look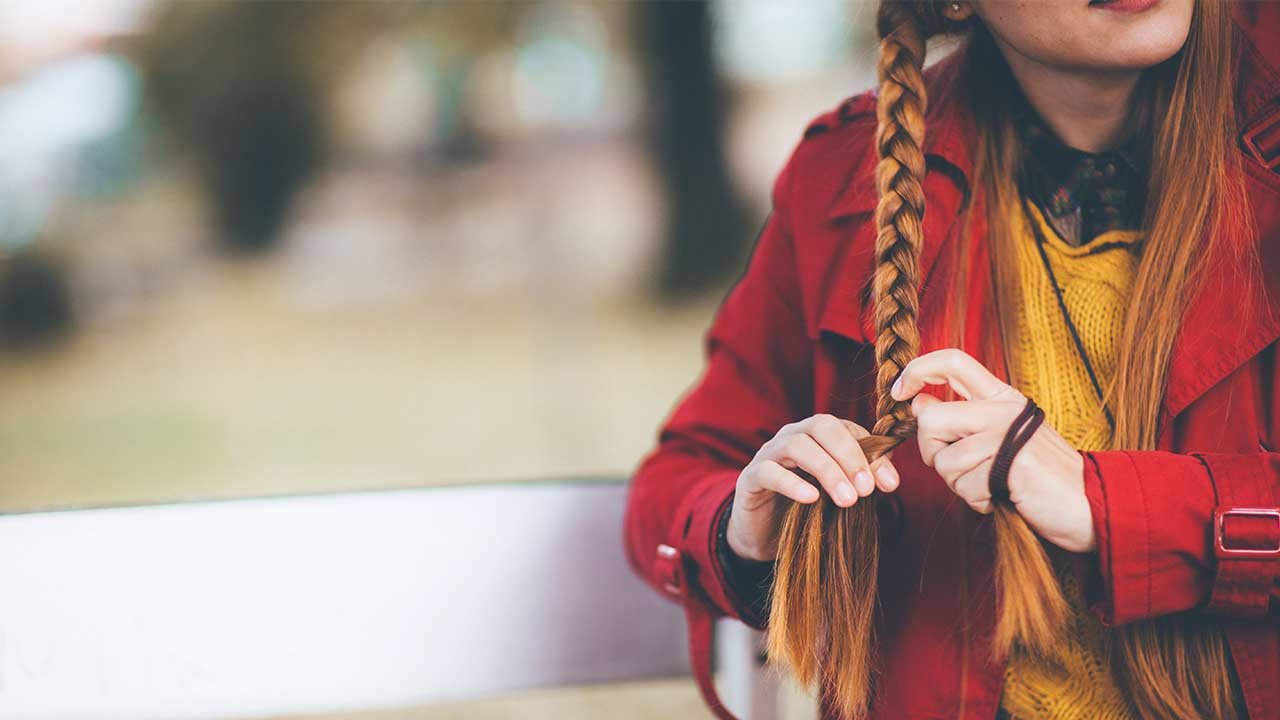 When it comes to adding serious style to your 'do, the answer is clear: braids, braids, and more braids. As nothing short of a trendy girl's best friend, braids allow you to pump up the style, show off your skills, and truly bring your look to life. So, whether you're looking for a more just-rolled-out-of-bed, messy braid or the ultimate power plait, we've got you covered with some of our favorite braided hairstyles. They're a great addition to your look no matter your hair texture, hair color, or even your skill level. You've got this!
BRAIDED HAIRSTYLE #1. SIDE-SWEPT BRAID
Whether you're going to the farmer's market or a fancy party, a side-swept braid is just the style to top off your look. Simultaneously laidback and intricately chic, this woven masterpiece can take on a number of variations—from sleek to messy and thin to thick.
Get the look by following these simple steps:
Step 1: Use mousse
In order for your side-swept braid to maintain its style without looking too tightly manicured, it's best to start off with a little bit of mousse for extra grip—especially if you have thin hair. Try applying mousse to damp hair and letting your strands dry on their own.
Step 2: Create a side part
Using a rat tail comb, create a side part, with the larger section of hair being on the side where you want your braid to lay.
Step 3: Braid
Divide your hair into three sections and weave a traditional, fishtail, French braid—or, hey, a combination of all three. Once you've reached the ends of your hair, simply tie it off with a mini clear elastic. To finish the look, gently pull apart your braid here and there for a slightly undone feel.
BRAIDED HAIRSTYLE #2. SIDE CORNROWS
Lately, our Instagram feeds have been flooded with half-up hairdos that are giving us some serious hair envy. And since half-up hairstyles have been having something of a moment lately, it's no wonder that when braids are added to that mix, the fashion and beauty world goes wild. These half-up braided styles work particularly well on natural, textured hair. Sound like a description of your strands? Then side cornrows could be your perfect winter look!
Get the look by following these simple steps:
Step 1: Start with a clean slate
Before you get going, cleanse and condition your hair.
Step 2: Detangle damp hair
After you hop out of the shower, towel dry your hair and comb out all tangles—the last thing you want when trying to create delicate, tightly woven braids is to encounter a nasty knot that will make your look fall apart, forcing you to start all over again.
Step 3: Add mousse
A little bit of mousse can go a long way when it comes to a series of braids keeping their composure all day long.
Step 4: Create a part
Part your hair to one side, leaving the smaller section to be filled with cornrows.
Step 5: Work section by section
Using a rat tail comb, separate small sections of hair to be braided for each cornrow. In order to keep your braids looking crisp, be sure to clip back whatever hair you're not working with so that no extra strands get in the way.
Step 6: Begin braiding
When creating cornrows, you're essentially French braiding. However, instead of adding more and more hair from other sections of your head, you will be using one specific row of strands. Separate the row you're working with into three sections, crossing the left strand under the middle strand, thus letting it become the new middle strand. Then do the same thing for the right side. Repeat this process until you reach just behind your ear and tie it off with a mini clear elastic.
Step 7: Repeat until happy
Depending on how many cornrows you want your look to contain, just keep braiding until you're pleased with the outcome. This look leaves a lot of room for creativity because you can create thick cornrows by braiding two or three, or you can go thinner by creating four to five. It's all up to you!
BRAIDED HAIRSTYLE #3. UPDATED PIGTAILS
Who said pigtails were only for little girls? We don't know about you, but there's just something about the playful dual-braid look that leaves us swooning. To update this youthful look so that you can incorporate it into your adult life, simply weave Dutch (a.k.a. inside out) braids and muss them up a bit for a slightly lived-in, ultimate cool-girl style.
Get the look by following these simple steps:
Step 1: Part hair down the middle
Using a rat tail comb, create a middle part—either straight or, if you're feeling playful, zigzag.
Step 2: Start with one side
Beginning with a small section of hair at the front of your head, divide it into three parts to begin your braid. Continue this process until you reach the end of your braid and secure with a small clear elastic.
Step 3: Repeat on the other side
You know what to do!
Step 4: Make things a little undone
Once you have both braids in place, add some flair by gently loosening them for a slept-in, naturally undone effect. And just like that, you've taken your favorite hairstyle from childhood and made it something you can rock any day.
BRAIDED HAIRSTYLE #4. CLASSIC FRENCH BRAID
Sometimes, you just want to keep it plain and simple—and on those days you absolutely can't go wrong with relying on a classic. As the style that never goes out of fashion, a classic straight-down-your-back French braid is perfect for lazy days, busy days, fancy days, sporty days, and everything in-between.
Get the look by following these simple steps:
Step 1: Start with freshly washed hair
One way to make French braids really pop is to create them with super-voluminous hair. Not naturally your thing? No worries. Wash your hair with the L'Oréal Paris EverPure Volume Shampoo and the L'Oréal Paris EverPure Volume Conditioner.
Editor's note: Hair extensions aren't just for giving yourself the long hair of your dreams! If you want to boost volume, you may want to consider clipping in a few hair etensions as well.
Step 2: Brush your hair back
To keep this look as classic as possible, instead of creating a part, simply brush your hair straight back before braiding.
Step 3: Create your braid
Starting around the crown of your head, grab a handful of hair and split it into three sections to create your braid. Beginning on the left side, pull the hair over the middle strand, making it the new middle strand. Follow by doing the same thing with the right side. After each left and right combo, add more hair from each side.
Step 4: Secure your braid
Once you run out of hair, tie your braid off with a mini clear elastic and use a small strand of hair to conceal it by wrapping it around and tucking it into the hair tie on the underside of the braid. Voila!
BRAIDED HAIRSTYLE #5. UNDONE BOHO BRAIDS
Looking to embrace your inner flower child turned surfer babe? These undone boho braids will do the job! The trick is to start with hair that has a bit of texture so that you won't have to tie them off with elastics. The hair tie-free, braided style will end up looking like you woke up like that, in all your ethereal appeal. What's not to love?
Get the look by following these simple steps:
Step 1: Add texture
When creating braids without the help of hair ties, the most important thing you can do to ensure a look that lasts is to start with locks that have a bit of texture and grit. To make this possible, pick up a bottle of the L'Oréal Paris Advanced Hairstyle AIR DRY IT Wave Swept Spray.
Step 2: Braid, braid, braid
There is no method to the beautiful madness of undone braids. That said, simply choose small sections of hair from different layers of your mane to create an array of traditional and fishtail braids.
Editor's note: Since this braided hairstyle doesn't need to weave all the way down the length of your hair, it's a perfect for pick for short hair.
Step 3: Seal your look
Since hair ties aren't part of this look, it's important to do whatever else you can to ensure that they'll stay in place. One thing you can do: Pick up a can of strong-hold styling spray for added style strength.
BRAIDED HAIRSTYLE #6. SLEEK AND HIGH-POWER BRAID
There's something about a ponytail that really perks up a look. From how it seems to lift your eyebrows to how it keeps your hair out of your face, the perfect ponytail is the ultimate power 'do. Rock it at the office, happy hour, Sunday brunch, or walking down the red carpet (hey, we can dream, right?).
Get the look by following these simple steps:
Step 1: Start with clean hair
To optimize the shine factor of this powerful style, start by washing your hair with products designed to help combat frizz, like the L'Oréal Paris EverPure Frizz Defy Shampoo and the L'Oréal Paris EverPure Frizz Defy Conditioner.
Step 2: Brush out all lumps and bumps
Another way to really pump up the sleekness is to ensure that no bumps are present on the top, sides, or back of your head leading into your ponytail. All you have to do is brush your hair straight back to target any problem areas.
Step 3: Create your ponytail
Once you've flattened any imperfections, secure your high ponytail with a hair tie. To make your hairstyle look more natural, take a few strands of hair and wrap them around your hair tie to conceal any unnatural elements of your look.
Step 4: Braid your ponytail
Traditional, fishtail, or rope braid your hair from crown to ends before tying your braid off with a clear mini elastic.
Step 5: Make it shine
As a final effort to pump up the shine once and for all, use a shine spray or serum like the L'Oréal Paris EverSleek Frizz Finish Oil-In Serum.
BRAIDED HAIRSTYLE #7. A SIMPLE FISHTAIL BRAID
Simple yet super chic, the fishtail braid is a great way to dress up any look. It's also easier to create than you might expect.
Get the look by following these simple steps:
Step 1: Prep your hair
Fishtail braids look even better with an extra boost of volume. Spray your dry strands with a bit of the L'Oréal Paris Advanced Hairstyle BOOST IT High Lift Creation Spray.
Step 2: Pony time
Part your hair wherever you desire, then pull your strands back and secure everything into a ponytail. (Tip: Don't use a hair elastic that you're not prepared to part ways with, because you'll likely want to cut it out at the end).
Step 3: Split your strands
Take your ponytail and split your hair into two sections.
Step 4: Start braiding
Time to start braiding. Take a small chunk from the outside of one of the two sections, then cross the section you just picked out over to the inner edge of the opposite section of hair. Keep repeating this until you've made it to your ends. We know, it can be easier to see a tutorial in action that to read one, so you can also watch Our Easy Fishtail Braid Tutorial.
BRAIDED HAIRSTYLE #8. GORGEOUS BRAIDED HEADBAND
This is another braided hairstyle that can look very intimidating at first but believe us, once you've got your braiding basics down, this is an easy look to re-create! Better yet, a braided headband can be added to any hairstyle you've got going, like a bun or just wearing your hair down. Keep in mind, this is one look you'll need to have at least medium-length hair for.
Get the look by following these simple steps:
Step 1: Part the lines
Reach for a fine-tooth comb and part your locks down the middle.
Step 2: Section + braid
Grab a section of hair from behind your ear—it can be a small or large section, depending on how thick you want your braided headband to be. Then, start braiding your hair as you normally would.
Step 3: Make the headband
Once you've finished braiding, place your braid in the headband shape you want, then secure behind your other ear with a bobby pin. Seal everything in place with a bit of hair spray, like the L'Oréal Paris Elnett Precious Oil Satin Hairspray.
Need a bit more detail? We don't blame you, here's everything you need to know about How to Get a Braided Headband Hairstyle.
Discover more tips & tricks
Keep your skin happy
See all articles
Shop Featured Hair Care products
Discover More