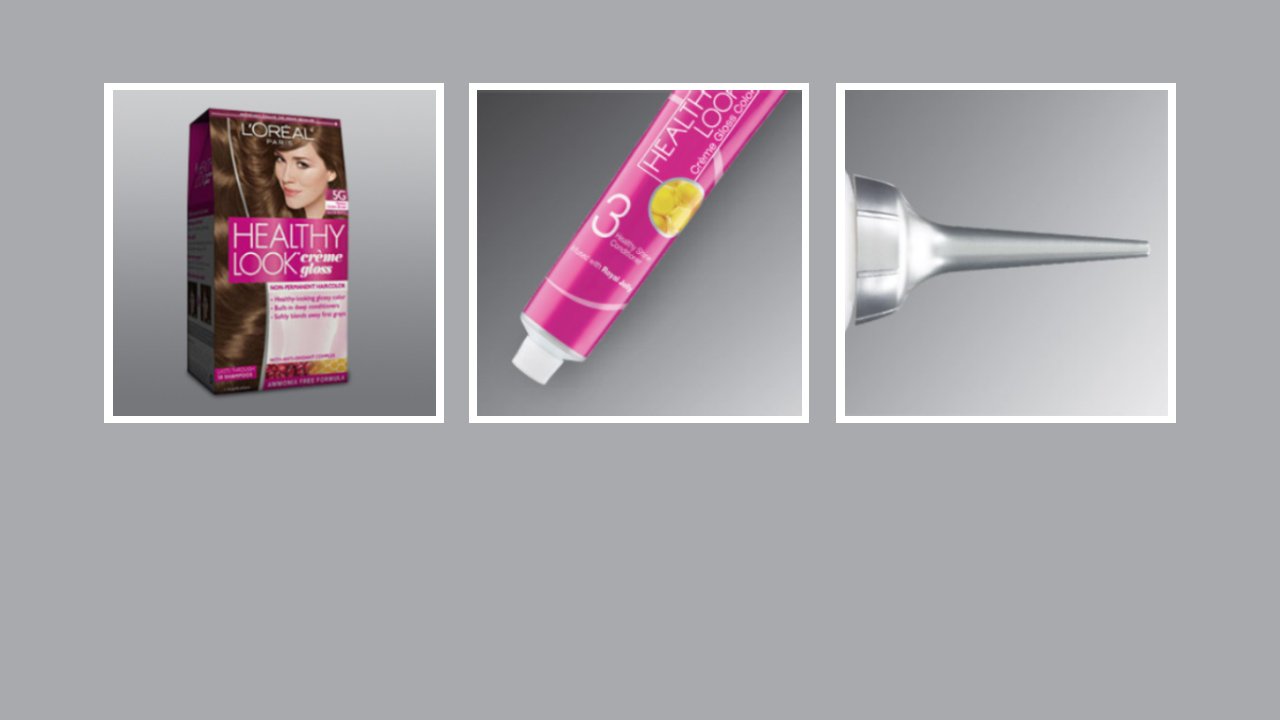 Before You Color
-Do a skin allergy test by cleansing a quarter sized area of skin in the bend of your elbow. Using a plastic utensil, mix a small amount of the formula and apply a small portion of it to your skin. Do not wash test area for 48 hours to see if reaction occurs. If there is any irritation, call a doctor before coloring your hair.
-Do a strand test by applying color to a small section of hair before covering your whole head. This will give you an idea of how long to keep the color mixture on in order to achieve your desired results and gives you a nice preview of what your hair will look like.

Mix
Step 1
Put on colorist gloves.
Step 2
Twist off tip of the Developer Creme bottle (1). Remove cap from bottle.
Step 3
Pierce opening of the No Ammonia Creme Colorant tube (2). Squeeze entire contents of tube (2) into Developer Creme bottle (1).
Step 4
Replace flat cap on Developer Creme bottle (1). Place your finger over the open tip, point away from your face and shake well until contents are thoroughly mixed.

Apply
Touch Up Application
Choose a Touch Up Application if you have colored in the last 4 – 6 weeks with a similar shade.

Apply Color to Your Roots
Step 1 - Use the precision tip applicator to part hair in order to apply color to your roots. Apply Remaining Color to the Rest of Your Hair
Step 2 - Saturate your hair completely. Leave on for an additional 5 minutes. Total coloring time is 10 minutes

All-Over Color Application
Choose All-Over Color Application if:



It's your first time coloring with Healthy Look®.
You have never colored your hair before.
You have not colored in 3 months or longer.


Apply Your Color All-Over

Step 1 - Saturate your hair with color thoroughly and pile loosely on top of your head.
Step 2 - Leave on for 10 Minutes

Rinse & Condition Your Hair
Step 1
Lather your color by adding a small amount of warm water. Rinse thoroughly until water runs clear.
Step 2
Saturate your hair with the Healthy Shine Conditioner and leave on for 2 minutes before rinsing thoroughly with warm water. Keep remaining Conditioner for use once a week.



{ "@context": "https://schema.org/", "@type": "WebPage", "speakable": { "@type": "SpeakableSpecification", "cssSelector": ["speakable-content"] }, "url": "https://www.lorealparisusa.com/beauty-magazine/hair-color/hair-color-tutorials/healthy-look-application-instructions" }
Discover more tips & tricks
Keep your skin happy
See all articles
Improve your routine
Show your new look more love:
makeup
{ "@context": "http://schema.org", "@type": "BreadcrumbList", "itemListElement": [ { "@type":"ListItem", "position": 1, "item": { "@id": "/", "name": "Home" } } , { "@type":"ListItem", "position": 2, "item": { "@id": "https://www.lorealparisusa.com/beauty-magazine", "name": "Beauty Magazine" } } , { "@type":"ListItem", "position": 3, "item": { "@id": "https://www.lorealparisusa.com/beauty-magazine/hair-color", "name": "Bold Ideas From Hair Color Pros" } } , { "@type":"ListItem", "position": 4, "item": { "@id": "https://www.lorealparisusa.com/beauty-magazine/hair-color/hair-color-tutorials", "name": "Hair Color Tutorials" } } , { "@type":"ListItem", "position": 5, "item": { "@id": "https://www.lorealparisusa.com/beauty-magazine/hair-color/hair-color-tutorials/healthy-look-application-instructions", "name": "healthy-look-application-instructions" } } ] }