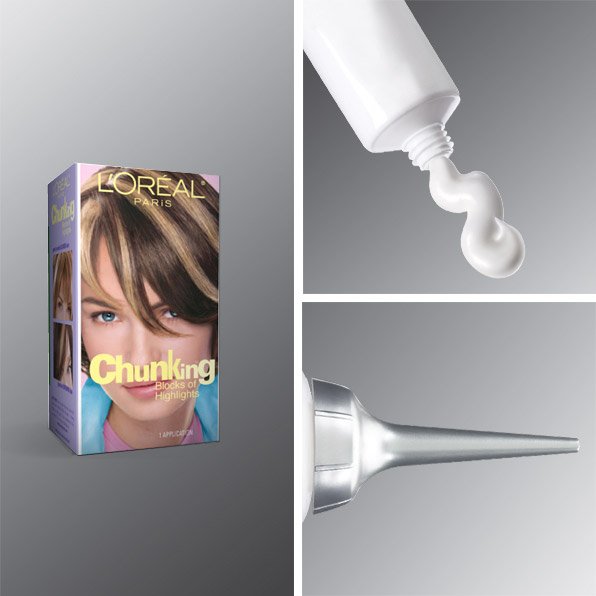 How to Use Your Chunking Cap
Step 1
Comb hair straight back. Put on the Chunking Cap.
Step 2
Tuck hair in under cap and tie cap ribbons snugly under chin.
Step 3
Choose up to 6 locations for chunks that you wish to add to your hair. Pull strands of hair through the selected holes by pushing the hook through the hole, picking up a strand of hair, and pulling it back through with a half turn.
Step 4
After you've finished, gently comb each strand out so you are sure the entire strand has been pulled through.
Step 5
You can pull through larger or smaller chunks of hair depending on how bold you want your look to be.


Create Your Chunking Mixture
Step 1
Put on gloves.
Step 2
Thoroughly mix all Lightening Powder and all Chunking Developer in the tube, using the applicator end of the plastic styling hook.
Step 3
Open the Conditioning Chunking Creme tube by removing the cap, inverting it, and puncturing the top of the tube with the point of the cap.
Step 4
Add the entire contents of the tube to the mixture and stir thoroughly until your create a thick, creamy mixture.


Apply Mixture to Dry Hair
Step 1
To chunk: use the flat end of the styling hook/applicator to apply mixture generously to strands.
Step 2
Use your gloved hands to spread mixture evenly over the length of your hair. Be sure that hair strands are completely saturated. Apply mixture to the back strands first (crown of the cap) and then place strands away from the face.
Step 3
Loosely pile strands on your head.
Step 4
Make your timing checks at 10-minute intervals. A timing guide is below. The purpose of the timing guide is to make sure that hair has reached the pale yellow color. Wipe the mixture from one chunk to check the color. Remember to re-coat the strand after the check. For each check use a different chunk.
Step 5
Leave mixture on hair until the ideal lightness has been achieved.


Shampoo
Step 1
Once strands have achieved the ideal lightness, leave the Chunking Cap in place and rinse off mixture with lukewarm water. Then gently remove the Chunking Cap and discard it along with any remaining mixture.
Step 2
Open the packet of the Conditioning Shampoo, apply to hair, and work into a creamy leather. Then rinse thoroughly.


Chunking Timing Guide
During lightening, hair goes through various stages until it reaches the ideal pale yellow. Lightening time varies, depending on natural haircolor. The darker the hair, the longer the lightening time. The chart below shows the time range for each of the natural haircolor groups. Begin testing at the minimum time and continue until you have reached the desired color.
Natural Haircolor Approximate Timing:

Medium to Dark Blonde 20 Minutes
Light Brown 30 Minutes
Medium Brown 40 Minutes
Dark Brown 60 Minutes

{ "@context": "https://schema.org/", "@type": "WebPage", "speakable": { "@type": "SpeakableSpecification", "cssSelector": ["speakable-content"] }, "url": "https://www.lorealparisusa.com/beauty-magazine/hair-color/hair-color-tutorials/chunking-application-instructions" }
Discover more tips & tricks
See all articles
Improve your routine
Show your new look more love:
makeup
{ "@context": "http://schema.org", "@type": "BreadcrumbList", "itemListElement": [ { "@type":"ListItem", "position": 1, "item": { "@id": "/", "name": "Home" } } , { "@type":"ListItem", "position": 2, "item": { "@id": "https://www.lorealparisusa.com/beauty-magazine", "name": "Beauty Magazine" } } , { "@type":"ListItem", "position": 3, "item": { "@id": "https://www.lorealparisusa.com/beauty-magazine/hair-color", "name": "Bold Ideas From Hair Color Pros" } } , { "@type":"ListItem", "position": 4, "item": { "@id": "https://www.lorealparisusa.com/beauty-magazine/hair-color/hair-color-tutorials", "name": "Hair Color Tutorials" } } , { "@type":"ListItem", "position": 5, "item": { "@id": "https://www.lorealparisusa.com/beauty-magazine/hair-color/hair-color-tutorials/chunking-application-instructions", "name": "chunking-application-instructions" } } ] }