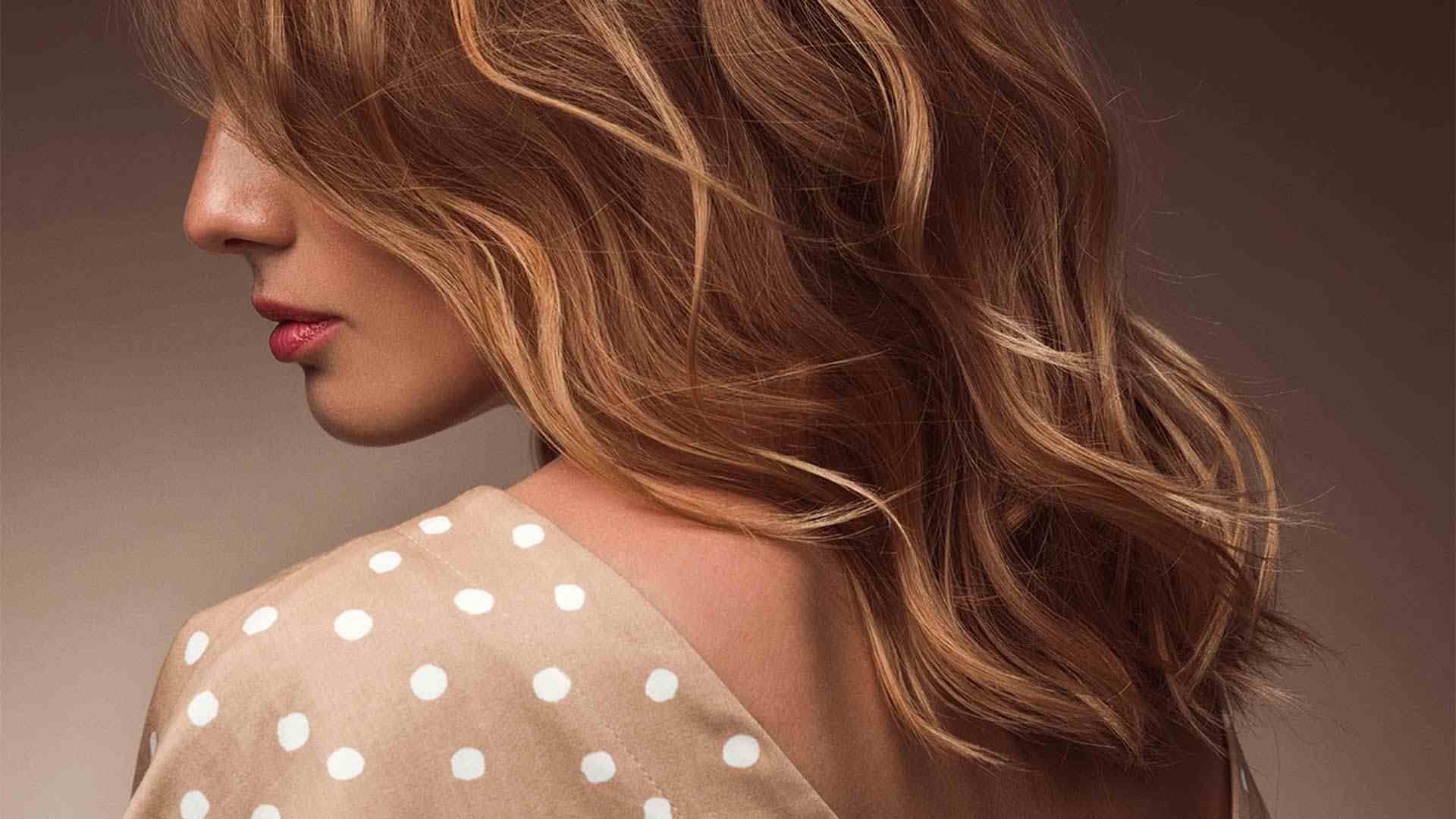 If our favorite celebrities have proven anything, it's that highlights and lowlights can help create a serious hair color transformation. With just a touch of color variation, manes become full of depth and dimension for a look that sways with movement. Does it get any more goddess-like than that? We think not! That's exactly why we've rounded up the very best highlight and lowlight colors for 2020. Below, you'll find all the most gorgeous highlighting and lowlighting hair color trends that can help you take your look to the next level this year. Keep reading to get inspired!
THE DIFFERENT TYPES OF HIGHLIGHTS AND LOWLIGHTS
First and foremost, it's important to know the difference between highlights and lowlights. It's pretty simple: Whereas highlights are lighter than your base strands, lowlights are darker. When deciding between the two, keep in mind that highlights require bleaching—and the darker your starting color, the more work may be required to reach your desired level of color. What's more, since applying both highlights and lowlights requires a certain level of skill, it's often best left to the professionals (although in some cases you can definitely highlight your hair at home).
13 TECHNIQUES FOR HIGHLIGHTS AND LOWLIGHTS
Now that you know the basics, it's time to get familiar with the best types of lowlights and highlights. Here are our 11 favorite picks!
1. BABYLIGHTS
Think back to when you were a little girl and rocked natural highlights just from sitting in the sun all summer. Those tiny, natural-looking blonde streaks are emulated with the babylights technique by brushing on super-fine highlights that leave you with a baby blonde look.
2. BALAYAGE
Also known as hair painting, balayage is a dyeing technique that involves hand painting the highlight or lowlight color of your choice directly onto your strands. Most commonly, this technique is used to paint blonde shades onto darker hair for a truly natural-looking, sun-kissed mane.
3. FLAMBOYAGE
This newer highlighting technique literally means a flamboyant balayage, so it's slightly less subtle than a standard balayage.
4. OMBRÉ
Ombré highlights are one of the trendiest hair coloring techniques for a good reason—they're simply stunning! This technique involves a gradual transitioning of color from root to tip, with dark roots and lighter ends.
5. SOMBRÉ
The sombré highlighting technique is literally just a softer, subtler ombré. If you're hesitant about highlights but still tempted to switch up your hair color, this could be the perfect option.
6. CHUNKY HIGHLIGHTS
As the name suggests, chunky highlights (or lowlights) are, well, chunky. While they can look seriously stunning if done right, they can go seriously south if done incorrectly. Think: a skunk-like appearance due to too much contrast. Yikes! Be sure to bring photos with you to the salon to ensure your highlights come out looking the way you envision.
7. FROSTED HIGHLIGHTS
Made by bleaching the tips of your hair to create a multi-dimensional blonde effect, frosting is typically performed on men and women with short hairstyles—just think back to your favorite '90s boy bands, and you'll have the right idea in mind.
8. RIBBON HIGHLIGHTS
If you have naturally wavy or curly hair, you'll want to consider ribbon highlights for your highlighting method of choice. Designed to follow the coil of your curls, these highlights create gorgeous dimension that looks completely natural—unless, of course, you go the pastel route.
9. UNDERLIGHTS
Can't get enough of the peek-a-boo hair color trend? Then you'll want to consider the underlights technique! This look is all about highlighting the bottom layer of your hair with colorful hues for a modern spin on the traditional highlight technique! Whether you love to experiment with pretty pastels or lean to bolder shades, underlights will take your style up a few notches.
10. SLICING
Ever seen a slightly lived-in 'do that looks perfectly highlighted or lowlighted with choppy, care-free color? That's slicing. Created to add loads of depth, this non-uniform highlighting and lowlighting technique can allow you to make a serious hair statement.
11. TWILIGHTING
Blending two techniques we've covered, babylights and balayage, twilighting is the newest highlighting technique to hit the scene. This option involves babylights placed around your hairline and balayage focused on your ends for a sparkling, sun-lit color.
12. MONEY PIECE
Taking face-framing highlights to the next level, the money piece highlighting technique is one you need to know about. This option involves highlighting strands surrounding your face from roots to ends to really brighten your look.
13. HAIR STREAKS
Think of hair streaks as the money piece meets chunky highlights. Undeniably trendy right now, this look involves a large, chunky highlight on either side of your face. The effect is bold and eye-catching, which explains why it has become a staple of the eGirl hair look.
MUST-TRY HIGHLIGHT COLORS FOR 2020
Think you want to go with one of the highlighting techniques we mentioned above? Once you've made your pick, it's time to review the season's hottest highlight colors. Below, you'll find 11 trending colors of highlights.
1. BLORANGE HIGHLIGHTS
If you're all about this season's peach trend but not ready to embrace a whole head of slightly fluorescent hair, these highlights will be just enough to satisfy your craving. Pair them with a blonde or light brown base to instantly transform your look.
2. PASTEL HIGHLIGHTS
Want to add a touch of whimsy and fun to your next beauty statement? Pastel highlights may be the answer. Whether you go with baby blue, soft pink, or lilac, you'll be able to get in on the season's pretty pastel beauty trend for a hair look unlike any other. To try the look at home, first bleach any areas you'd like to highlight with the L'Oréal Paris Colorista Bleach Highlights, then follow up with the L'Oréal Paris Colorista Semi-Permanent Hair Color in whichever pastel hue you're drawn to.
3. WARM HONEY HIGHLIGHTS
It doesn't matter what time of year it is, you can always rock a summery, sun-kissed head of hair. With warm honey highlights, you can add golden dimension to your hair to help instantly brighten your complexion and overall look. If you want to get the look the DIY way, try the L'Oréal Paris Frost & Design in Caramel and be sure to follow the instructions to a T!
4. STRAWBERRY BLONDE HIGHLIGHTS
Strawberry blonde highlights look good on almost any skin tone—although they look particularly stunning on pale skin. Easily one of our favorite hair highlight ideas, strawberry blonde highlights will warm up any look and can perfectly complement a face full of freckles—even fake freckles.
5. MUSHROOM BLONDE HIGHLIGHTS
Not to be confused with its counterpart, mushroom brown, the mushroom blonde hair color is a multi-dimensional take on smokey, blonde-gray hues. This gorgeous ashy blonde hue is all over our social media feeds these days, and getting mushroom blonde highlights is one of the best ways to try the shade for yourself.
6. SILVER BLONDE HIGHLIGHTS
Perhaps the most on-trend hair color this year is silver-blonde, which is an updated version of the classic platinum blonde hue. Since there's no rule saying you need to rock silver-blonde as an all-over shade, why not try silvery highlights on for size?
7. ROSE GOLD HIGHLIGHTS
Speaking of trendy hair colors, rose gold hair has been getting tons of attention. A great way to bring your love of this jewelry-toned hue to your mane, this look is excellent for adding a touch of luxury into the mix—no wonder it's one of our all-time favorite highlight colors. Try it out at home with the L'Oréal Paris Colorista 1-Day Spray in Rosegold.
8. AUBURN HIGHLIGHTS
Searching for a shade that will complement your brunette locks? Auburn highlights are an easy pick! This stunning multi-tonal hair color offers a sun-kissed hue that blends blonde, brown, and red tones with your mane for a rich and vibrant finish. What's not to love?
9. RASPBERRY HIGHLIGHTS
When it comes to colors of highlights, raspberry might not be one you'd think of on your own, but trust us on this one. Equal parts vibrant and bold, this hue allows you to play with color without having to commit to a complete color service. Give it a go with the L'Oréal Paris Colorista Hair Makeup Temporary 1-Day Color in Raspberry.
10. LAVENDER HIGHLIGHTS
Dare to be bold when embracing hair highlight ideas? We have a feeling that lavender highlights may be just the ticket! A great way to embrace the balayage trend, this look will give your mane a soft purple hue that makes quite the statement. Take matters into your own hands with the help of the L'Oréal Paris Colorista Hair Makeup Temporary 1-Day Hair Color Spray in Pastel Lavender.
11. BLUE HIGHLIGHTS
If there is one hair trend that has been gaining major traction in the beauty world, blue highlights get the top vote. The perfect route to take to give your strands a stylish pop, it's no surprise that this hair color can be seen all over right now. Bring the trend to life with the L'Oréal Paris Colorista Hair Makeup Temporary 1-Day Hair Color Spray in Blue or Pastel Blue. Whether you have dip dye hair, a money piece, or balayage on your mind, you'll be sure to create a trendsetting look.
MUST-TRY LOWLIGHT COLORS FOR 2020
Prefer to add a bit of darkened dimension to your mane? After settling on your favorite type of lowlights, we can help you choose the right color. Seriously, you can't go wrong with the following lowlight trends.
1. ASH BLONDE LOWLIGHTS
Looking to turn up the dimension on light blonde hair? A series of ash blonde lowlights should do the trick. Just make sure that your colorist applies them using a balayage technique to help ensure it looks super natural.
2. MAUVE LOWLIGHTS
Think outside the box: Lowlights don't have to be either blonde or brown! Mauve lowlights are one unexpected option that's nothing short of stunning.
3. COFFEE BROWN LOWLIGHTS
Try out the coffee brown hair color trend in a subtler way with gorgeous lowlights. Just as there are different shades of brown for different coffee drinks, lowlight tones are the same. In other words: you have plenty of options depending on how dark you want to go. You can add streaks of dark espresso brown to your mane or—if your hair is lighter—mimic the look of coffee that's full of cream and sugar.
4. RAINBOW LOWLIGHTS
Brightly-colored, rainbow hair is bigger and better than ever, and it's also easy to try for yourself. If you're curious about rainbow hair but don't want to go all out, lowlights are the perfect option. Better yet, you can play around with different colors at home using semi-permanent hair color. For something even less permanent, try the L'Oréal Paris Colorista 1-Day Spray, which rinses out with just one shampoo.
5. AMBER LOWLIGHTS
Hoping to bring some warmth to your mane? Look no further than amber lowlights! This toasty brown shade adds depth and movement to any hair color but looks particularly stunning on blonde hair.
6. COPPER LOWLIGHTS
If you've been waiting for the perfect opportunity to play with having red hair, copper lowlights are a great place to start. From orangey-reddish hues to reddish-brown shades, copper lowlights are an excellent choice for turning up the heat in a subtle way. As long as your color of choice complements your skin tone, you'll be good to go.
7. RED WINE LOWLIGHTS
Another way to play with a head-turning red hue? Red wine lowlights! Giving beautiful depth to your mane, this deep purple-red hue will emulate your favorite happy hour beverage like no other. We also dig that you can totally customize this color to suit your needs. Give this trend a try with the L'Oréal Paris Colorista Semi-Permanent Hair Color in Maroon.
8. MIDNIGHT BLUE LOWLIGHTS
We couldn't make a list of the best lowlights without talking about midnight blue hair. The true epitome of an edgy and sultry vibe, this seriously stunning hair color will allow you to embrace the cool-girl aesthetic with ease. Try the trend with the L'Oréal Paris Colorista Semi-Permanent Hair Color in Midnight Blue.
CAN YOU GET BOTH HIGHLIGHTS AND LOWLIGHTS?
Since lowlights and highlights are similar, you may be wondering if you can score both looks. And the answer is a resounding yes! A highlight and lowlight combo is totally do-able, not to mention, a great way to add even more depth and dimension to your strands. The key to bringing this look to life is to make sure your lowlights and highlight colors are blended perfectly for a seamless look.
Next up: Ready for more in the way of hair color trends? Here are 50 Popular Hair Color Trends for 2020.
{ "@context": "https://schema.org/", "@type": "WebPage", "speakable": { "@type": "SpeakableSpecification", "cssSelector": ["speakable-content"] }, "url": "https://www.lorealparisusa.com/beauty-magazine/hair-color/hair-color-trends/best-highlights-and-lowlights" }
Discover more tips & tricks
Keep your skin happy
See all articles
Shop Featured Hair Color products
Discover More
{ "@context": "http://schema.org", "@type": "BreadcrumbList", "itemListElement": [ { "@type":"ListItem", "position": 1, "item": { "@id": "/", "name": "Home" } } , { "@type":"ListItem", "position": 2, "item": { "@id": "https://www.lorealparisusa.com/beauty-magazine", "name": "Beauty Magazine" } } , { "@type":"ListItem", "position": 3, "item": { "@id": "https://www.lorealparisusa.com/beauty-magazine/hair-color", "name": "Bold Ideas From Hair Color Pros" } } , { "@type":"ListItem", "position": 4, "item": { "@id": "https://www.lorealparisusa.com/beauty-magazine/hair-color/hair-color-trends", "name": "Hair Color Trends" } } , { "@type":"ListItem", "position": 5, "item": { "@id": "https://www.lorealparisusa.com/beauty-magazine/hair-color/hair-color-trends/best-highlights-and-lowlights", "name": "best-highlights-and-lowlights" } } ] }