hair color ideas
How to Do Succulent Hair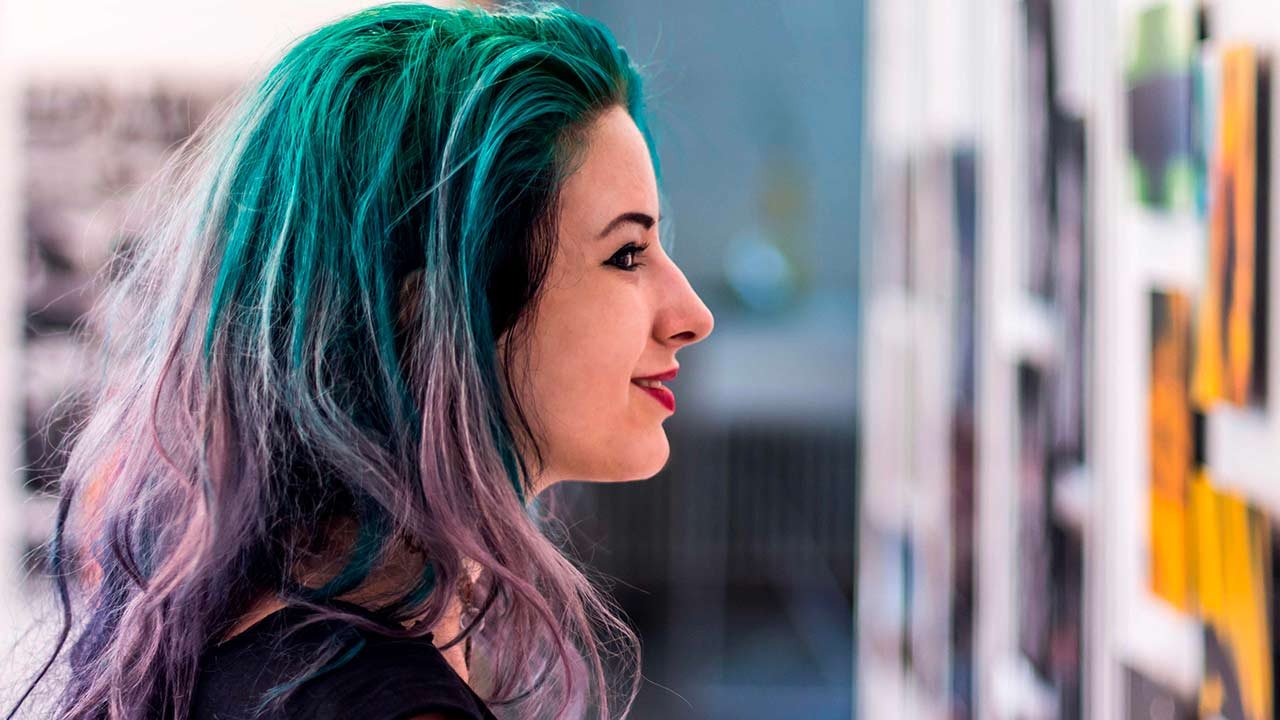 Have trouble keeping a succulent alive? Lucky for you, the latest bold hair color idea to hit the beauty scene will satisfy your plant fix and give you an eye-catching beauty look to boot. Ready to embrace the latest rainbow hair color trend? Keep reading to get the 4-1-1 on what a succulent hair color is and how you can achieve the most gorgeous colorful locks.
1. IT'S NOT ACTUALLY PLANTS IN YOUR HAIR
Typically, succulent hair is known for its layered dye technique that mimics the look of living succulents (like cacti). As far as colors go, think greens, purples, and reds.
2. VISITING A COLORIST IS A GOOD IDEA
When it comes to achieving succulent hair, it's best to visit a professional. When you're playing around with a handful of super-vibrant colors that have to be perfectly applied to create a natural-looking fade, you should book an appointment with a colorist who has experience with bright dyes.
3. IT'S IMPORTANT TO GIVE YOUR COLORIST A VISUAL OF WHAT YOU WANT
Since there are so many different renditions of this hair color trend, you should definitely show your colorist concrete examples of exactly what you want. Don't be afraid to pull out your phone and show them pictures of your favorite influencers rocking the look! That way, your colorist will have the know-how to bring the trend to life on your strands.
4. SUCCULENT HAIR COLOR REQUIRES SOME PREP WORK
If you've ever dyed your hair before, you will need to have all of the color stripped out in order for the succulent hues to really pop. And since most hairstylists won't want to process your hair more than a few colors lighter at a time, there's a good chance your succulent-inspired transformation will require a couple of appointments.
5. SUCCULENT HAIR COLOR IS CREATED WITH A BALAYAGE TECHNIQUE
When you're trying to recreate the gorgeous fades of some of nature's most beautiful plants, you can't just be all willy nilly about dyeing it. Rather, it takes careful precision and the use of a small brush to hand paint each strand. Yep: Succulent hair color is a pretty laborious process, so expect to get comfortable in your salon chair. Never heard of balayage before? It's a highlighting technique that was created by French colorists in the 1970s—and it literally means to sweep. Instead of using foils to add highlights to your mane, a colorist will paint on the color.
6. LIKE ANY DYE JOB, THIS ONE REQUIRES MAINTENANCE
Luckily for your green thumb (or lack thereof), you don't have to water your hair regularly or give your locks extra time in the sun. Wondering what your weekly routine should look like? Well, switching to a color-safe shampoo and conditioner is a good bet—as is rinsing your hair in lukewarm temps, since hot water can strip your hair of essential oils. Try the L'Oréal Paris EverPure Repair & Defend Shampoo and L'Oréal Paris EverPure Repair & Defend Conditioner, which are formulated with an antioxidant + UV filter and help protect color and care for damaged, processed hair fibers. Gently massage the shampoo into wet hair, lather, then rinse. Follow up by applying the conditioner and leave it on for one to three minutes, then rinse. You can also use a color-safe hair mask in place of your regular conditioner once or twice a week. After shampooing with the L'Oréal Paris EverPure Repair & Defend Shampoo, apply the L'Oréal Paris EverPure Repair Remedy Balm and leave it on for three to five minutes, then rinse.
Another good idea? Letting your hair air dry every once in a while instead of using heat tools. The succulent hair color trend looks stunning when it's paired with some natural texture. So, when your hair is wet spray it with the L'Oréal Paris Advanced Hairstyle AIR DRY IT Wave Swept Spray, braid it, and say hello to loose waves once your hair has dried.
Thinking succulent hair may not be for you? Perhaps you'll like a mermaid hair color better. Check out our article, How to Get a Mermaid Hair Color, to find out for yourself.
Discover more tips & tricks
Keep your skin happy
See all articles
Shop Featured Hair Care products
Discover More