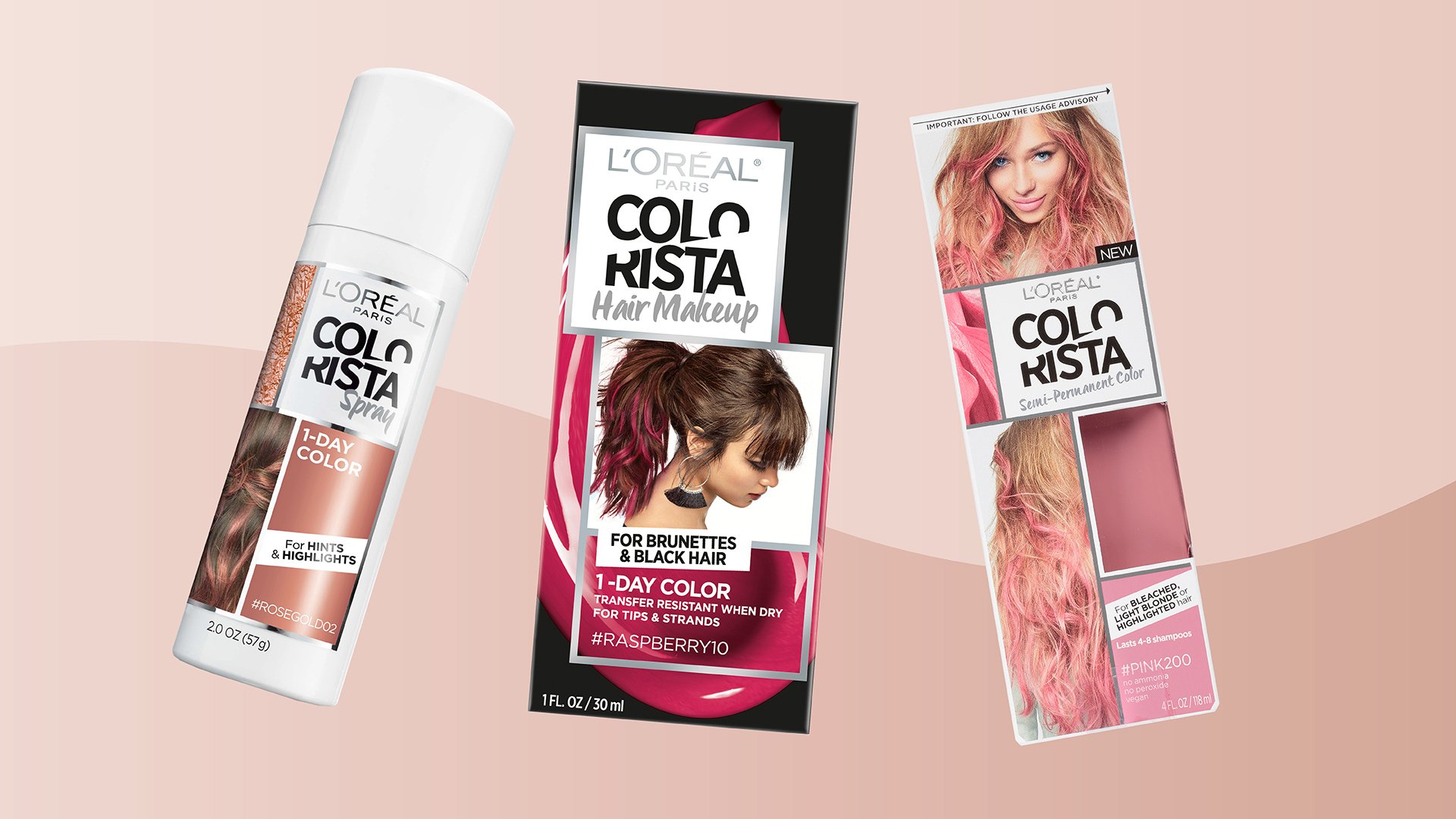 hair color application
A DIY Guide To Using Semi-Permanent Hair Color At-Home
Semi-permanent hair color is a great way to experiment with new hair shades without committing long term. With all the gorgeous hair color trends you may come across while scrolling on social media, it can be tempting to try something new, which isn't always simple to do. But with the use of temporary hair colors and semi-permanent dyes, you can indulge in new colors often and with ease.
Since the color will gradually fade in just a few shampoos, you can move on to another shade or if you love the new tint, switch over to a permanent dye instead. Read on to find out tips and tricks you should know when it comes to using semi-permanent hair dye and the best drugstore products you can use to help maintain your color.
What Is Semi-Permanent Hair Color?
Semi-permanent hair dye is a non-damaging, short term way to color your hair. Unlike most permanent formulas, it doesn't contain ammonia or peroxide, which means it doesn't require any development or pre-mixing, so that you can apply it straight onto your hair from the applicator. It generally lasts through a few washes and can go even longer if you use the right products. And since there's no bleach required, it's also safe to use on hair that's been permed or relaxed. Another bonus is that it can add gloss and shine to dull-looking hair.
Semi-Permanent Hair Color Vs. Other Types Of Dyes
There are a few different types of hair dye out there—semi-permanent hair color is just one of many. Here's how they all stack up.
Temporary hair color:
This type of dye, also known as wash out hair color, doesn't actually change the color of your strands. It just coats the outside of the hair shaft without making it into your hair's cortex. The results should fade in just a few shampoos, and there aren't chemicals like ammonia or peroxide in the formula. It's a fun (and commitment-less) way to play around with bold colors. Sounds like the right option for you? Try L'Oréal Paris Colorista 1-Day Spray to indulge in your favorite hues between washes.
Semi-permanent hair color:
Semi-permanent hair color just coats the hair's outer shaft but will last longer than temporary hair color. It's also a much easier application process to do at home. If you have grays but are strapped for time and can't make it to the salon for a permanent touch-up, semi-permanent hair color might be a good option to hold you over.
Editor's Tip: If you need a root touch-up and can't get to your stylist, another great option is the L'Oréal Paris Magic Root Cover Up, which comes in eight shades and works as a lightweight, quick-dry spray to helps conceal gray roots without any smudging or sticky residue. For even more control at covering scattered grays, try using the L'Oréal Paris Magic Root Precision Pen.
How To Use Semi-Permanent Hair Color
Step 1: Prep Your Hair
While you don't want to color your hair freshly washed, you don't want your strands to be oily or completely dirty. A day before coloring, clean your hair with the L'Oréal Paris EverPure Sulfate Free Scalp Care + Detox Shampoo and Conditioner, which will cleanse your scalp of any dirt, oil, and product build-up.
Step 2: Apply The Dye
Next, wearing the enclosed gloves, apply the L'Oréal Paris Colorista Semi-Permanent Hair Color onto desired areas as directed in the instruction sheet. Leave the dye to sit for about 15 to 30 minutes, and then rinse out and style as usual. No matter which type of semi-permanent hair dye you use, make sure to carefully follow all directions.
Step 3: Take Care Of Your Newly Colored Strands
Your brand new color can last between four to ten shampoos, depending on your hair's porosity. The color will fade gradually and may shift in tone each time you shampoo, so start considering which shade you'll try next. Of course, even though the color is semi-permanent, you'll want to develop a proper hair care routine to extend the lifespan of your color for as long as possible. Try swapping out your everyday hair care products for the L'Oréal Paris Everpure Sulfate-Free Moisture Shampoo and Conditioner, which will help replenish your hair with moisture and won't strip away the color from your hair.
Discover more tips & tricks
Keep your skin happy
See all articles
Shop Featured Hair Color products
Discover More