gray hair coverage
7 Tips To Hide Gray Hair
Seamless coverage for your silver strands.
August 04, 2021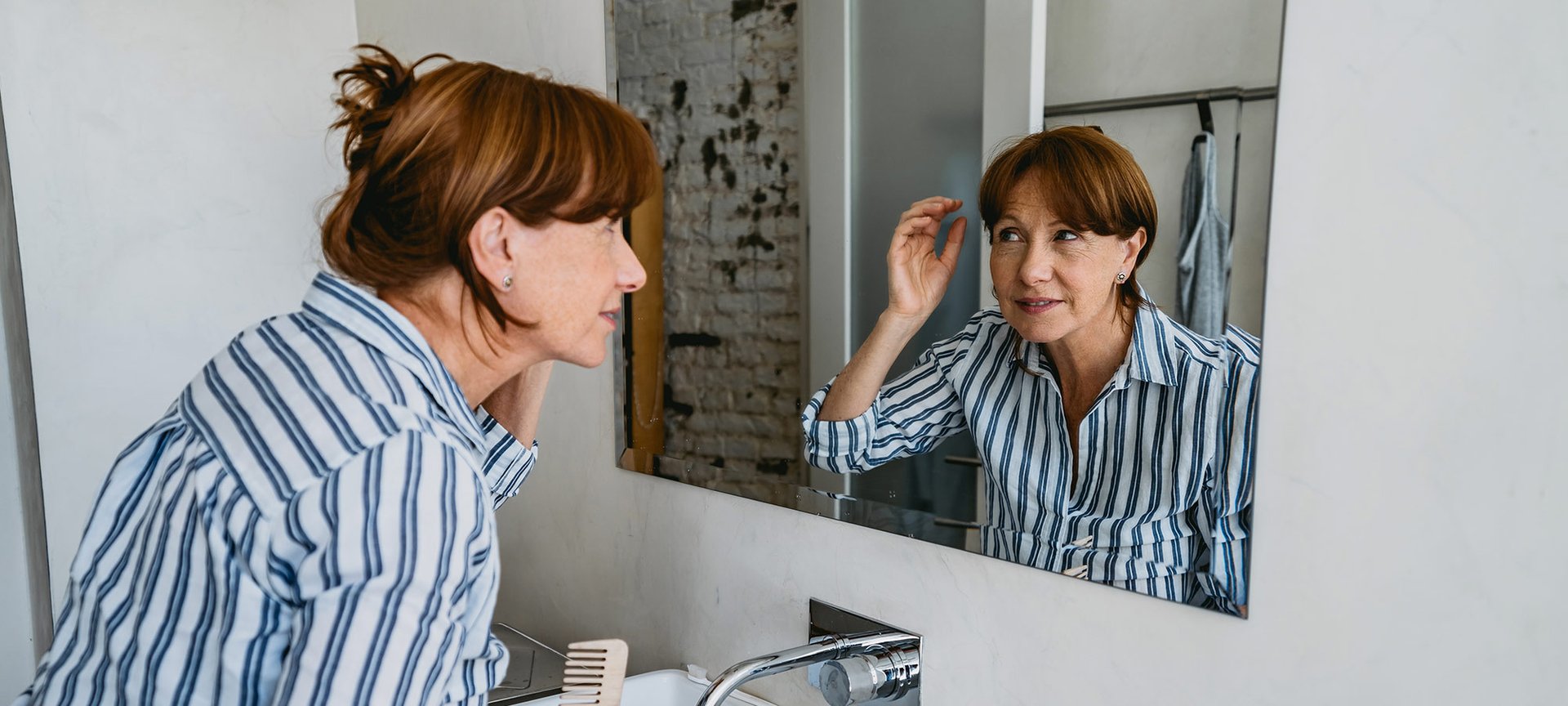 Regardless of your age, gray hair can make an appearance on your hairline. Despite the recent rise in the popularity of salt and pepper hair, not everyone is ready to embrace those silver streaks. If you've been wishing for a way to cover up your gray color, we're here to help. From permanent hair dye to DIY solutions, read on to find seven hacks for hiding gray hair.


Tip #1: Cover Up With Root Spray
If you're in need of a quick gray hair fix between colorings reach for a root cover-up spray like L'Oréal Paris Magic Root Cover Up to conceal larger areas of grays until there's time for a more permanent solution. Just spray onto new growth and partly through the length of the hair to blend in the color and effectively hide gray roots. The quick and easy spray dries in a flash and doesn't leave behind a sticky residue. The best part? Once you've sprayed, you're all set until your next shampoo.
Tip #2: Conceal With A Touch-up Pen
For disguising those first few grays that start to pop up, you'll want a product that offers precise coverage, as opposed to one that'll cover a large area. That's where a root cover-up pen comes in. The L'Oréal Paris Magic Root Precision Pen features a unique precision brush that allows easy, smooth application on any hair type or texture. Simply rotate the pen to dispense the product, then lightly dab the brush onto dry hair using swift strokes. Wait a minute for the product to dry, and you're good to go!
Tip #3: Try Out A New Part

Covering up gray hairs can be as simple as trying out a different hairstyle. Depending on where your gray strands are located, concealing your gray hair can be as easy as switching up your hair part. If your grays are at the center of your crown, try switching to a deep side part or vice versa.
Tip #4: Opt For Permanent Root Coverage
When you just need to refresh your roots, you can use a permanent hair dye to target those incoming grays. But you don't want to just grab an all-over boxed color. A permanent root color kit like the L'Oréal Paris Magic Root Root Rescue 10 Minute Root Hair Coloring Kit will do the trick and won't wash out at the end of every day. The kit contains everything you need to conceal grays with permanent hair color in just ten minutes.
Tip #5: DIY Dye Your Hair
When you discover your first gray hair, your first thought might be to run to the bathroom and dye your hair. Luckily, there are permanent hair color kits that are perfect for making those salt and pepper pieces in your hair disappear without leaving your home. The L'Oréal Paris Excellence Créme Permanent Triple Protection Hair Color kit includes a developer creme, hair color, hair conditioner, and hair serum. Plus, it comes in a variety of hair colors so you can easily find your perfect shade. If you need some advice before you start your at-home dye job, consult with the L'Oréal Paris Hair Color Concierge to get expert advice on the best way to cover those grays.
Tip #6: Use Highlights To Hide
Instead of dyeing all of your hair, try adding highlights or lowlights to hide those silver hairs. By blending highlights in your hair, stray grays can be hidden without requiring too much maintenance. Add highlights to your hair at home with the L'Oréal Paris Frost & Design. Perfect for both beginners and highlighting experts, you're able to get dimensional highlights from root to tip, controlling exactly where they go.
Tip #7: Give Grays Some Glitz
Hiding grays can also be fun! If you don't have the time (or desire) to color your hair, look to hair accessories and hairstyles to conceal your roots and graying strands. Blend your silver strands into a sea of color with this fun prism roots trend. Get this temporary multicolored look using the L'Oréal Paris Colorista 1-Day Spray and combining prettiest pastels shades like Pastel Lavender, Pastel Mint, Pastel Pink, and Pastel Blue. Finish your style with a hair gel like the L'Oréal Paris Advanced Hairstyle LOCK IT Extreme Style Gel, which offers high shine and long-lasting hold for your fairytale hair.
Next: Go Gray the Most Stylish Way Possible with Steel Gray Hair
Photo Credit: iStock
Discover more tips & tricks
Keep your skin happy
See all articles
Shop Featured Hair Color products
Discover More