dry hair
How To Manage Dandruff
Flakey scalp be gone!
September 02, 2020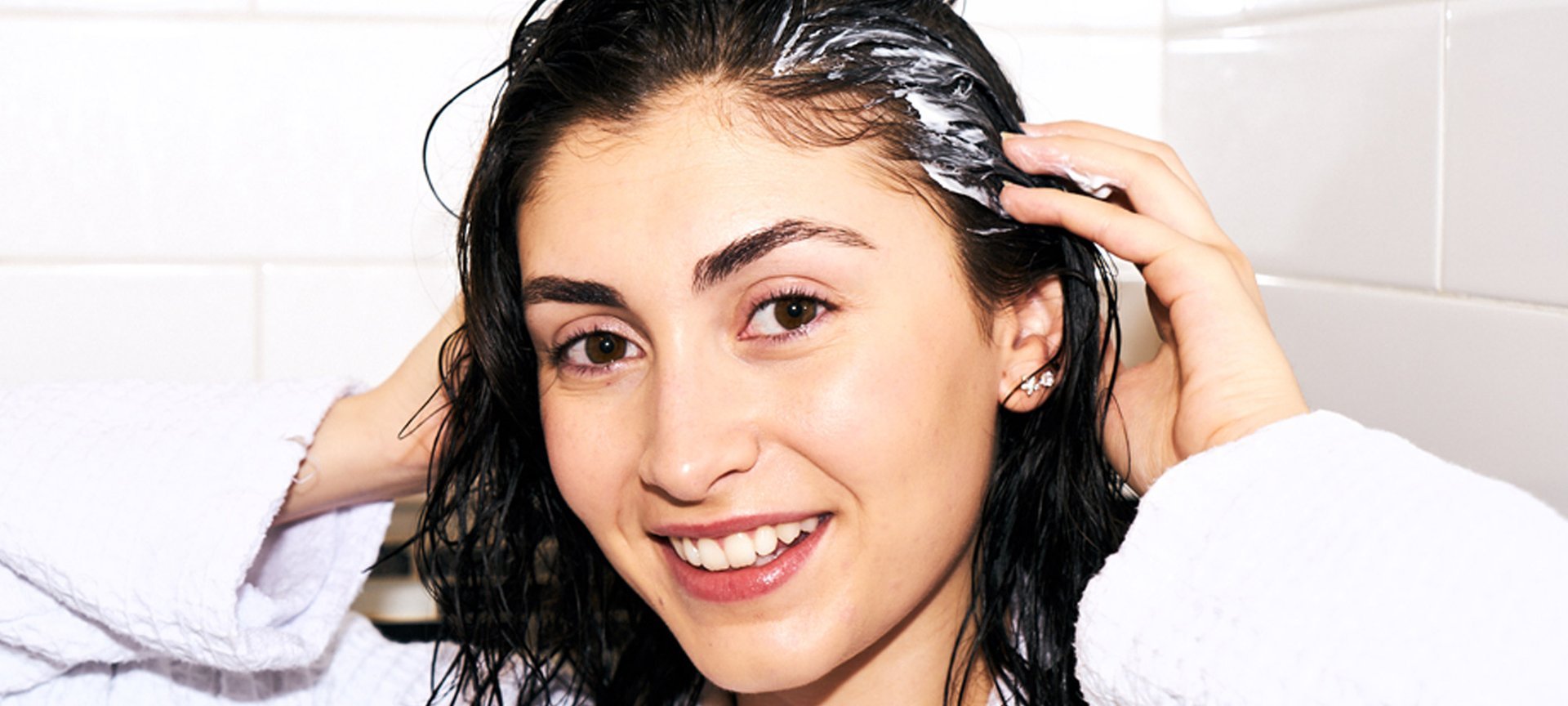 If you're often frustrated by your flakey or even itchy scalp, you may be dealing with dandruff. Part of the reason that it can be tricky to deal with is that people often mistake dry scalp for dandruff when they can actually be two separate conditions. Here, we're sharing how to figure out if the scalp flaking you're experiencing is actually dandruff, as well as tips for how to treat dandruff if it's truly the root of the problem.
What Causes Dandruff?
Dandruff—which the Mayo Clinic describes as the flaking of skin on the scalp—can be incredibly frustrating to manage. According to the Mayo Clinic, a variety of factors can cause dandruff, including sensitivity to hair care products, not shampooing enough, shampooing too often, fungal growth, an irritated, oily scalp and dry skin.
Dandruff vs. Dry Scalp
While they can look incredibly similar, dandruff and dry scalp are not the same thing. Your scalp, just like your skin, can be dry without there being flakes. According to the American Academy of Dermatology (AAD), dry scalp occurs when the skin loses too much water as a result of sun damage, intensely stripping hair products, low humidity and cold climates. While they do differ, a dry scalp can progress into dandruff. If you notice your scalp getting dry, you can still follow the tips we're sharing for managing dandruff.
How To Manage Dandruff
If you're concerned that you have dandruff as a result of fungal growth or irritation, or you're experiencing patches of discoloration or inflammation, consult with your dermatologist. Otherwise, try the following tips on how to manage dandruff.
1. Wash With A Shampoo That Has Anti-Dandruff Benefits
When it comes to managing dandruff, the right products and hair care routine can make all the difference. The L'Oréal Paris EverPure Sulfate Free Scalp Care + Detox Shampoo is formulated with menthol and neem leaf extract to give your scalp a proper detox. This rich and creamy formula deeply purifies and cleanses your scalp without stripping your hair. It also helps prevent the scalp-flaking and itching that are associated with dandruff. Not to mention, it's dye-, paraben-, and sulfate-free, vegan, and safe for color-treated hair.
Editor's Note: If you prefer a shampoo with more hydration vs. detoxifying, the L'Oréal Paris Elvive Extraordinary Oil Shampoo is a great option because it's formulated with lightweight, nourishing oils to add hydration and shine.
2. Follow Up With A Nourishing Conditioner
To reap all of the benefits of your shampoo, we recommend that you use it in conjunction with the L'Oréal Paris EverPure Sulfate Free Scalp Care + Detox Conditioner. When used with the coordinating shampoo, this duo helps to replenish your hair with necessary moisture and restore balance for a healthy hair environment.
3. Exfoliate Your Scalp
Just like it's important to exfoliate the skin on your face and body, your scalp could benefit from it, too. When you exfoliate, you help remove dead skin cells that have emerged on the surface of your skin to reveal fresh, younger cells underneath. Your scalp is skin as well—and it can also experience a buildup of dead skin cells, dirt, and oil which can lead to flaking. Using an exfoliating scalp scrub that's specially formulated for your scalp can help remove that buildup and debris.
The L'Oréal Paris EverPure Sulfate-Free Scalp Care & Detox Scrub contains apricot seeds that gently remove impurities, flakes, and buildup from dirt and excess oils that can cause hair to be weighed down. As a result, this scrub promotes a healthy-looking scalp. Gently massage it onto your scalp and throughout wet hair.
4. Limit Hair Styling Products And Dry Shampoo
As much as you rely on your hair-styling products to achieve different styles, they could be contributing to the scalp flakes you're experiencing. Hair products can create buildup on your scalp if you use them too often or don't cleanse properly. This can create excess oil or buildup which can lead to dandruff. So minimize the amount of products you're using to keep dandruff at bay.
If you can't stay away from your styling products, dry shampoo can help. Dry shampoo can rejuvenate your mane and may help you minimize how many products you need to use. It can also provide benefits to your hair like added volume and texture, nutrients, and, most importantly, refreshing oily strands. Just Play it safe and only use dry shampoo once or twice a week when your hair is in need of a refresh—using it too much is a recipe for buildup. Apply dry shampoo like the L'Oréal Paris Elvive Dream Lengths Air Volume Dry Shampoo directly on your oily roots. Work the product into your scalp with your fingers or a brush and you'll be good to go.
Next: What Is The Skinification Of Hair And How Does It Affect You

Photo Credit: Chaunte Vaughn
{ "@context": "https://schema.org/", "@type": "WebPage", "speakable": { "@type": "SpeakableSpecification", "cssSelector": ["speakable-content"] }, "url": "https://www.lorealparisusa.com/beauty-magazine/hair-care/dry-hair/dandruff-causes-and-treatment-tips" }
Discover more tips & tricks
Keep your skin happy
See all articles
Shop Featured Hair Care products
Discover More
{ "@context": "http://schema.org", "@type": "BreadcrumbList", "itemListElement": [ { "@type":"ListItem", "position": 1, "item": { "@id": "/", "name": "Home" } } , { "@type":"ListItem", "position": 2, "item": { "@id": "https://www.lorealparisusa.com/beauty-magazine", "name": "Beauty Magazine" } } , { "@type":"ListItem", "position": 3, "item": { "@id": "https://www.lorealparisusa.com/beauty-magazine/hair-care", "name": "All Things Healthy Hair" } } , { "@type":"ListItem", "position": 4, "item": { "@id": "https://www.lorealparisusa.com/beauty-magazine/hair-care/dry-hair", "name": "Dry Hair Care" } } , { "@type":"ListItem", "position": 5, "item": { "@id": "https://www.lorealparisusa.com/beauty-magazine/hair-care/dry-hair/dandruff-causes-and-treatment-tips", "name": "dandruff-causes-and-treatment-tips" } } ] }