damaged hair
Are Hair Ties And Ponytail Holders Bad For Your Hair? 
Get the facts.
March 13, 2020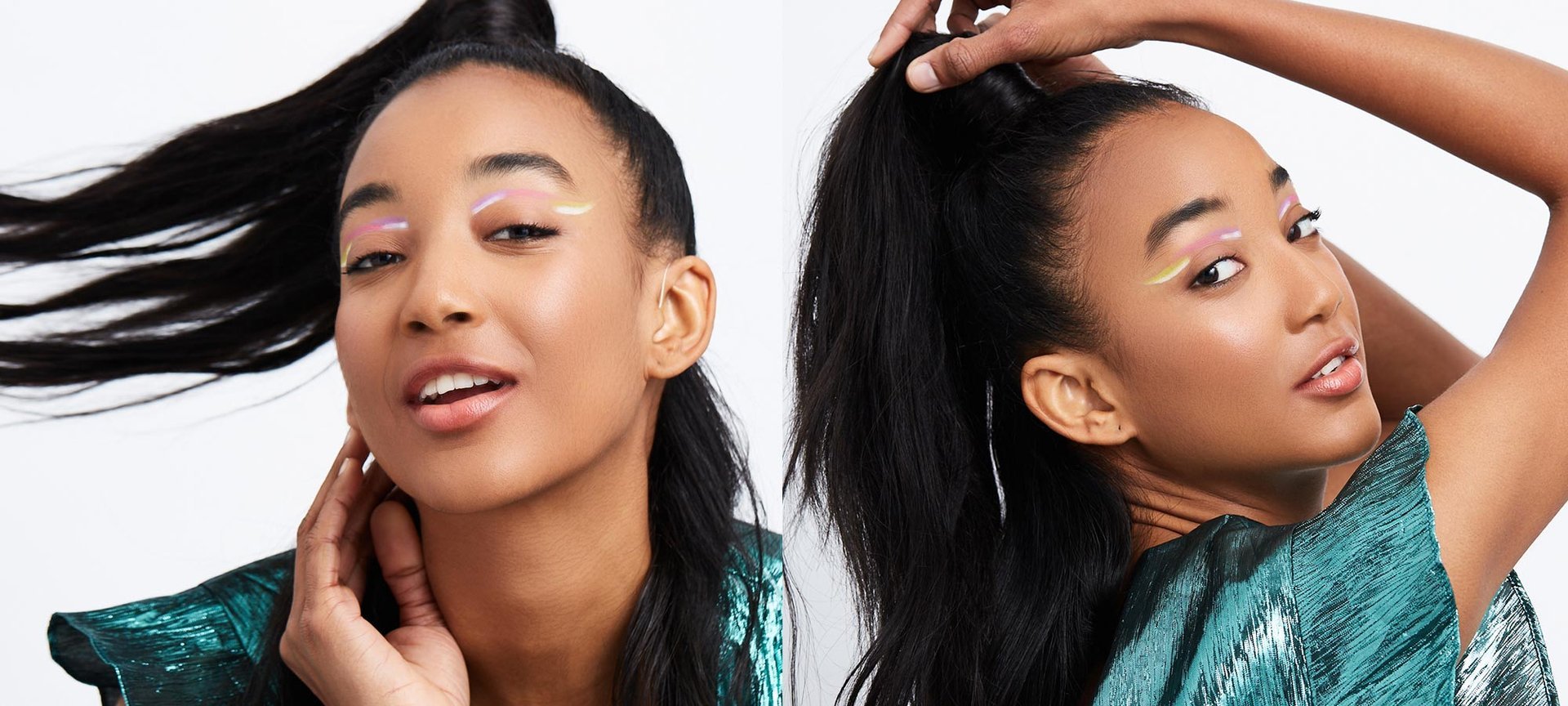 When you want to get your mane out of your face, throwing your strands up with a hair tie is likely your first reflex. In fact, you may even have a handy ponytail holder worn around your wrist at all times or one tossed in your purse that you can pull out in a pinch. You've likely been sporting hair ties and ponytail holders since before you can remember as these hair accessories are a staple in every bathroom drawer, but what if they do more harm than good? Below, we're sharing the truth about hair ties and hair damage so you can continue rocking updos without any consequences.
Are Hair Ties and Ponytail Holders Bad For Your Hair?
Let's cut to the chase—could your hair ties and ponytail holders be doing damage to your hair? It all comes down to the type of hair tie you're using, as well as the hairstyle you're rocking. The wrong ones could be putting stress on your strands.

The American Academy of Dermatology (AAD) recommends using covered rubber bands made especially for styling hair to avoid damage. This means any elastics or rubber bands without fabric covering them shouldn't really have a place in your styling routine. As far as hairstyles themselves go, per the AAD, it's best to keep tightly pulled hairstyles to a minimum to avoid damage. This includes sleek ponytails, tight braids and other cornrows styles that put tension on your hair.
How to Safely Remove Hair Ties
If you didn't read this before you did your hair and you find yourself fighting with a rubber band or hair tie and need a safe way to remove it, try one of these tricks to avoid causing damage to your strands.
1. Hair Tie Cutter
The best way to remove a rubber hair tie from your hair is to use a cutter made specifically for this. Some people might be tempted to grab their regular scissors but that's a no-go. If you're not looking to go from a ponytail to a pixie, be extra careful.
2. Seam Ripper
If you don't have a hair tie cutter on hand, a seam ripper is a safer alternative than scissors. Make sure you stick it between two layers of the hair tie, never letting it make direct contact with your hair to avoid potentially slicing at your tresses.
3. Curling Wand
As a final ditch effort you can use the end of your curling iron to pop a rubber hair tie. Heat the wand for a minute and then hold it against the hair tie for a few seconds. The rubber should come apart on its own. While this hack is popular with TikTok and YouTube fans for its efficiency, and of course minimal hair damage, we still think the best way to avoid potential hair breakage is to skip damaging hair ties altogether.
6 Hair Ties That Won't Stress Your Strands
Since we called out hair ties to avoid, we think it's only right to give you some alternatives that won't take a toll on your locks. Here are six hair tie options that your strands will thank you for!
1. Silk Hair Ties
You've heard of the wonders that silk pillowcases can do for your hair, so it should come as no surprise that silk hair ties are a good idea as well. Covered in super-soft silk fabric, these hair elastics won't cause breakage—not to mention they're super chic.
Editor's Tip: Silk or satin hair ties are especially great for curly hair, which can be particularly sensitive to breakage from rubber and other materials.
2. Scrunchies
This '90s favorite has made quite the comeback in recent years and we love it. You're bound to come across scrunchies in your travels, and with extra gathered fabric covering the hair elastic, you can see why they'd be kind to your strands. Need some style inspo? Check out our article, 16 Scrunchie Hairstyles for Embracing the '90s Resurgence.
3. Coiled Hair Ties
You may have seen this hair accessory in the beauty aisle, but wondered about its peculiar shape. This old school phone cord-like hair tie is likely far from the traditional ponytail holder you're used to. Its unique shape has a purpose, though: It won't leave your hair with dents or marks when you take your strands down from a pony or messy bun. Since they're also a gentle option for your hair, we'd say it's a win-win.
4. Bungee Bands
Another non-traditional option, bungee bands are great for ensuring the weight of your mane is evenly distributed, so no strain is put on your strands. This type of hair tie is particularly useful for those with thick hair. The band of fabric is connected with a hook and loop system—simply wrap it around your gathered hair and attach to secure your style.
5. Ribbon Elastics
Feeling girly? Consider grabbing some ribbon hair elastics to add to your collection. As you can probably guess, this type of hair elastic is made from ribbon, allowing it to be smooth against your strands. There are even some options that have excess ribbon at the ends so you can tie it into a cute bow!
6. Hair Scarves
If you want a trendy option, allow us to point you in the direction of hair scarves. Perfect for spring and summer, the length of fabric can be wrapped any way you'd like then tied into place with the ends hanging down. Pretty, right? If you need more details on how to tie hair up with a scarf, here's How to Wear a Head Wrap or Hair Scarf.
Next: The Best Ponytails For Your Face Shape


Photo Credit: Chaunte Vaughn
{ "@context": "https://schema.org/", "@type": "WebPage", "speakable": { "@type": "SpeakableSpecification", "cssSelector": ["speakable-content"] }, "url": "https://www.lorealparisusa.com/beauty-magazine/hair-care/damaged-hair/are-hair-ties-bad-for-your-hair" }
Discover more tips & tricks
See all articles
Improve your routine
Show your new look more love:
makeup
{ "@context": "http://schema.org", "@type": "BreadcrumbList", "itemListElement": [ { "@type":"ListItem", "position": 1, "item": { "@id": "/", "name": "Home" } } , { "@type":"ListItem", "position": 2, "item": { "@id": "https://www.lorealparisusa.com/beauty-magazine", "name": "Beauty Magazine" } } , { "@type":"ListItem", "position": 3, "item": { "@id": "https://www.lorealparisusa.com/beauty-magazine/hair-care", "name": "All Things Healthy Hair" } } , { "@type":"ListItem", "position": 4, "item": { "@id": "https://www.lorealparisusa.com/beauty-magazine/hair-care/damaged-hair", "name": "Damaged Hair Care" } } , { "@type":"ListItem", "position": 5, "item": { "@id": "https://www.lorealparisusa.com/beauty-magazine/hair-care/damaged-hair/are-hair-ties-bad-for-your-hair", "name": "are-hair-ties-bad-for-your-hair" } } ] }