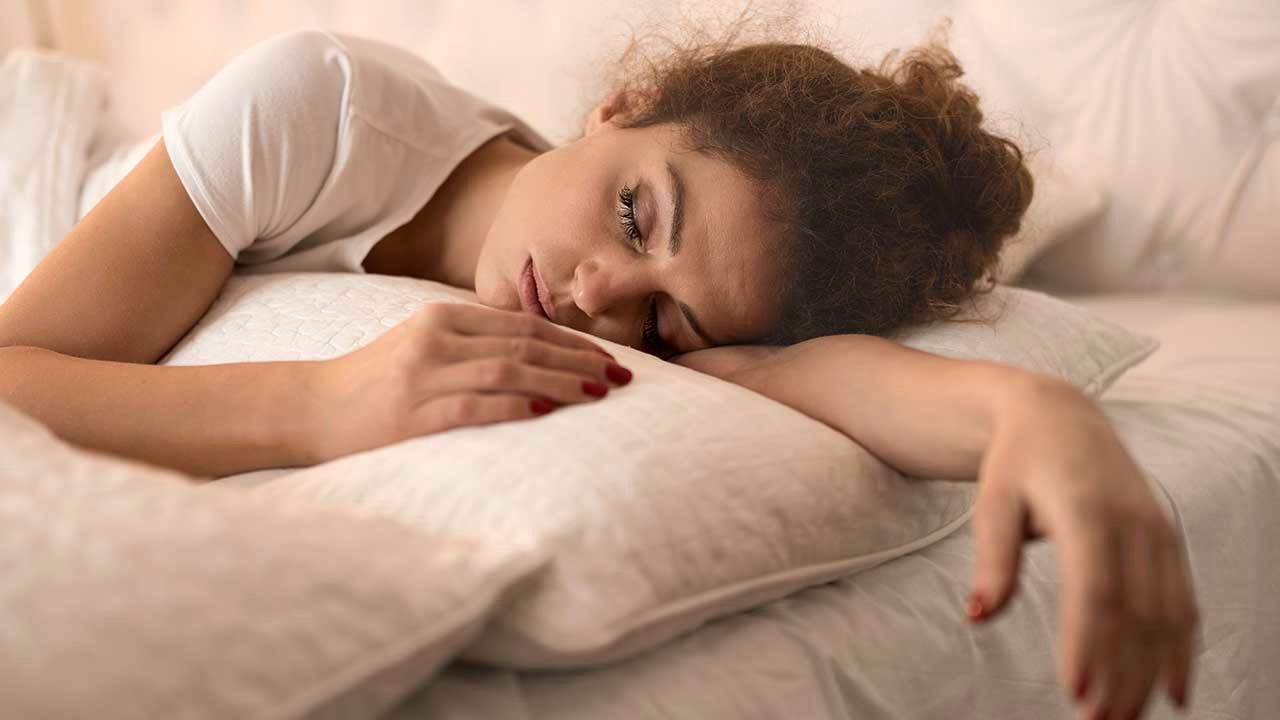 Dragging yourself out of bed in the morning—and getting to where you need to be on time—isn't always the easiest task, especially if you didn't get a good night's sleep. Add in the stress of creating the perfect hairstyle before you leave for the day, and that doesn't leave much time for anything else. The good news is that there are quite a few simple overnight hair hacks—like using an overnight hair mask formulated with coconut oil—that can help limit the amount of time and effort you'll have to spend styling your strands come morning. More time for breakfast and coffee before work? Sign us up! Try one of these overnight hair hacks tonight.
OVERNIGHT HAIR HACK #1: USE AN OVERNIGHT HAIR MASK
You may have heard of using coconut oil on your hair overnight, but we're fans of hydrating our strands with an overnight hair mask. As you can probably guess, this type of hair mask works as you sleep to give your strands some TLC, typically hydration. Get the best of both worlds by looking for a mask formulated with coconut oil, and we bet you'll be waking up with a miraculous mane.
OVERNIGHT HAIR HACK #2: USE THE RIGHT BRUSH—AND CHANGE YOUR TECHNIQUE
Growing up, you probably heard that it was super-important to brush your hair every night before going to bed. Of course, brushing is important—it can help to detangle knotty hair—but, you don't have to overdo it since brushing aggressively can potentially lead to damaged hair. Instead, pick up a boar bristle brush (which can help to distribute your hair's natural oils evenly), and start brushing from the bottom of your hair, working your way up. And never, ever brush wet hair since that's when your hair is its most fragile. When your hair is wet, you can spritz on a detangler, like the L'Oréal Kids Burst of Sweet Pear Tangle Tamer for All Hair Types, to help make brushing once your hair has dried a little easier (and to bring you back to your childhood).
OVERNIGHT HAIR HACK #3: SLEEP ON A SILK PILLOWCASE
You paid up for a professional blowout—but now you're nervous about what it'll look like after a night of tossing and turning. In that case, it may be time to throw your regular ol' pillowcase aside in favor of a silk one. A silk pillowcase can help to keep your hairstyle from getting messed up while you sleep since it's smoother than other fabrics. Plus, silk just makes everything seem a little fancier, doesn't it?
OVERNIGHT HAIR HACK #4: "PINEAPPLE" YOUR CURLS
When you have naturally curly hair, your biggest hair concern is probably worrying about your curls getting crushed as you sleep. One way to help prevent this from happening is to use the pineappling technique. What's that, you ask? The pineapple method is ideal for styling natural hair while you sleep, and all you'll need for this overnight hair hack is a silk hair scarf. Start by gathering your hair on the top of your head. Then, take the silk scarf and wrap it around the base. (Doing this will make your hair look like the leaves of a pineapple. Cool, right?)
OVERNIGHT HAIR HACK #5: PUMP UP THE VOLUME
Does your hair always seem to fall flat after a night of tossing and turning? Instead of wearing your hair down while you snooze, twist it up into a high updo or bun instead, which can help to create some bounce. If you have fine hair, first wash your mane with a volumizing system of shampoo and conditioner, like the L'Oréal Paris EverPure Volume Shampoo and L'Oréal Paris EverPure Volume Conditioner. Then, blow-dry your hair with a round brush and put it into a top knot, securing it with a few bobby pins. Release the bun when you wake up and shake your hair out. Ta-da!
OVERNIGHT HAIR HACK #6: CREATE HEAT-FREE WAVES
Frequent use of heat styling tools can take a toll on your hair. Thankfully you don't always need to use a curling wand to create pretty, beach-inspired waves. After you've washed and conditioned your hair, towel-dry, then spritz on a wave spray. Next, braid your hair to help create some texture. Making one big braid will result in looser waves, while making a few smaller braids will result in tighter waves. Sleep on your braid, then undo it in the morning, and tousle your hair for a carefree vibe!
OVERNIGHT HAIR HACK #7: OR HEAT-FREE CURLS
Speaking of overnight hairstyles, perhaps you'd like something a little more polished than waves—and with the help of overnight hair curlers AKA foam hair rollers, you can roll out of bed to reveal beautiful ringlets. How so? It's all about using the right product and technique to curl hair overnight. After washing your strands, gently comb through towel-dried hair and apply a hair serum to combat frizz. Then, open your roller and grab a one-inch section of nearly dry hair. Place the roller at the ends of your hair, then roll it toward your roots! Clip the roller shut and repeat on the rest of your head, then catch some Z's. In the morning, take out your rollers to reveal gorgeous, overnight curls.
If you loved reading about these overnight hair tips and hairstyle ideas, and want even more, check out our article, 8 Adorable No-Heat Hairstyles.
{ "@context": "https://schema.org/", "@type": "WebPage", "speakable": { "@type": "SpeakableSpecification", "cssSelector": ["speakable-content"] }, "url": "https://www.lorealparisusa.com/beauty-magazine/hair-care/all-hair-types/try-these-overnight-hair-hacks" }
Discover more tips & tricks
Keep your skin happy
See all articles
Shop Featured Hair Care products
Discover More
{ "@context": "http://schema.org", "@type": "BreadcrumbList", "itemListElement": [ { "@type":"ListItem", "position": 1, "item": { "@id": "/", "name": "Home" } } , { "@type":"ListItem", "position": 2, "item": { "@id": "https://www.lorealparisusa.com/beauty-magazine", "name": "Beauty Magazine" } } , { "@type":"ListItem", "position": 3, "item": { "@id": "https://www.lorealparisusa.com/beauty-magazine/hair-care", "name": "All Things Healthy Hair" } } , { "@type":"ListItem", "position": 4, "item": { "@id": "https://www.lorealparisusa.com/beauty-magazine/hair-care/all-hair-types", "name": "All Hair Types" } } , { "@type":"ListItem", "position": 5, "item": { "@id": "https://www.lorealparisusa.com/beauty-magazine/hair-care/all-hair-types/try-these-overnight-hair-hacks", "name": "try-these-overnight-hair-hacks" } } ] }