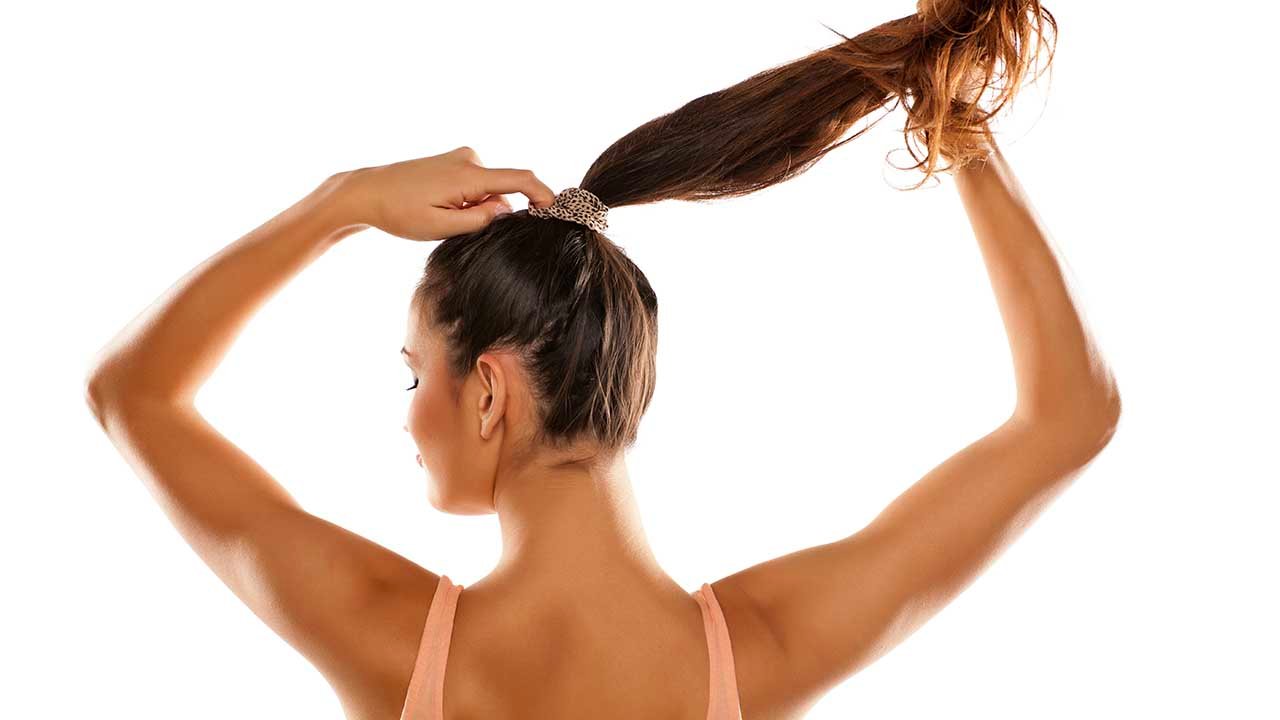 all hair types
How to Spend Less Time on Your Hair
So, you slept late—or you're playing the game of "how quick can I get ready so I can sleep longer." Whatever your situation, after eating breakfast, going through your skin care routine, getting dressed, and finishing your makeup look, there isn't much time left to be spent styling your locks. Luckily, you don't have to! From hair care to hair styling, here are six easy time saving tips so you can spend less time on your head and more time in bed.
TIME SAVING HAIR TIP #1: PREP FOR YOUR STYLE
Most of us have our go-to hairstyle. If you're planning to switch things up and try something new, there's a good chance you've decided on your 'do the night before. If you haven't, consider making a note of the different hairstyles you want to rock for the week. Preparation is key to giving yourself those extra minutes in dreamland! Choosing a shampoo and conditioner that will prep your hair for your style of choice will cut down the time it takes to style your hair in the morning. Here are a few of our best shampoos and conditioners that will prep your mane.
For volume: If the style you're planning to rock involves adding some extra volume into your hair, use a volume shampoo and conditioner. The L'Oréal Paris EverPure Volume Shampoo and L'Oréal Paris EverPure Volume Conditioner revive fine, flat hair to give you lasting volume and shine.
For frizzy hair: For a sleek, smooth style (or on days when Mother Nature and the humidity aren't your friend) you'll want to invest in an anti-frizz shampoo and conditioner. The L'Oréal Paris EverPure Frizz-Defy Shampoo and L'Oréal Paris EverPure Frizz-Defy Conditioner, which are formulated with marula oil, gently cleanse your hair while providing long lasting frizz control so you're left with smooth, luminous locks.
For taming curls: If you have curly hair, it can be difficult to find products to make styling your mane easier. The L'Oréal Paris EverCurl HydraCharge Shampoo and the L'Oréal Paris EverCurl HydraCharge Conditioner will smooth your curls with their coconut oil-infused formula. Your hair will be left frizz-free, hydrated, and defined.
For thickness: For thin or fine hair, an extra boost is just what you need so you don't have to spend extra time in the morning trying to make your hair look lush and thick. The L'Oréal Paris EverStrong Thickening Shampoo and L'Oréal Paris EverStrong Thickening Conditioner fortify and strengthen thin hair.
TIME SAVING HAIR TIP #2: GRAB YOUR DRY SHAMPOO
On days when your hair needs a quick refresh, a dry shampoo will be your saving grace. With a quick spray of the L'Oréal Paris Elvive Extraordinary Clay Dry Shampoo, your hair will instantly be left feeling and looking clean without any visible residue left behind.
TIME SAVING HAIR TIP #3: AND YOUR HAIR SPRAY
Spraying your style into place with hair spray can help you get more than one day out of it. The L'Oréal Paris Advanced Hairstyle LOCK IT Fine Control Hairspray is a micro-diffused hair spray that will give you long-lasting hold. The formula is ultra-brushable so you can apply it, brush it out, and reapply it throughout the day. Sleep on a silk pillow to help your style stay put throughout the night.
TIME SAVING HAIR TIP #4: SKIP THE HEAT
If you want to switch up your style but don't have time to whip out your straightener, curling iron, or other styling tool, invest in some heat free styling products. The L'Oréal Paris Advanced Hairstyle AIR DRY IT Wave Swept Spray is a styling spray that enhances your hair's natural shape, definition, and texture. The spray will add shine and give a flexible hold.
TIME SAVING HAIR TIP #5: INVEST IN HAIR ACCESSORIES
This may seem like a known-fact, but it's one worth mentioning. While having a few hats nearby is always a life saver when it comes to spending less time on your mane, there are other hair accessories you should add to your collection. Head scarves, bandanas, and head wraps are the latest thing when it comes to hairstyle trends. The best part is they disguise any greasy roots and untamed fly-aways in less than a minute. These hair accessories are key for looking put-together with minimal effort.
TIME SAVING HAIR TIP #6: PUT UP YOUR MANE
If you want to work with what you've got, updo and bun hairstyles are the way to go. Whether you're looking for sophisticated hairstyles to try or a messy bun, there are so many options for quick, easy, and trendy updos.
Want to speed up your skin care routine too? Here are 4 Ways to Speed Up Your Morning Skin Care Routine.
Discover more tips & tricks
Keep your skin happy
See all articles
Shop Featured Hair Care products
Discover More