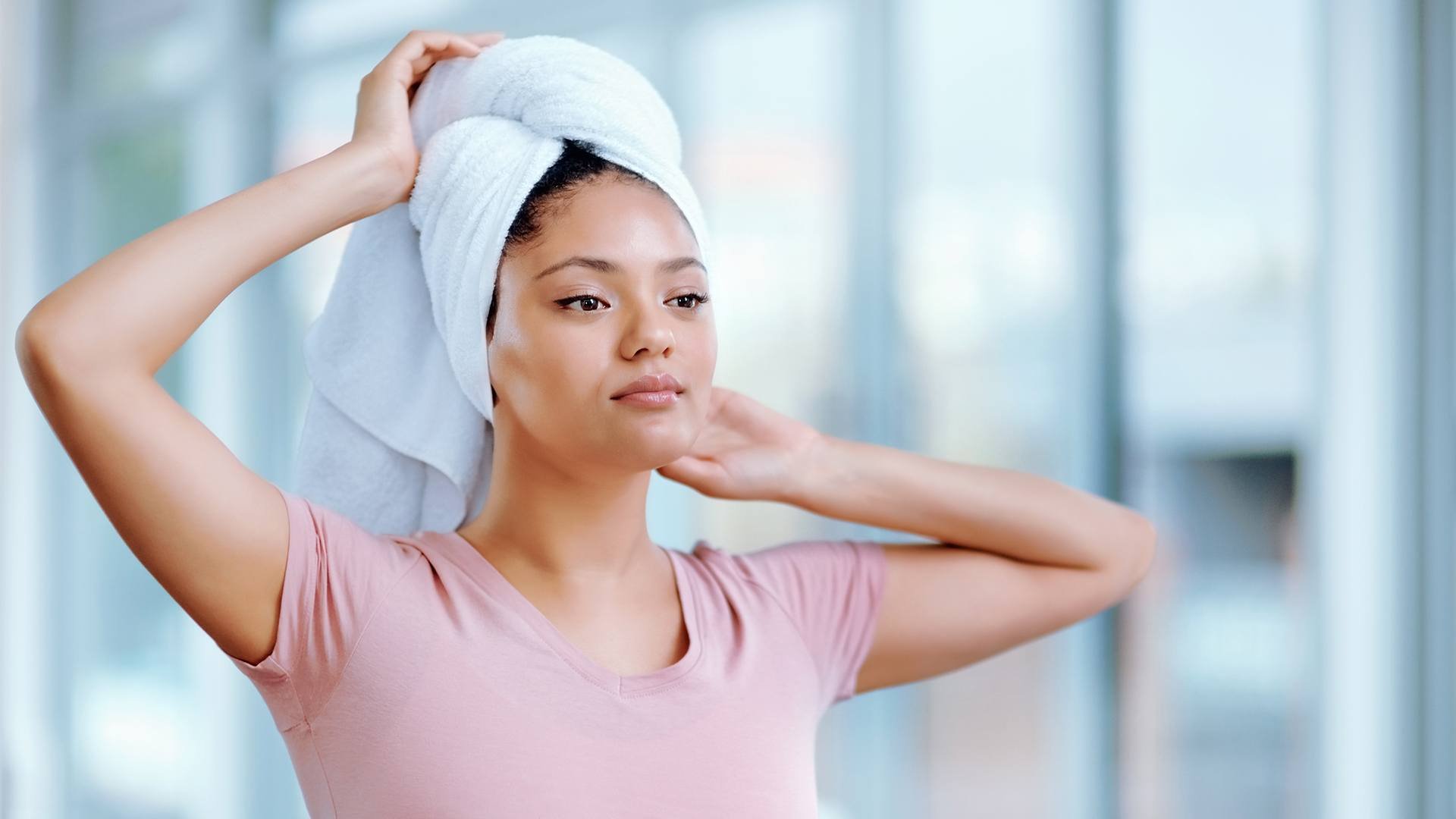 all hair types
How to Wrap Wet Hair and Create a Towel Turban
Most of us are familiar with the turban hairstyle typically sported post-shower. You know, the one where you wrap your damp strands in a towel to speed up the drying process and get your hair out of your face while you go about your skin care routine and do your makeup. Of course, this simple towel turban isn't as easy to achieve as it looks—if you don't know what you're doing, that is. Below, we're sharing a step-by-step tutorial on how to wrap hair in a towel.
HOW TO WRAP HAIR IN A TOWEL AND CREATE A TOWEL TURBAN
Ready to wrap things up? Here's what to do.
STEP #1: PICK THE RIGHT TOWEL
First thing's first—you need the right towel! Ideally, you'll want to use a microfiber towel, as these are soft and won't damage your hair. It's also important to choose a towel that's wide enough to reach from the nape of your neck to your hairline, and long enough to fall past your shoulders.
Editor's note: You can also opt to use a hair wrap, which is specifically made for hair wrapping, as these are also made from a light, microfiber material and will have a button or another type of fastener to keep the wrap from coming undone.
STEP #2: REMOVE EXCESS WATER
To speed up the drying process and prevent your wrap from leaking, you'll want to remove excess water from your strands. To do so, gently blot your hair with your microfiber towel to soak up some of the water. If you have thick or long hair, flip your hair over during this step to ensure you go over your entire mane with the towel.
STEP #3: DETANGLE YOUR STRANDS
Before wrapping your hair up in a towel, it's important to detangle it. Skipping this step will cause your knots and tangles to become even more knotted and tangled. Yikes! Use a wide-tooth comb and the L'Oréal Kids Burst of Sweet Pear Tangle Tamer for All Hair Types to gently comb through your damp strands.
STEP #4: FLIP YOUR HAIR
Bend forward so that all of your hair is flipped forward, hanging in front of your face. Use your comb to help guide your strands forward if needed.
STEP #5: POSITION YOUR TOWEL
Position your towel so that your head is at its center, and the edge is aligned with the nape of your neck. If needed, adjust so there's equal length on either side of your head. Bring each side toward the front of your head, bringing them together at the middle of your hairline. Make sure each side is positioned firmly around your head, applying slight pressure that will ultimately be the determining factor in whether your hair dries. If you want, tuck the towel behind your ears.
STEP #6: TWIST, TWIST, TWIST
Begin to twist the length of your towel, starting at the center of your hairline. Twist all the way until you reach the ends!
STEP #7: FLIP IT BACK
Stand upright and fold your towel (and hair, in the process) backward so that it falls over your head and hangs down behind you.
STEP #8: SECURE IN PLACE
If needed, use a clip to secure the end of the towel in place. You don't want your towel to shift during the next two steps!
STEP #9: WAIT IT OUT
You know what they say—life's a waiting game. Wait around 30-60 minutes for your hair to dry. If it's still wet, replace your towel with a new one, as the one already in use has likely soaked up too much water to really dry your hair further.
STEP #10: FLIP AND REMOVE
Flip your head forward once more and gently unwrap your towel. Your hair should be mostly dry at this point. Let it air dry the rest of the way!
3 TIPS FOR DRYING HAIR
Now that you know how to wrap your hair in a towel like a pro, perhaps you're wondering if there are other hair drying tips you can benefit from knowing. Below, find three worth noting.
TIP #1: USE THE RIGHT PRODUCTS
Sure, you know blow-drying your hair is an option, but did you know there are hairstyling products that can help speed up drying time? The next time you reach for your blow-dryer, spritz on the L'Oréal Paris Advanced Hairstyle BLOW DRY IT Quick Dry Primer Spray, which has a lightweight formula that cuts down drying time while protecting your strands from heat damage.
TIP #2: AIR DRY WHEN POSSIBLE
Waiting for your hair to dry on its own takes time, but allowing it to air dry when possible is worth it. Rather than turning to your blow-dryer each day, try to cut down on your use of hot tools by letting your hair dry on its own (or with the help of a towel turban) here and there.
TIP #3: USE DRYING TIME TO YOUR ADVANTAGE
Like we said, it's a good idea to let your hair air dry when you can. But that doesn't mean the minutes you'll be waiting for your strands to dry have to go to waste! Use this time to your advantage by working on other areas of your beauty routine, such as doing your makeup or painting your nails.
Discover more tips & tricks
Keep your skin happy
See all articles
Shop Featured Hair Care products
Discover More