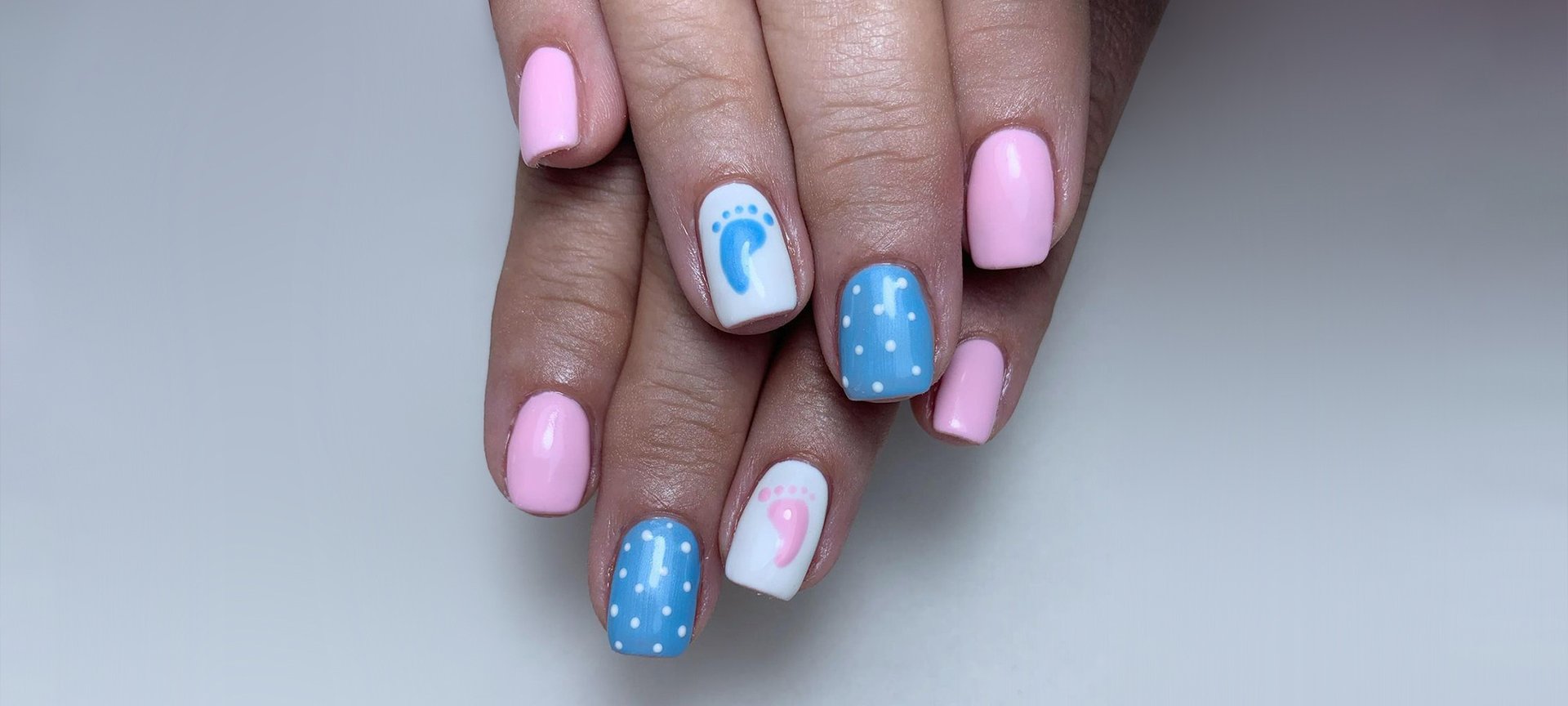 beauty trends
10 Best Gender Reveal Nail Ideas We Love
Use your nails to unveil.
Gender reveal celebrations have grown immensely in popularity over the past few years, causing parents to take their stunts to new levels to one up the Joneses. And while we love a big gender reveal, the simple details can have just as much impact, which is why #genderrevealnails is a growing hashtag on social media. Gender reveal nails are an easy and subtle way to get in on the fun without spending big bucks or going too over the top and risking a major mishap (you know, like burning down an entire forest on the West Coast of the country). Want some nail inspo for your reveal? Check out these ten gender reveal nail ideas that you can sport to kick off the festivities.
1. Pink or Blue Feet
Ten little fingers and ten little toes—baby digits are just as adorable as they are important. Add pink or blue baby feet on top of a neutral base coat so that when guests catch a glimpse of your mani, they'll get a hint of what's to come.
2. Balloons
Nothing says celebration like an abundance of balloons, which is why they started as the quintessential gender reveal prop. If you're planning on releasing balloons for your reveal, add a few to your nails in both colors to keep folks guessing until the time comes.
3. Zodiac Symbols
We love all things zodiac and astrology and nails are no exception. You'll know the baby's sign (for the most part) by the time you reveal the gender so why not celebrate the little one's star sign with some zodiac symbols? Any color combo you desire will work but you can't go wrong with pink and blue or yellow and white.
4. Cake
Give yourself a sweet treat with a cake mani that pays homage to the bun in your oven. Everyone loves a birthday cake—even if it's before the actual birth. Feel free to add sprinkles to signify the gender, and any other elements that we like to add to our favorite desserts.
5. Polka Dots
For the trendy mama-to-be, polka dots are the perfect accent to your gender reveal 'fit. The design is not only cute and on-trend, but polka dots are easy to do on your own. Just grab your pink and blue polish, a DIY dotting tool and get creative.
6. Pickles
Whether you're craving pickles or can't stand the smell of them while your bundle of joy is blossoming, they still make for a fun gender reveal nail design. Paint your little baby pickles over a pink or blue base to really get into the gender theme.
7. Teddy Bears
One of the baby's first toys (and best friends) will probably be a plush stuffed teddy bear. It's one of those objects that we'll likely always associate with babies, which is why it's the perfect nail accent for a gender reveal. Add a design or raised bear to an accent nail on each hand to keep it sleek.
8. Ribbons
Bows and ribbons are not only simple to create as nail art, but they're such a celebration marker. If you want a simple design that's still festive and looks great in any color combo, this is your go-to.
9. Stork and Bundle
But if you want to get quite literal and go over the top with your gender reveal nails, try a stork and bundle design. Your nail tech will have to execute this for you as it will take some drawing skills. It's not only a fun way to do a gender reveal, but also a great way to let your loved ones know you're pregnant!
10. Pink and Blue French Tips
With so many twists on the French manicure floating on social media you can find one for pretty much any occasion, including gender reveal parties. You can opt to keep your base a soft pink with blue tips if you're having a girl, and vice versa. It's a classic manicure that will look great in all the photos you post on your 'gram.
Next: Celebrate Yourself With These Cute Birthday Nails


Written by: Shalwah Evans, Photo Credit: Sarah Nicole, IG/@sarahnicolenails
Discover more tips & tricks
Keep your skin happy
See all articles
Improve your routine
Show your new look more love:
makeup