beauty trends
Can You Bring Makeup and Other Beauty Products on a Plane?
December 16, 2019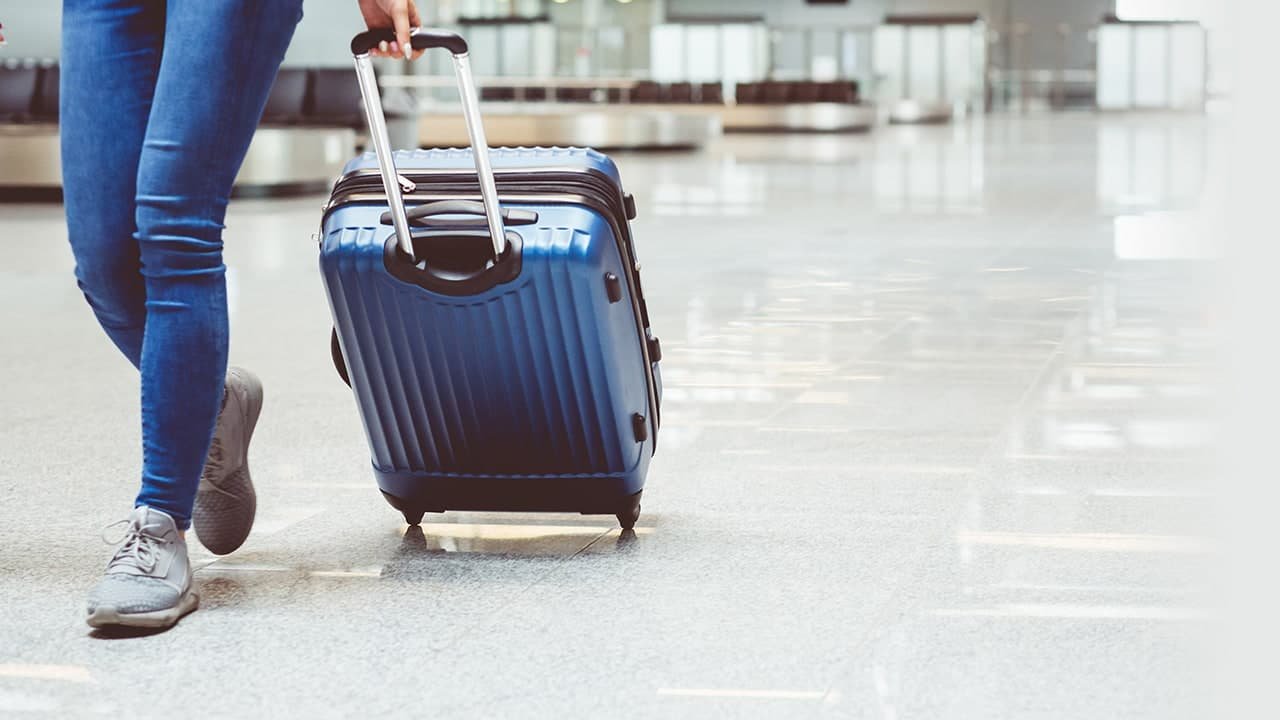 Wherever you're headed on vacation—whether to a tropical paradise, a historic city, or even just a relative's house—you most certainly won't want to be without your favorite skin, makeup, and hair care products. But, when packing your bags before heading to the airport, things can quickly get confusing. What skin care and hair products can and cannot go in your carry-on? Can you bring makeup on a plane? What about hair spray? Does face makeup, such as foundation and concealer, count as a liquid? Keep reading to learn all of the TSA-approved beauty rules you need to know before packing for your next trip. Brush up on these tips before boarding the plane, and you'll be traveling in style!
CAN YOU BRING MAKEUP ON A PLANE?
Answer: Yes
You might think that your makeup products, such as concealer or foundation, don't fall into the "liquid" category by TSA standards—but you'd be wrong. According to the TSA, concealer, foundation, and even liquid eyeliner falls into the same category as other liquid toiletries, like shampoo and conditioner. That means that all of your more liquid-y makeup products have to be under 3.4 ounces in order to be allowed as a carry-on, and these products have to fit into a clear, one-quart plastic bag with all of your other toiletries. Of course, the other option is to check your bag—in which case, you can bring the full-sized versions.
Full-sized powder makeup and makeup wipes, on the other hand, are completely fine to be packed in your carry-on or checked bag! That means traveling may be the perfect time to try out a powder foundation!
Editor's note: According to the TSA, the final decision on whether a product is allowed onto the plane lies with the TSA officer. It's also worth noting that different policies may be followed in different countries, so it's worth doing a little research on the country you're traveling to and from.
CAN YOU BRING DRY SHAMPOO AND HAIR SPRAY ON A PLANE?
Answer: Yes
Onto one of the more controversial and confusing beauty products—those that come compressed in aerosol containers, such as dry shampoo, hair spray, shaving cream, or even hair mousse. We use these products on a regular basis at home, but are they allowed on planes? We have good news: Yes, they are! The TSA has determined that aerosols are safe to bring aboard planes; however, they can only be brought as a carry-on in limited quantities. Your first option is to buy a travel-sized bottle of dry shampoo or hair spray that is 3.4 ounces or smaller, seal it into that clear, one-quart bag we mentioned earlier, and toss it into your carry-on.
Keep in mind, all passengers are only allowed to bring one one-quart plastic bag with them, so you'll need to leave room for the rest of your other travel-sized toiletries, too.
What else can you do? A second option is to pack your full-sized aerosol product into a larger suitcase and check the bag. Of course, if you're only traveling for a couple of days, you probably don't need a full-size aerosol product, but for longer trips, this option might be ideal.
CAN YOU BRING SHAMPOO AND CONDITIONER ON A PLANE?
Answer: Yes
Similarly, if you're planning to fly with only a carry-on, the shampoo and conditioner that you bring must be 3.4 ounces or smaller (aka travel-sized), according to the TSA. And, like we said earlier, you can only bring one one-quart plastic bag full of toiletries in your carry-on, so packing correctly will require a bit of strategic planning. If your favorite shampoo and conditioner don't come in travel-sized packaging, consider purchasing empty travel-sized bottles and filling them with your favorite products instead. Of course, another option is to use the shampoo, conditioner, and body wash that are likely provided at your hotel—which will free up some space in that plastic bag for other products.
Need a travel-sized shampoo and conditioner rec? Try the L'Oréal Paris EverPure Moisture Shampoo and L'Oréal Paris EverPure Moisture Conditioner.
CAN YOU BRING PERFUME ON A PLANE?
Answer: Yes
Of course, you want to smell lovely on your vacation, don't you? As such, you likely won't want to travel without your favorite perfume. And you don't have to! But, unfortunately, you may not be able to bring the full-sized bottle. Again here, your fragrances will have to be under 3.4 ounces in size. So, you can bring a smaller bottle of perfume or buy a travel-sized perfume vaporizer, which can be filled with your favorite scent. Another option is to utilize those travel- or sample-sized perfumes you've been hoarding and toss them into your suitcase so you can call it a day. We're fans of the latter option—it's a great way to use up samples that may otherwise go to waste!
CAN YOU BRING DEODORANT ON A PLANE?
Answer: Yes
Speaking of smelling good, deodorant is likely a must on your packing list. Per the TSA, stick deodorant is a quick and easy yes. However, if you prefer a gel or spray deodorant, it'll need to follow the same liquid regulations we've mentioned: under 3.4 ounces in size and in that clear one-quart bag.
Next up: Now that you know a bit about what you can and can't pack, let us help guide you on how to pack. Here's How to Pack Your Makeup When You Travel.
Discover more tips & tricks
Keep your skin happy
See all articles
Shop Featured products
Discover More