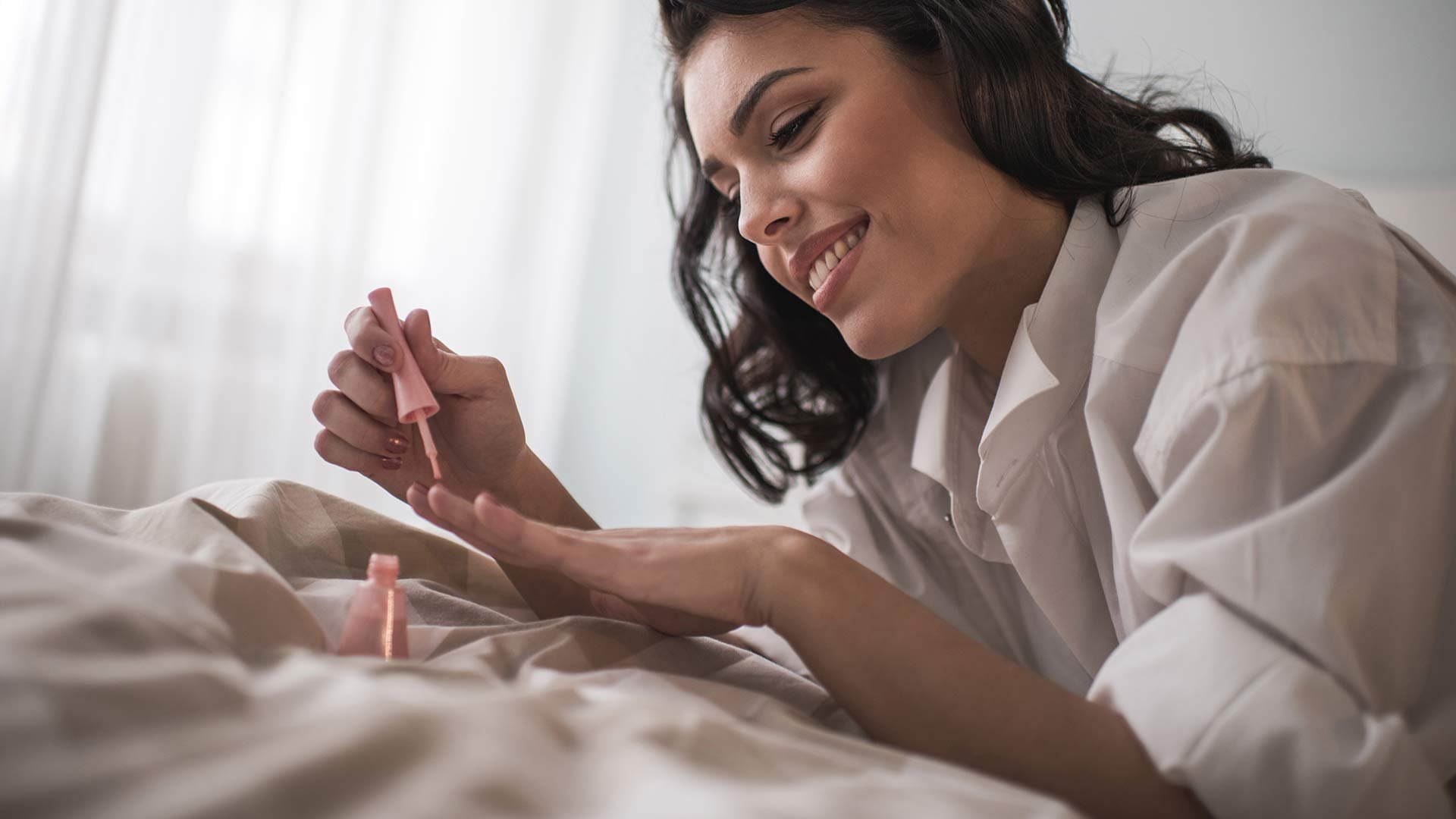 beauty trends
5 Common DIY Manicure Mistakes To Avoid
Let's face it—no beauty look feels complete without a flawless set of polished nails. And if you're the type of person who loves going to the nail salon for those bi-weekly visits, you'll definitely know how much more cost-effective it is to have a DIY mani. However, there are a few manicure mistakes many of us are guilty of making but may not even realize when we do our nails at home. Worried you could be guilty? Then keep reading because we've rounded up five of the most common nail mistakes to avoid during your next DIY manicure so that you can maintain longer, healthier, and more beautiful-looking nails.
Mistake #1: Filing Your Nails Back and Forth
One of the most common manicure mistakes involves the technique used when filing nails. It may seem easy just to take a file and go back and forth in a sawing motion, but doing so causes damage to the nail bed and cuticles. Aggressively sawing your nails with a file can weaken them and cause the tips to fray or split. Instead, start at the side of your nail and file to the center going in one direction. You should lift the file away from the nail and return to the starting point until you get your desired shape.
Editor's Tip: You're less likely to cause breakage to the nails when using a glass nail file because they are less coarse and offer a gentler grit compared to traditional emery nail boards.
Mistake #2: Shaking The Nail Polish Bottle Aggressively
If you've left your nail polish bottle sitting around for some time, chances are the color probably looks weird. That's because nail polish formulas separate over time because of the color pigment particles. Heavier pigments can settle at the bottom, causing the color to look separated. But shaking the bottle up and down to blend the formula back together will not help fix it. Air can get trapped inside the bottle when you shake it, creating tiny pockets that make air bubbles. Instead, try rolling the bottle between your hands. The rolling motion will help stir up the product properly and allow for a more even layer of color.
Mistake #3: Painting With One Stroke
Painting your nails is usually the most challenging part of the process since it requires a bit more skill and patience. If you're using one stroke when painting your nails, you're more likely to end up with too much product (which causes a mess) and streaks. We recommend using a three-stroke method. Start by applying one stroke down the middle of the nail and repeating that to the left and right, blending in the color on all sides.
Editor's Tip: Be sure not to wipe off too much polish from the brush before applying to your nails, or else you'll end up having a streaky finish and then have to layer on more product to mask it.
Mistake #4: Layering Coats Of Nail Polish Too Quickly
Nail polish generally requires two to three coats of polish on each nail for full coverage. After completing your first coat of polish, give it enough time to dry before applying the second coat. This will prevent your nail polish from getting clumpy and streaky. We recommend applying a thin coat to each hand first and then following up with a second coat. After the polish has fully dried and your mani is complete, be sure to moisturize your hands using the L'Oréal Paris Age Perfect Hydra Nutrition Manuka Honey All Over Balm - Face, Neck, Chest and Hands. Formulated with honey extract and nurturing oils, this moisturizer helps to soothe and soften the skin, leaving it with a healthy glow.
Mistake #5: Storing Nail Polish In The Sunlight
When it comes to storing your nail polish avoid anywhere where the sun hits. Direct sunlight can cause color discoloration and make nail polish formulas feel hard and sticky. Keep your nail polishes stored upright (keeping the bottle standing up will prevent the pigments from separating) in a cool, dark place with a consistent temperature to avoid any damage to the product.
Photo Credit: iStock
Discover more tips & tricks
Keep your skin happy
See all articles