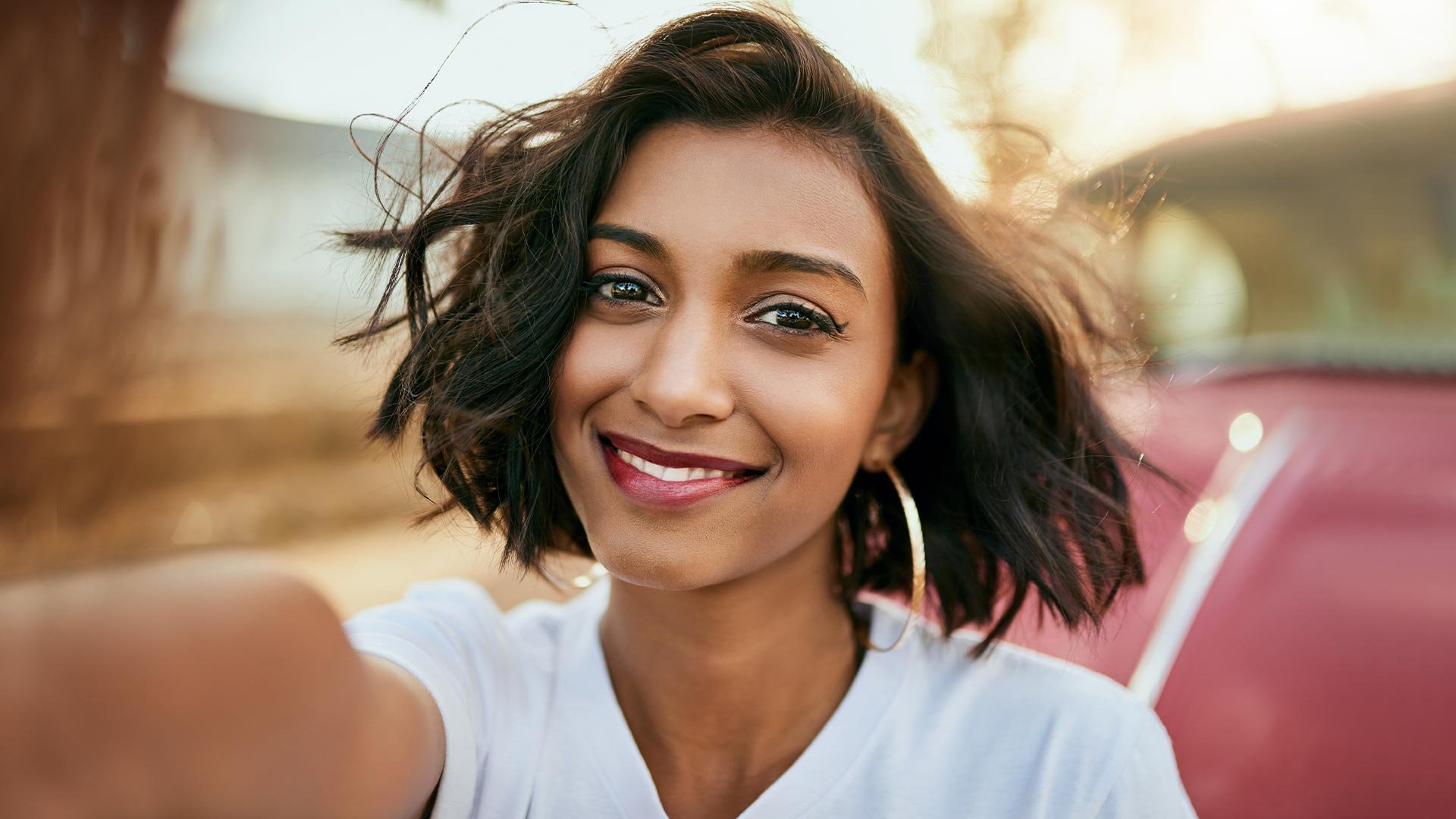 Let's be real—most of us have been on a mission at one point or another to capture the perfect selfie (especially if you've just applied a killer makeup look). But, even when you're a total vision in the mirror, sometimes your picture doesn't look quite as you expected. If you've found yourself wondering how to take a good selfie, you've come to the right place. You see, there are a few tips and tricks that go into mastering how to take the perfect selfie—and we're here to share them. Your Instagram feed won't know what hit 'em.
#1. CONSIDER YOUR MAKEUP
The first thing to consider when learning how to take better selfies is your makeup look. If you want a natural selfie, try a no makeup, makeup look. Want something a bit more eye-catching? A standout lip color won't let you down. Whatever look you choose, there's one thing you should definitely consider: your foundation. As a rule of thumb, use a foundation that has a matte finish, as dewy foundation can sometimes cause your complexion to look overly shiny or washed out on camera. Try the L'Oréal Paris Infallible Pro-Matte Foundation.
#2. DON'T SKIP YOUR HAIR
It's easy to do a full face of makeup and want to rush to take a picture with no regard for your strands, but neglecting to style your hair will make it that much more difficult to take a beautiful selfie. If you don't want to put heat on your mane, make sure you tame frizz with the help of a hair serum or gel. These styling products will ensure your hair looks neat and tidy, which will make for a more flawless selfie.
#3. LIGHTING IS KEY
Next up on our tips on how to take a selfie? Lighting! Just like having the proper lighting for applying your makeup is important, the lighting you use to snap your picture can make all the difference in how it turns out. Bright, natural lighting will be your best friend. If the weather always seems to be cloudy, you don't have a good window, or you take pictures at nighttime, consider investing in a ring light. You can even get selfie ring lights that clip onto your photo for easy transport.
#4. FIND YOUR GOOD SIDE
It's true—everyone has a good side; it's not just your mind playing tricks on you. Take a few test shots with your head turned slightly to either side. You'll quickly realize one side is more photogenic than the other—and of course, this is the side you want to play up when taking your selfie.
#5. EXPERIMENT WITH POSES
Unfortunately, there's no signature pose that works great for everyone. So, take test shots and practice different angles and facial expressions. Maybe you want to smile with teeth—or without teeth—or perhaps you want to make a silly face. Try different options and determine what you like.
If you want pose inspiration, take a scroll through your social media feeds and screenshot anything you like! You can even research poses on Pinterest. Then, try the pose out for yourself and decide if you like it.
#6. PICK THE PERFECT BACKGROUND
Your gorgeous face may be the star of your selfie, but don't let your background be a distraction. Make sure you've taken where you're posing into consideration. A blank wall will do; just make sure clutter isn't a factor.
#7. TRY DIFFERENT FILTERS
There are quite a few filters that alter your appearance, but that isn't what we're referring to here. We think you should embrace your beautiful, natural self! That said, there are filters that can help color-correct your selfie, helping it to appear warmer or cooler in tone, brighter, or even more saturated. Playing with colors in this way can even help make up for bad lighting! So, not all photo editing is a bad thing.
Next up: Now that you know how to take a good selfie, let's hone in on your perfect beauty look. Check out our article, Picture Perfect: 13 Beauty Tips for a Camera-Ready Look.
Discover more tips & tricks
Keep your skin happy
See all articles
Shop Featured Makeup products
Discover More