beauty looks
How to Fix a Broken Nail
March 06, 2020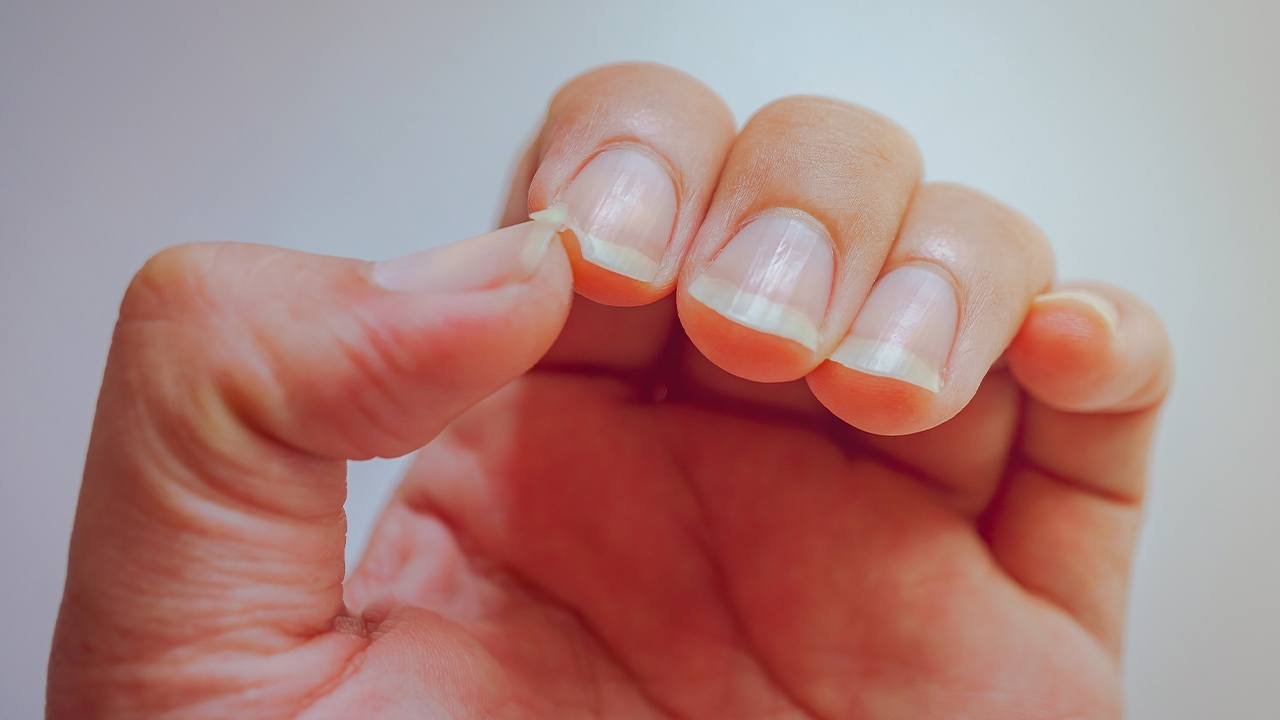 Sporting a fresh new manicure can boost your mood, but on the flip side, a broken nail can put a real damper on your day. Sure, you can easily book an appointment with your nail tech for a fix, but why not take matters into your own hands? Sometimes you can't make it to the salon, and you need your nails to look fresh ASAP. And while learning how to fix a broken nail may seem complicated, it's actually pretty simple. Not to mention, it can also save you a few bucks.
To get the job done, all you need is the right technique and a few key tools. Whether your nails are cracked, split, or completely broken, there's a solution you can DIY. Curious? Keep reading to learn how to fix a broken nail so you can flaunt your favorite nail trends with no worries.
HOW TO FIX A BROKEN NAIL
It's time to get down to business. While a broken nail may seem like the end of your manicure, you can turn things around with a few helpful tips. Keep reading for eight tips for fixing broken nails.
TIP #1: FILE YOUR NAILS
When it comes to learning how to fix a split nail, all you need is a nail file and nail clippers to get your nails back to normal—minus a little length. Split nails mainly occur at the tip of your nail, which means they're thankfully pretty easy to fix. And if it's a small split, a quick nail filing sesh will make your nails look as good as new. If your nails have a longer split, you may have to trim them down. Clip your nails to just below where the split is, then follow up with a nail file to even out your nail shape, and you're all set.
TIP #2: BREAK OUT THE NAIL GLUE
If you would much rather keep your length than cut down your nails, nail glue can save the day. It's also a great way to preserve your nail until you can get an appointment with your nail tech for a more long-lasting fix. To get started, simply apply a small amount of nail glue to the area where your nail is broken. Press the broken nail piece into place and hold for a few seconds. Gently remove excess glue with a small cotton swab, then buff and file your nails. Once complete, apply a clear coat of nail polish to seal in your work.
TIP #3: APPLY A FEW COATS OF GEL POLISH
There is a reason why gel manicures are a mainstay in the nail world. Not only do gel manicures give your nails a natural-looking finish, but the formula comes in handy to strengthen your nails and repair small breaks and cracks. And if you have a lamp for curing gel polish, you can even give yourself a nail-repairing gel manicure at home.
TIP #4: WEAR PRESS-ON NAILS
Another nail trend that can help fix a cracked nail? Press-on nails! This staple is an excellent option for those who are prone to experiencing broken nails. Available in many shapes and sizes, press-on nails are great for providing your natural nails with a protective barrier that will help keep further cracks and splits at bay. The press-ons will also prevent a split nail from catching on everything. Simply attach the press-on nail to your natural nails using adhesive strips for a quick remedy. Looking for longevity? Swap the adhesive strips for nail glue to keep your press-on nails intact for much longer.
TIP #5: GIVE DIP POWDER NAILS A TRY
If you're on the hunt for a long-lasting broken nail fix, consider trying your hand at dip powder nails. The perfect way to mask a broken nail and give your nails time to grow back, this technique covers nails with a dip powder color that hardens and conceals splits. The process is simpler than you might think: a special base coat is brushed on, dip powder is added on top of the break, then it's filed down before adding a top coat. You can follow with a full dip powder manicure in whatever color you like to ensure your cracked nail is completely undercover. (Get more details in our article, Your Intro to Dip Powder Nails.)
TIP #6: REPURPOSE A TEA BAG
In the mood for some tea? In this case, you won't be enjoying a tasty cup; you'll be using the tea bag to help fix your broken nail! While this method may seem a little out there, you'd be surprised by the results. Kick things off by cutting a tea bag, so you have a piece that's the right size to cover the broken part of the nail. Next, place a thin layer of glue on the broken area. Lay the tea bag flat on your nail with the help of tweezers. Apply an additional layer of glue over the tea bag and let the nail dry. Once dry, buff the nail for a natural finish.
TIP #7: USE A NAIL REPAIR KIT
If you plan ahead and make sure your manicure supplies include a nail repair kit, this tip could be your saving grace. While the above tips are perfect for working with what you've got, a repair kit complete with a nail powder and glue is one of the best ways to fix a break. You'll follow the instructions in the kit, which generally involve applying a layer of glue, dusting a nail powder on overtop, then letting the powder dry before filing your nail until smooth.
TIP #8: CUT YOUR NAILS
When all else fails, it might be time to cut your nails. While this may be the last thing that you want to do, flaunting a shorter mani will work in your favor. Instead of sporting broken or uneven nails, you can start from scratch and grow your nails back longer and stronger.
Editor's note: While you may be determined to fix a broken nail on your own, sometimes things are a little more complicated than a quick fix. For example, if you find that your nail is broken and bleeding, a visit to your doctor's office could be in order.
4 TIPS FOR PREVENTING BROKEN NAILS
Now that we've covered how to fix cracked and split nails, it's time to explore ways you can prevent broken nails altogether. Sure, accidents happen, but there are ways you can keep your manicure out of harm's way. Follow our four suggestions below.
1. KEEP YOUR NAILS SHORT
While it may not be your style, shorter nails can help keep breaks at bay. Simply put, long nails can easily get caught on various objects, which can lead to cracking and splitting. Give your long nails a break—in a good way—and switch things up with a short manicure. Who knows, it may become your new favorite style.
2. MAKE CUTICLE OIL YOUR NEW BFF
Regularly moisturizing your nails improves their overall health, which helps to limit the risk of a less than perfect manicure. So, while you may think that cuticle oil is only necessary when you're getting your nails done, feel free to reach for it a few times a week to keep your nails moisturized.
3. AVOID EXCESSIVE EXPOSURE TO WATER
Aside from necessary times during your skin care routine and showers—plus whenever you need to wash your hands, of course—keeping your nails out of water can go a long way in preventing broken nails. Water naturally softens your nails, and whether you're working with a gel manicure or your natural nails, it can cause your nails to break, split, or even crack. Use gloves while washing the dishes and handling other wet chores to keep your nails in tip-top shape.
4. ADD A NAIL HARDENER INTO THE MIX
Tired of dealing with broken nails? You may need to switch things up and introduce a nail hardener to your regular nail painting routine. As the name suggests, nail hardener is a nail polish treatment that works wonders to strengthen thin and brittle nails. Brush on a coat as the first step in painting your nails, and over time you should notice an improvement.
Discover more tips & tricks
Keep your skin happy
See all articles
Improve your routine
Show your new look more love:
makeup