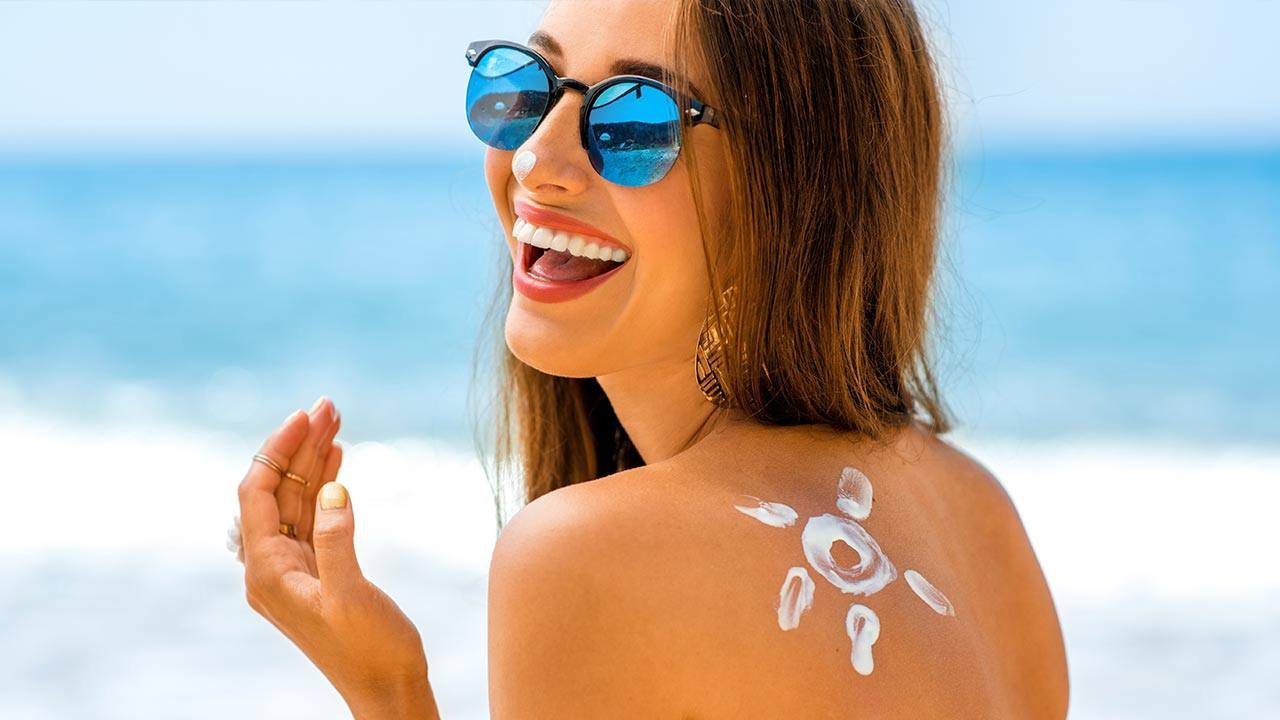 sun care and self tanning
13 Sun Protection Tips to Keep in Mind This Spring and Summer
As we say goodbye to winter (finally!), it's time to make sun protection a major priority heading into spring and summer—if you haven't already. We know we talk a lot about how essential year-round sunscreen use is, but it turns out that's not the only way you can help protect your skin from the sun, although it is very important.
But why should you care about sun protection anyway, though? Well, when you spend prolonged periods of time in the sun without sunscreen, the sun's harmful UV rays can cause damage—and this damage can lead to visible signs of aging like dark spots and wrinkles down the road. Not to mention, you can get sunburned—ouch! That doesn't exactly sound all that great, does it? Nope, we thought not.
That's why it's so vital that sun protection is top of mind for you when it comes to your skin care routine. Makes perfect sense, right? To help you make the smartest sun choices you can, we've rounded up a checklist of sun protection tips that are easy to follow no matter the time of year—but especially during the warmer months. Let's get started!
Sun Protection Tip #1: Use a Broad-Spectrum Sunscreen with SPF 30 or Higher Every Day
Quick science lesson: There are two kinds of rays you need to worry about—UVA and UVB. According to the Skin Cancer Foundation, UVA rays are typically responsible for the damage that can lead to aging, while UVB rays are the ones that burn. What that means for you: It's important to use a sunscreen that's broad-spectrum, since broad-spectrum sunscreen helps protect against both UVA and UVB rays. When you're looking for a sunscreen, it shouldn't only be broad-spectrum—it should also have an SPF of 30 or higher. The Skin Cancer Foundation recommends wearing a broad-spectrum sunscreen with SPF 30 or higher each day—that's not just the case for spring and summer when you're on vacation or spending the day at the beach. According to the Skin Cancer Foundation, you can get burned even on cloudy days, so make sure to keep sunscreen on hand for everyday use.
Sun Protection Tip #2: Try a Moisturizer Formulated with SPF if You're Pressed for Time
Sunscreen should be the last step in your morning skin care routine—after cleansing, applying serum and eye cream, and moisturizing. But if you're always on the go, you can combine the last two steps (moisturizer + sunscreen) by using a moisturizer formulated with sunscreen, like the L'Oréal Paris RevitaLift Bright Reveal Brightening Day Lotion SPF 30, which is formulated with glycolic acid, vitamin C, Pro-Retinol, and broad-spectrum sunscreen.
Sun Protection Tip #3: Apply Sunscreen Before You Go Outside
Are you the kind of person who always waits until their outside to apply sunscreen? It's time to change your ways! You should actually put your sunscreen on before you go outside—the Skin Cancer Foundation recommends doing so 15-30 minutes prior to sun exposure, in fact. So, build some time into your morning routine for this.
Sun Protection Tip #4: Reapply Sunscreen Every Two Hours
When it comes to your morning skin care routine, applying sunscreen isn't just one and done. Nope—you need to reapply it! The Skin Cancer Foundation advises reapplying your sunscreen every two hours. So, toss your bottle in your purse so that you can easily put more on throughout the day—and consider setting a reminder on your phone to take the guesswork out of when you need to reapply.
Sun Protection Tip #5: And More Frequently if You're Swimming or Sweating
Going for an outdoor run or spending some time in the pool? That means you've got to reapply your sunscreen immediately afterwards, states the Skin Cancer Foundation. Again, take a tube of broad-spectrum sunscreen with you so that you won't forget to reapply when you're done with your workout or swim sesh.
Sun Protection Tip #6: Be Generous with How Much Sunscreen You Use
Now, it's not just about applying sunscreen—it's also about how much you use. And we hate to break it to you, but a thin layer isn't going to do it. According to the Skin Cancer Foundation, you should apply an ounce—two tablespoons—worth of sunscreen to your entire body before going outside. Is that hard to visualize? Think about a shot glass, which typically fits about an ounce worth of liquid. That's how much sunscreen you need to apply from head to toe! Of course, you may want to use a separate sunscreen for your face and body, but that's up to you—just be sure you're adequately covering yourself.
Sun Protection Tip #7: Stock Up on Travel-Size Sunscreen
Do you hang out by the pool on the regular during the summer? Or do you have a week-long warm weather getaway planned for spring break? Keep your beauty product stash stocked with travel-friendly bottles of broad-spectrum sunscreen so that you can store a few in your suitcase while you're packing for vacation or fit one in your purse when you and your BFFs chill by the pool.
Sun Protection Tip #8: Avoid Being Outside During the Sun's Peak Hours
There's nothing better than laying out on the sand with the ocean's crashing waves surrounding you, right? Wrong—as far as your skin goes. Sure, there's just something about being at the beach that is super-relaxing, but you've got to be careful. According to the Skin Cancer Foundation, the sun's peak hours are 10 a.m. to 4 p.m., so you need to pay particular attention to how you're protecting your skin especially during these hours. And wearing broad-spectrum sunscreen isn't the only way to do that. Which leads us to…
Sun Protection Tip #9: Seek Shade When You're Outdoors
Yes, you should absolutely apply a broad-spectrum sunscreen of SPF 30 or higher each day—but there are other sun protection measures you should take, too. One of those is seeking shade when you're outside, especially during those peak hours of 10 a.m. to 4 p.m. So, when the sun is shining, go ahead and use that as an opportunity to park yourself under a big tree!
Sun Protection Tip #10: Invest in a Cute Pair of Sunnies
Like with sunscreen, wearing sunglasses shouldn't be relegated just to the hottest days of the summer. The Skin Cancer Foundation notes that you should look for a pair of sunnies that are UV-blocking. There are so many different types of sunglasses out there—ranging from aviators to wayfarers to wraparounds—that you'll definitely be able to find ones that flatter your face shape and your personal fashion sense. Need a little help getting started? We've got you covered! If you have a round face shape, opt for rectangular, square, or wraparound frames; if you have a square face shape, opt for aviator or round frames; if you have an oval face, any style will look amazing on you (lucky!); if you have an oblong face shape, opt for wayfarer or rectangular frames; if you have a diamond face shape, opt for oval or rimless frames; and if you have a heart face shape, opt for aviator or rimless frames.
Sun Protection Tip #11: Cover Up Your Skin as Much as Possible
Need an excuse to go shopping? We've got a good one for you! The Skin Cancer Foundation recommends wearing a broad-brimmed hat—and covering up with clothing—when you're out in the sun. If you've done any spring cleaning recently, fill your closet with some new items during the warmer months. Your summer wardrobe is going to be on point!
Sun Protection Tip #12: Help Soothe a Sunburn
Sometimes, no matter how diligent you think you've been with your sun protection routine, sunburns happen. The Skin Cancer Foundation has a few tips to help you take care of the burn. For starters, you should get out of the sun as soon as you notice any redness or start feeling the burn. Then, take a cool bath, apply cool compressions, and use a moisturizing lotion like aloe vera to help care for your skin.
Sun Protection Tip #13: Visit Your Derm Annually for a Skin Check
Going to the doc can be nerve-wracking, but it really is important to see your dermatologist once a year for a head-to-toe skin check (they can also give you advice on checking your own skin once a month). Plus, it's always a good idea to check in with your derm regarding any skin issues you might be having!
The Bottom Line on Sun Protection
There's definitely a lot to remember in terms of staying sun safe—but once you get into the routine of wearing broad-spectrum sunscreen every day, reapplying every two hours, and decking yourself out in a broad-brimmed hat and pair of UV-blocking sunglasses, it should really become like second nature to you. Sun protection is so important, so it's definitely worth it to take sun protection seriously as part of your daily beauty routine. Trust us, your skin will thank you!
Discover more tips & tricks
Keep your skin happy
See all articles
Shop Featured Skin Care products
Discover More