sun care and self tanning
Our Best Moisturizer with SPF for Spring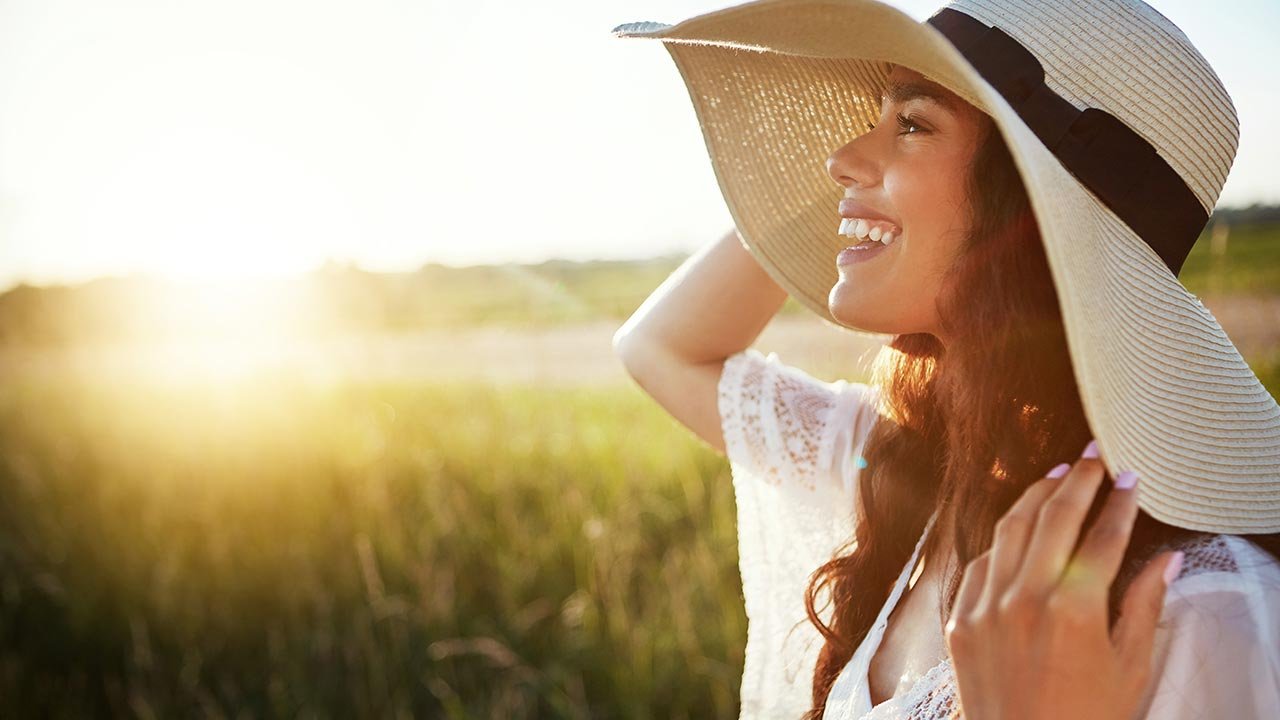 Ah, spring—we've patiently been awaiting your arrival for months, and we're so happy that you're finally here. And if you're anything like us, you're super-excited to break out your lighter jackets, floral dresses, and strappy sandals after months of stuffing yourself into a heavy down coat and bulky boots. In addition to giving your wardrobe a much-needed refresh for the new season, you may want to consider making a few changes to your skin care routine as well. If you haven't been keeping up with your sun protection habits, it's time to make them a priority again. It all starts with adding one particular skin care product to your daily regimen: moisturizer with SPF. Keep reading to learn why you should use moisturizer with SPF daily, find our best moisturizer with SPF for the season, and get other sun protection tips to add to your routine.
WHY YOU should use moisturizer with spf THIS SPRING
If you thought broad-spectrum sunscreen was only necessary on days spent at the beach or by the pool, you'd be very, very wrong. When you spend prolonged periods of time in the sun without wearing protection, this can lead to damage—and that damage can show up down the road as visible signs of aging like dark spots and wrinkles. What's more, that damage can occur even on cloudy days—so it's important to apply broad-spectrum sunscreen daily, rain or shine. (And we know: Spring is known for its showers!) If you're the kind of person who's always on the go and doesn't have much time to commit to a long skin care routine, that's OK. A moisturizer with SPF is an easy way to combine two steps in your skin care routine: moisturizing and sun protection.
our best MOISTURIZER WITH SPF for spring
When it comes to choosing a moisturizer with SPF, always pick one that's broad-spectrum, since it helps protect against both UVA and UVB rays. According to the Skin Cancer Foundation, UVA rays are the ones that cause damage, while UVB rays are the ones that cause burning—obviously, you want to protect yourself against both! Moisturizer with SPF should be the last step in your morning skin care routine—after cleansing and serum. The L'Oréal Paris RevitaLift Bright Reveal Brightening Day Moisturizer SPF 30 is formulated with glycolic acid, vitamin C, Pro-Retinol, and broad-spectrum SPF 30. The hydrating moisturizer helps make skin look brighter immediately, evens out skin tone with continued use over time, and helps protect skin against UVA and UVB rays. Apply it as directed after cleansing in the morning, 15-30 minutes before stepping outside—and pack it with you so that you can reapply it at least every two hours!
OTHER sun PROTECTION TIPS TO FOLLOW THIS SPRING
In addition to wearing a moisturizer with SPF, there are other steps you can take to help protect your beautiful skin from the sun this spring as the temps start to rise.
1. Avoid the sun during peak hours. The sun is at its strongest during 10 a.m. and 2 p.m., so do your best to steer clear of it then.
2. Seek shade. Consider this an excuse to have a spring picnic—under a giant tree! You should particularly seek shade if you're out during the sun's peak hours.
3. Invest in a cute pair of sunnies—and a floppy hat. In addition to slathering on broad-spectrum sunscreen, the Skin Cancer Foundation recommends wearing a pair of UV-blocking sunglasses and broad-brimmed hat to help shield you from UV rays.
4. Don't neglect your body. When it comes to applying sunscreen, it's important to do so anywhere that's going to be exposed to the sun. The Skin Cancer Foundation advises using one ounce (two tablespoons) for your entire body. And remember: If you're swimming or sweating a lot, reapply broad-spectrum sunscreen immediately afterwards.
5. Schedule your yearly skin check. Haven't been to the derm in a while? Now's the perfect time to do so! You shouldn't skip out on seeing your doc once a year for a professional skin exam to check for any changes. They'll also be able to give you pointers on what to look for so that you can check your skin yourself once a month at home.
For more springtime skin care advice, here are 3 Easy Ways to Get a Faux Glow This Spring.
Discover more tips & tricks
Keep your skin happy
See all articles
Shop Featured Skin Care products
Discover More