sun care and self tanning
5 Ways to Protect Your Beautiful Skin from the Sun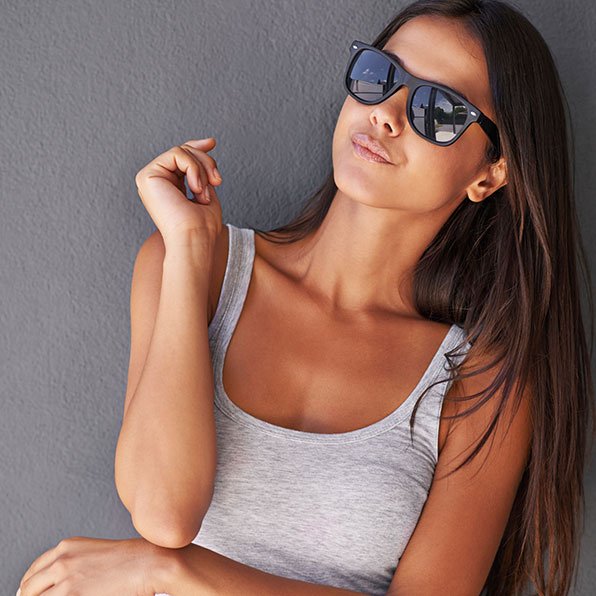 Sunny days make for happy memories spent shopping, laughing and lounging outside – but having fun in the sun can also lead to premature signs of skin aging like fine lines, wrinkles and sagging skin if you leave your face and body unprotected while outdoors. The sun's harmful rays can weaken your skin's natural collagen and elastin fibers that help keep skin taut and plump – and unfortunately that damage can't be undone. You can however, protect your skin against further weakening by shielding it from the sun's harmful rays – and you can do so in more ways than one:
Beautiful skin sun protection tip #1: Apply a daily face moisturizer with SPF. The obvious, first line of defense against skin aging photo damage is to apply a SPF with broad spectrum protection to your face every day. An easy way to incorporate daily SPF application into your skin care routine is to find a face moisturizer that also offers broad spectrum protection like RevitaLift® Bright Reveal Brightening Day Moisturizer SPF 30. This daytime moisturizer not only offers broad spectrum protection, but is also formulated with glycolic acid, vitamin C, and pro-retinol to help visibly improve the look of dull, uneven skin tone, fine lines and wrinkles to reveal brighter, youthful-looking skin. Over time, it will work to rejuvenate dull, lackluster skin to reveal underlying radiance.
Beautiful skin sun protection tip #2: Don't forget about your body. If you're in a rush, the skin on your face may take precedent to other parts of your body – but don't let it. The skin on your neck, chest, hands and tops of feet can show common signs of skin aging just as your face – and may make you appear older than you actually are if left unprotected. For maximum protection, use a sunscreen formulated for your body with broad spectrum protection and apply it to any area of your body that may be exposed to the sun throughout the day. Be sure to apply it about 15 minutes before sun exposure so that the formula can be fully absorbed and taken into effect.
Beautiful skin sun protection tip #3: Sport sun-shielding accessories. Make a fashion statement and protect your skin at the same time. Adding an extra layer of protection with a light scarf around your neck and shoulders or wearing a wide-brimmed hat to the beach can further help block harmful UV rays. Also, consider wearing sunglasses with UV protection too on a daily basis, even if it is a bit cloudy as the sun's rays can penetrate clouds and still weaken the delicate skin around your eyes.
Beautiful skin sun protection tip #4: Avoid the sun at its primetime. If you are planning an outdoor party or simply looking to get a little fresh air, make your outdoor plans toward the early morning or early evening hours if possible. The sun's rays are strongest between the hours of 10 AM and 4 PM, so shoot to go for your morning jog around 8 AM and consider hosting that weekend barbeque around sunset.
Beautiful skin sun protection tip #5: Seek and create shade when you can. For those occasions when you'll be out in the sun when it is shining strong, say if you are spending a long afternoon at the beach or park, seek and create shade when you can. Pack along a beach umbrella and set up your picnic under a shady tree. Your skin will be better protected if you avoid direct contact when possible.
Enjoy your time outside and protect your beautiful skin at the same time by applying SPF daily and by keeping a few other sun protection tips in mind.
Discover more tips & tricks
Keep your skin happy
See all articles
Shop Featured Skin Care products
Discover More