skin care essentials
The Best Skincare Routine for Busy Mornings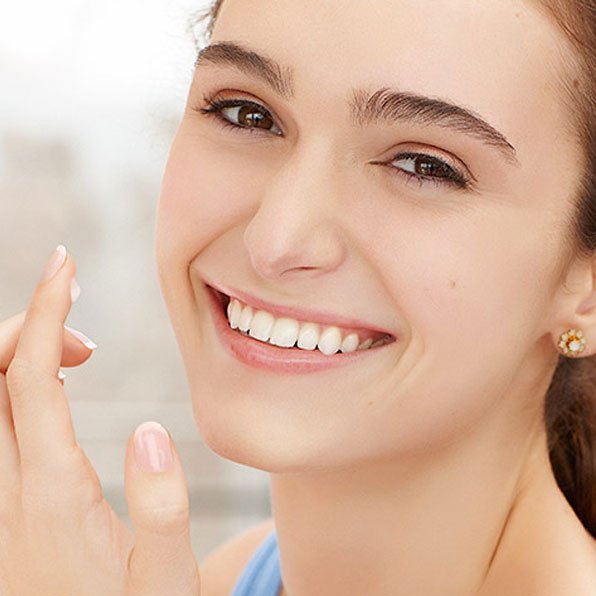 On any given busy morning, with an array of errands and meetings ahead of you, skincare may be the last thing on your mind. However, it's important to dedicate some time for taking care of your skin, especially at the start of your day. How you prep your skin in the morning will protect your skin from daily irritants that harm and age the skin. It is also worth mentioning that prepping your face before your makeup will create glowing skin that will last longer than having just applied some concealer under your eyes and heading out the door.
Step 1: Cleanse.
Your face picks up oils from your hair and pillow over night. You also may sweat while you sleep and touch your face with your hands. This means that you should wash away the dirt that has built up on your skin – even though you've been in bed all night. Washing your face with your hands, is most definitely an effective way to cleanse, but new tools that have motorized oscillating brushes that remove dirt from pores may be a skin trend worth trying. The soft scrubbing action may also help wake up your skin a bit faster. Also, a tip to feel a bit more invigorated from your cleansing routine: Start with warm water to open pores and end with a very cold rinse.
Step 2: Moisturize with SPF.
Save time and hit two common skin needs at once: Hydration and protection. Skin needs moisture and it especially needs to be replenished after cleansing. Look for a tinted moisturizer or day cream that includes SPF. Not only will your skin be replenished, but will hold a water-rich glow. Your face and neck will also be protected from the sun's harsh rays, which can lead to skin aging at an accelerated rate if over exposed – no matter what the season.
Step 3: Dab on eye cream.
A quick step a part of the best skincare routine for anyone that requires just a touch of fuss: Eye cream. Eye cream helps moisturize a sensitive and vulnerable part of your skin and can promote a more rested appearance. Eye cream will also help smooth out any lines that form from your under eye concealer or foundation. Dab with your finger from the inside, under eye to the top lid in an upward direction. Get a little extra boost with an eye cream that has caffeine to help wake up your under eye area.
Step 4: Grab a water to go.
Hydrating from the inside out is an essential step to having glowing, beautiful skin that lasts. Have your water bottle loaded and ready to go the night before so all you have to simply do is enjoy it on your commute. Healthy skin is hydrated skin and starting your day with a bottle of water will help you obtain your best glowing skin.
Only have a few minutes to spend on your makeup routine too? Celebrity makeup artist, Sir John shares where you should play:
1. Brows: Deeper, heavier brows promote a more youthful appearance.
2. Eyeliner: Whether you hit your top or both top and bottom lash lines, using a black, brown or navy liner opens the area, waking up the face.
3. Blush: A pinky tint or light dab of powdered blush makes your skin look awake.
4. Lips: Smack a quick balm, or choose a color gloss for a statement
5. Mascara: Finish your look with a swipe of mascara for a polished look.
Discover more tips & tricks
Keep your skin happy
See all articles
Improve your routine
Show your new look more love:
makeup