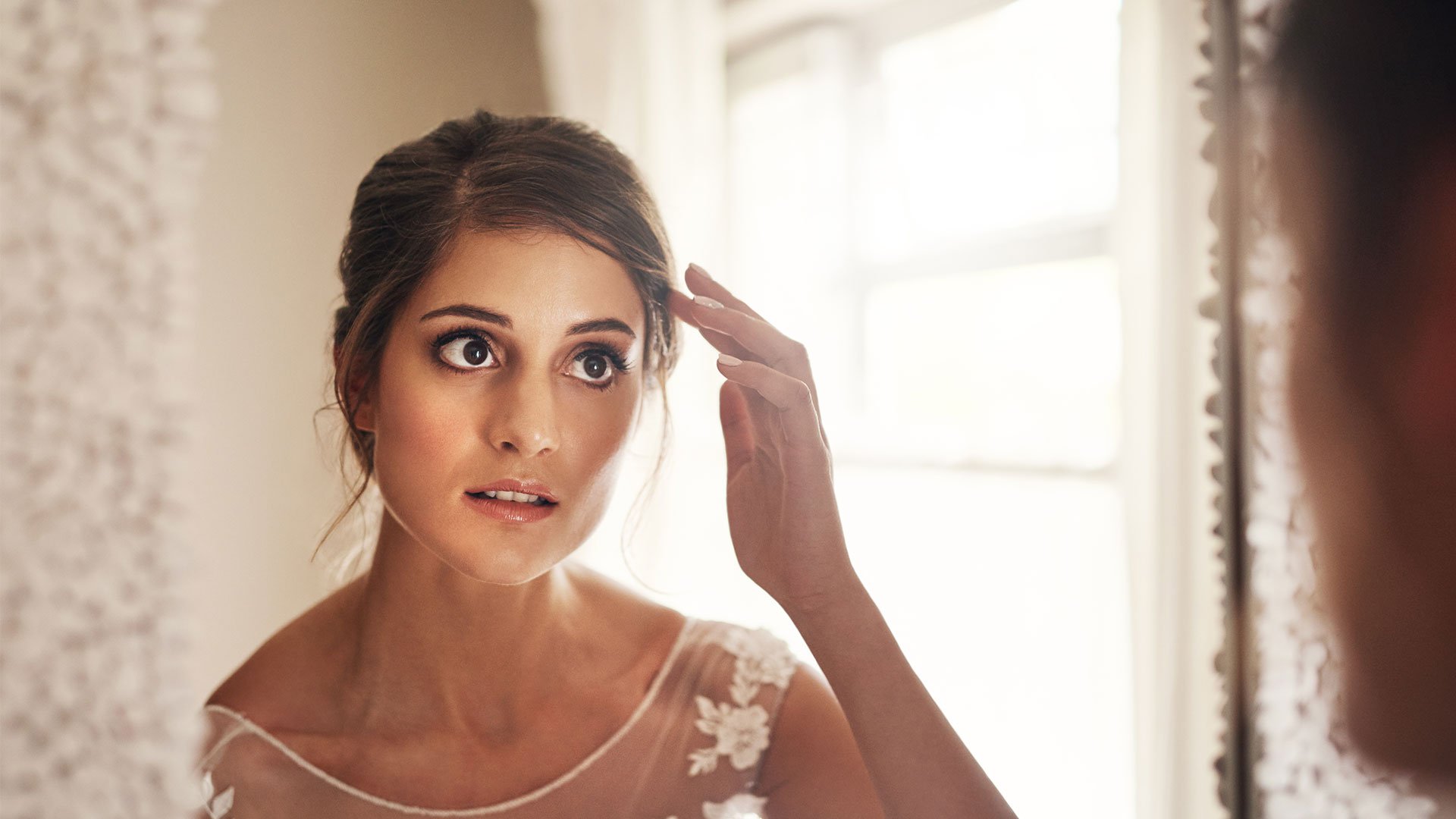 skin care essentials
Your Wedding Skin Care Routine and Prep
Every blushing bride wants to have glowing skin for their special day. Don't you? It's true you'll be wearing makeup, but your skin will be the base for your overall bridal look, so you'll want a flawless canvas. The best wedding skin care routine is all about keeping up with what already works for you and staying clear of habits that may hinder the appearance of perfect skin. Of course, avoiding irritation or a breakout at all possible costs is also likely to sit at the top of your wedding skin prep to-do list.
Speaking of to-do lists, we already know you're swamped with wedding planning, so consider the skin care portion handled. Whether you have dry skin, oily skin, combination skin, mature skin, or something else entirely, the right bridal skin care prep will help ensure your complexion looks its very best on your big day. Follow along for the best skin care routine for brides, which you can follow in the weeks, days, and moments leading up to your walk down the aisle.
1. DON'T OVERHAUL YOUR ENTIRE ROUTINE
While you may be tempted to level up your bridal skin care routine, now isn't the time to start from scratch. The best wedding skin care routine is the one that you know works: Cleanse your skin, use a moisturizer, and apply sunscreen to protect it from harmful UV rays. Follow these basic steps and incorporate gentle treatments, like an eye cream, that you've already tried before!
Save the trendy peels, experimenting with new products, and treatments with dramatic effects for after your special day. You never know how your skin will react to a new product, so don't leave anything to chance with your wedding skin prep.
Getting a facial before your big day may seem like a no-brainer, but is it okay to get a facial a week before your wedding? If you already know that facials work for you, getting one a week out may be okay. In fact, since you're probably stressed out to the max, a little pampering session may be what's in order. Of course, you won't want to do something too harsh or experiment with different types of facials—stick with what you know. If the world of facials is new to you, play it safe, and give your skin more time to recover. You can also always consult with your dermatologist and aesthetician if you aren't sure it's a good idea.
2. BE STRATEGIC WITH HAIR REMOVAL
As great as waxing is, it often leaves skin feeling raw and looking red. To avoid the appearance of any redness or irritation, book your wax appointment at least one week out from your wedding date.
3. SKIP THE TANNING BED
Sun-kissed skin is a must for your wedding, but using a tanning bed isn't the right choice for your bridal skin care. Instead of improving your skin's appearance, you'll actually be damaging it. UV exposure can result in sunburns, as you know, but it can also lead to premature signs of aging down the road. In the months and days leading up to your big day, continue to apply SPF to your face, neck, and any other exposed areas, just as you normally would. To get a tan look without hitting the tanning bed, use a self-tanner, such as the L'Oréal Paris Sublime Bronze Self-Tanning Water Mousse. Just be sure to try out your self-tanner at least a few weeks out so you can figure out your desired shade and nail your application technique.
Editor's note: A streaky tan is definitely not the look for your wedding, so read up on How to Use a Self-Tanning Mousse.
4. BREAK OUT YOUR HUMIDIFIER
Even if your sinuses are feeling fine, plug in your humidifier the night before your big day. Humidifiers add extra moisture into the air, which will help maintain skin hydration, according to the Mayo Clinic. Trust us, you'll wake up with balanced skin come morning. If you're having a winter wedding and have been dealing with frigid temperatures outside and harsh heating indoors, it may also be a good idea to set up a humidifier near your bed.
5. USE AN OVERNIGHT FACE MASK
Weddings are stressful, and there's a solid chance you won't be sleeping like a baby in the days leading up to the main event. Still, you can make the most of the precious sleep you do get by maximizing your beauty sleep. All you have to do is smooth on an overnight mask before bed. Keep in mind, though, if your wedding date is rapidly approaching, it should be a mask you've used before. As we mentioned earlier, you don't want to deal with an unexpected skin reaction.
A good overnight mask will keep your skin looking plump and leave it with a well-rested and hydrated look when you wake. If you're planning far enough in advance that you can use something new, try the L'Oréal Paris Revitalift Triple Power™ Intensive Overnight Mask.
6. TURN DOWN THE WATER TEMPERATURE
You might think a scalding shower is the perfect way to start your wedding skin prep, but hot water can dry out and irritate your skin. In the morning, rinse off your overnight mask and cleanse using lukewarm water. After you step out of the shower or finish washing your face, follow up with a moisturizer while skin is still damp to seal in moisture.
7. USE A GLOW-BOOSTING FACE MIST
You'll already be glowing from the inside-out while celebrating your nuptials, but why not take your glow to the next level? As the last step in your bridal skin care and makeup routine, spritz your skin with the L'Oréal Paris True Match Lumi Shake & Glow Dew Mist. Not only will it give you a natural-looking, dewy glow, it will also help set your makeup and ensure it stays put all day.
8. HAVE THE BEST DAY OF YOUR LIFE WITH THE LOVE OF YOUR LIFE
This may be the last step in our skin care routine for brides, but it might just be the most important. Whether your wedding goes exactly as you've always imagined or some things don't go as planned (the latter tends to be how it works out!), remember that this is one of those happy moments you will remember forever—even if your skin doesn't end up cooperating 100 percent.
Next up: Now that your wedding skin care is covered, let's tackle the next thing on your bridal beauty check list. Here's How to Get a Bridal Makeup Look That Lasts.
Discover more tips & tricks
Keep your skin happy
See all articles
Shop Featured Skin Care products
Discover More