skin care essentials
8 Skin Care Essentials For Fall 2020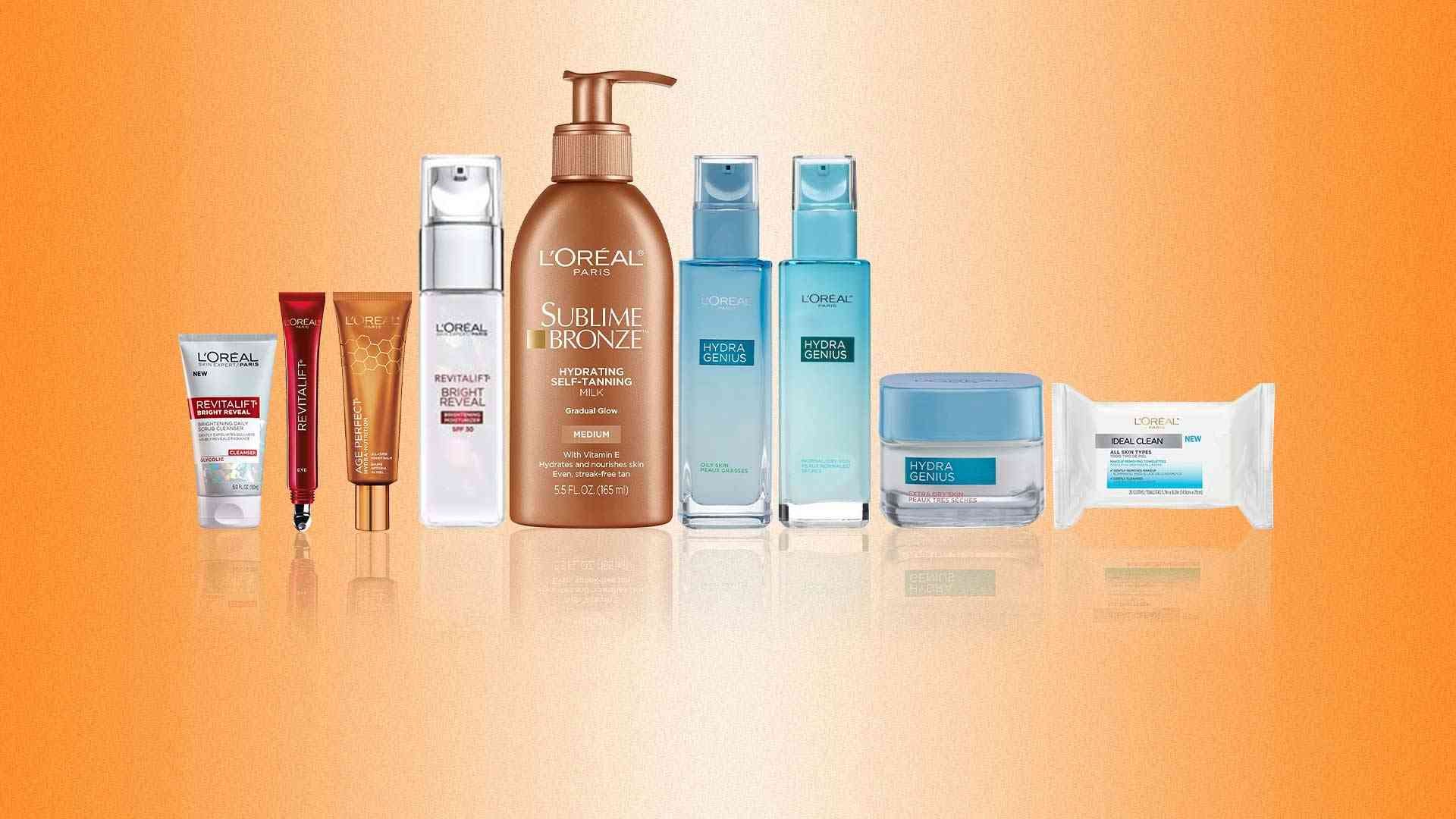 Chilly temps and colorful leaves only mean one thing—fall season is officially in full swing. While you may have swapped out your wardrobe to suit the cool temps, that doesn't mean that your work is over. Of course, you'll need to follow suit with your skin care routine. After all, the change in weather can bring on different skin care concerns. So, if you're ready to whip your skin care product arsenal into shape, we're here to assist. Follow along as we help you determine what's missing from your fall skin care essentials list to get your roster in order.
FALL SKIN CARE ESSENTIAL #1: FACE SCRUB
As the temperature drops and the air gets colder, you may notice that your complexion is starting to look lackluster. That's where a face scrub comes in. The L'Oréal Paris Revitalift Bright Reveal Brightening Daily Scrub Cleanser is formulated with gentle micro-pearls and glycolic acid to exfoliate dullness and impurities from the surface of your skin. Every morning and evening, lather the scrub in wet hands and gently massage it onto your face in a circular motion. Rinse thoroughly with lukewarm water and pat dry. Just make sure to follow up by applying a broad-spectrum sunscreen with an SPF of 15 or higher as directed. Remember, alpha-hydroxy acids like glycolic acid can increase your skin's sensitivity to the sun.
FALL SKIN CARE ESSENTIAL #2: CLEANSING WIPES
Fall often means going back to school or being on the receiving end of a steepening workload. So, you may often find yourself pressed for time. You probably won't want to spend your precious free time removing your makeup. Still, it's important to remind yourself that it's worthwhile. Skipping makeup removal before bed can lead to clogged pores and cause blemishes to rear their ugly heads.
Rather than being tethered to the sink for makeup removal, keep things simple in your routine. Reach for a pack of cleansing wipes, like the L'Oréal Paris Ideal Clean™ All Skin Types Makeup Removing Towelettes, for an easy cleansing session. Once you're ready for some shut-eye, sweep a towelette across your skin to cleanse. No rinsing required.
FALL SKIN CARE ESSENTIAL #3: MOISTURIZER
If you're obsessed with skin care like us, then you know how important it is to moisturize. And it's one step you don't want to skip, especially in the fall. If your visage feels drier this season, you may want to consider using a different facial moisturizer.
Try a water-based formula like the L'Oréal Paris Hydra Genius Daily Liquid Care - Normal/Oily Skin, L'Oréal Paris Hydra Genius Daily Liquid Care - Normal/Dry Skin, or L'Oréal Paris Hydra Genius Daily Liquid Care - Extra Dry Skin. These offerings are all formulated with hyaluronic acid and aloe vera water to help provide long-lasting hydration.
FALL SKIN CARE ESSENTIAL #4: EYE CREAM
It's easy to forget about the under-eye area, and it's one mistake that can take a toll on your complexion. The skin around your eyes is thinner and more delicate compared to other parts of your face. This means it's more prone to show early signs of aging like dark circles and fine lines and wrinkles. Play it safe and incorporate an eye cream into your daily skin care routine.
The L'Oréal Paris Revitalift Triple Power™ Eye Treatment is a luxurious, lightweight cream that helps brighten the look of your under-eye area. Every morning and evening after cleansing, massage it gently around your eye area until thoroughly absorbed.
FALL SKIN CARE ESSENTIAL #5: MOISTURIZER FORMULATED WITH BROAD-SPECTRUM SUNSCREEN
If you're thinking of skimping on sunscreen as soon as summer passes, think again. Cloudy skies and cool weather don't count as valid reasons to go without sun protection. According to the Food and Drug Administration (FDA), you should apply a broad-spectrum sunscreen with an SPF of 15 or higher daily as directed. It's also important to reapply at least every two hours (or immediately after swimming or sweating).
Try the L'Oréal Paris Revitalift Bright Reveal Brightening Day Lotion SPF 30, which is a moisturizer that also contains SPF. In addition to applying and reapplying as directed, you should also limit your time in the sun (especially between 10 a.m. and 2 p.m.), seek shade, and cover up exposed areas.
FALL SKIN CARE ESSENTIAL #6: SELF-TANNER
Carry summer vibes into fall by using a self-tanner to maintain your sun-kissed look. The L'Oréal Paris Sublime Bronze™ Hydrating Self-Tanning Milk Medium is a gradual self-tanner that's perfect for achieving a natural-looking tan long after the sun has set on summer. Prep your skin by cleansing, exfoliating, and applying an oil-free moisturizer. Then, apply the sunless tanner evenly all over your face and body. Be sure to use it sparingly around drier areas such as your ankles, knees, and elbows. The skin in these spots tends to be drier and more rough than other areas, which can cause too much of the product to be absorbed.
When you're sure you've hit every spot, take the extra time to thoroughly wash your hands. Let your skin dry completely before getting dressed or putting on makeup. Use the self-tanner daily until you have reached your desired level of tan.
FALL SKIN CARE ESSENTIAL #7: FACE MASKS
It feels pretty safe to say that we've all dealt with holiday-related stresses, and the fall season just so happens to be no exception. Think about making time to de-stress and indulge in an at-home spa day, complete with one of the following face masks.
If you have an oily complexion…try the L'Oréal Paris Pure-Clay Detox & Brighten Face Mask. Formulated with three pure clays and charcoal, this face mask provides a luxurious experience while drawing out and capturing deep impurities such as dirt, oil, and pollution. After use, your skin will boast a clean and rebalanced look with a healthy glow.
For skin that needs gentle cleansing…try the L'Oréal Paris Pure-Clay Clear & Comfort Face Mask. Harsh cleansing can be drying and sensitizing over time. Therefore, skin needs a gentle and effective cleaning session. This offering is formulated with seaweed and three pure clays, and helps clear and comfort skin in just 10 minutes.
If your skin has an uneven texture…try the L'Oréal Paris Pure-Clay Exfoliate & Refining Face Mask. Dead skin cells can accumulate on the surface of your visage and leave your complexion feeling rough. That's where this red algae-infused mask can work its magic. It works to exfoliate and draw out the buildup of debris for a smooth and polished complexion.
For those with dull-looking skin…try the L'Oréal Paris Age Perfect Cell Renewal Rosy Tone Mask. It's formulated with AHA, imperial peony, and an ultra-fine mineral exfoliant to smooth and refresh your skin. This gel-based mask works in just five minutes to revive the skin's rosy, radiant tone.
If you're working with a mix of complexion concerns…you don't have to limit yourself to just one face mask. Make the multi-masking trend your BFF. Grab the L'Oréal Paris Pure-Clay Multi-Mask Clay Tripod Kit, which contains three clay masks for dull, rough, and oily skin. You'll be able to customize your masking session without the fuss.
Editor's note: If you're not too sure when to try this trendy masking technique, we can shed some light. Visit our article, 7 Best Times To Multi-Mask, for some pointers.
FALL SKIN CARE ESSENTIAL #8: HAND CREAM
Since the fall season and chilly temps go hand-in-hand, it's easy for dry skin to become a reality. Couple that with normal daily activities, such as handwashing, and your hands can also experience dryness. So, it's essential to show this area some extra TLC.
Pick up the L'Oréal Paris Age Perfect Hydra Nutrition Manuka Honey All Over Balm – Face, Neck, Chest and Hands to get the ball rolling. This balm is formulated with manuka honey and nurturing oils that absorb quickly into the skin for lasting nourishment. Smooth it gently over your hands to score smooth and supple skin.
Next: Now that you have the lowdown on the best fall skin care essentials, it's a fabulous time to lock down your makeup routine. Check out our article, 21 Fall Lipstick Colors For Autumn 2020.
Discover more tips & tricks
Keep your skin happy
See all articles
Shop Featured Skin Care products
Discover More