skin care essentials
Your 5-Minute Skin Care Routine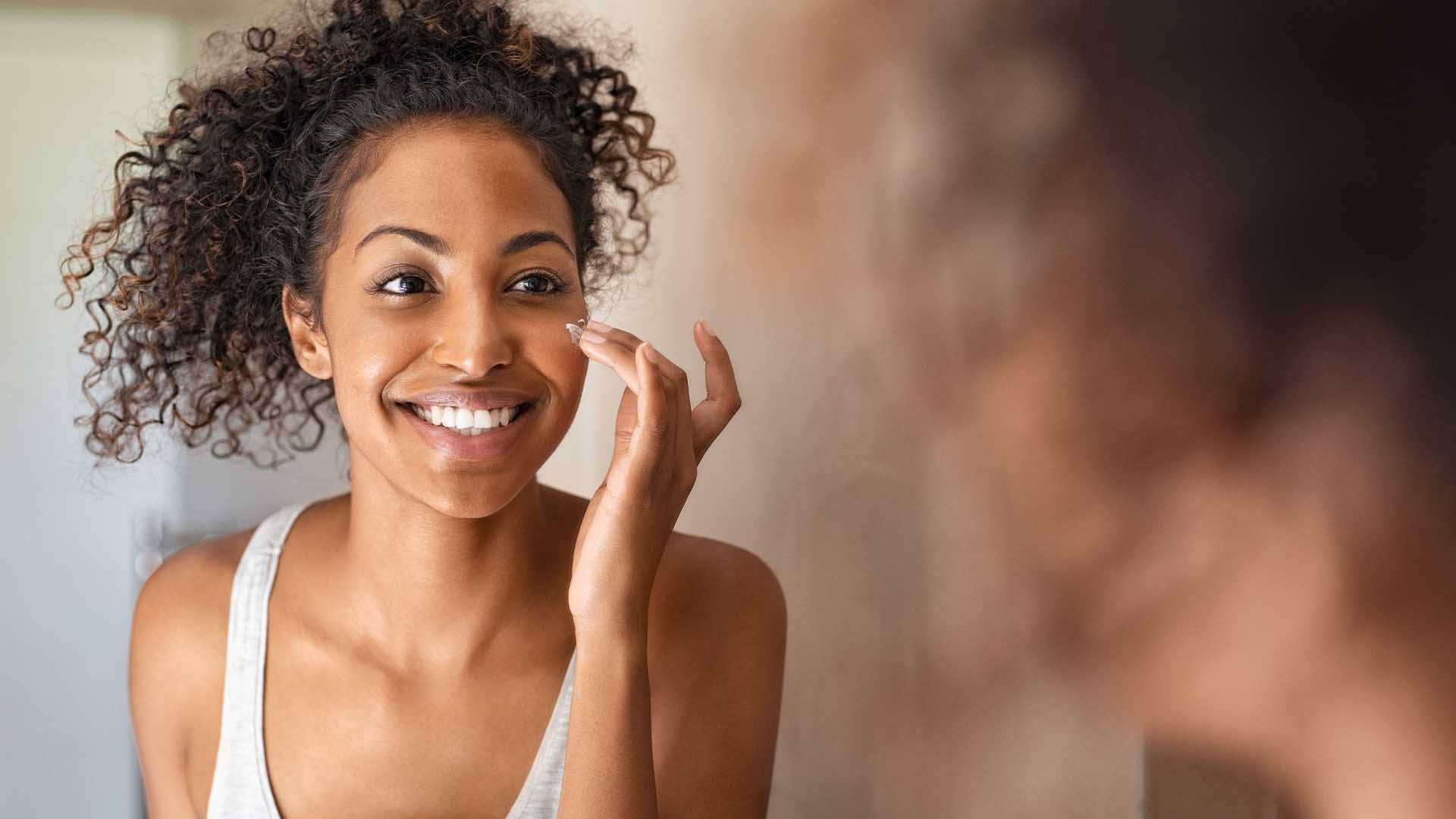 It's easy to assume quick skin care is less effective than a 10-step routine, but that doesn't have to be the case. To make the most of your time, it's all about using the right skin care products that work in your favor, amplifying and streamlining your routine so you can get out the door (or crawl into bed) in as little time as possible. Seriously, you can do a skin care routine for beautiful skin in a matter of minutes—five, to be exact. Ahead, find your five-minute skin care routine, which just so happens to be only five steps long.
Step #1. Use a No-Rinse Cleanser
As with any skin care routine, you'll need to begin by cleansing your face. Rather than dealing with the time-consuming struggles of a rinse-off cleanser (it's all too easy to make a mess of water around your bathroom sink), opt for a no-rinse alternative like micellar water. The L'Oréal Paris Micellar Cleansing Water Complete Cleanser Waterproof - All Skin Types is powered by micelle molecules that cluster together to surround and lift away impurities and makeup without rinsing or harsh rubbing. This means you can use it to cleanse in the morning as well as remove your makeup and cleanse at night. Simply saturate a cotton pad with the formula and glide it over your face. This step should take you under one minute—it's that easy.
Step #2. Exfoliate With a Face Scrub
To slough away any leftover impurities, along with dead skin cell buildup, reach for a face scrub. Take your pick from the L'Oréal Paris Pure-Sugar Resurface & Energize Kona Coffee Scrub, L'Oréal Paris Pure-Sugar Nourish & Soften Cocoa Scrub, L'Oréal Paris Pure-Sugar Smooth & Glow Grapeseed Scrub, and L'Oréal Paris Pure-Sugar Purify & Unclog Kiwi Scrub, based on your needs. Each scrub is formulated with three pure sugars for gentle yet effective exfoliation. Once you've made your pick, smooth a small amount onto your skin with dry fingers. Wet your fingers and massage the scrub over your face in circular motions. Rinse thoroughly with lukewarm water.
This will (debatably) be the longest step of your routine, though not by much. You'll also only need to exfoliate once a day, three times a week.
Step #3. Pat On a Serum
Sure, a serum may seem like a luxury, but it'll take you under a minute to apply—not to mention, show your skin some serious TLC. Apply two to three drops of our L'Oréal Paris Revitalift Derm Intensives 1.5% Hyaluronic Acid Serum to your face and neck, patting in the formula with your fingers. This serum can be used in your morning and evening routines to replenish hydration and reduce the appearance of wrinkles for visibly plumped, youthful-looking skin.
Step #4. Dot On Eye Cream
Your eyes need some love, too, and dotting on an eye cream takes barely any time at all. Use the metal tip of the L'Oréal Paris Revitalift Triple Power Eye Treatment to massage the formula gently around your eye area until absorbed. If you notice any lingering product, you can pat the excess in with your fingertip.
Step #5. Smooth On Moisturizer
Last but not least, seal in hydration with a moisturizer. In the morning, shorten your routine by using a moisturizer with SPF, like the L'Oréal Paris Revitalift Triple Power Day Lotion SPF 30. It has an anti-aging formula that contains three powerhouse ingredients—hyaluronic acid, Pro-Retinol, and vitamin C—along with broad-spectrum SPF 30 to protect your skin from the sun's harmful UVA and UVB rays.
At night, swap it out for a night cream or mask. We recommend giving the L'Oréal Paris Revitalift Triple Power Anti-Aging Overnight Mask a try. The overnight mask works while you sleep to visibly reduce wrinkles, firm, and brighten skin while providing intense hydration.
Next up: Now that you know how to speed-up your skin care steps with a 5-minute routine, you can spend more time on other areas of your beauty look. Apply those extra minutes to trying one of these 21 Maroon Makeup Looks For Fall and Winter.
Discover more tips & tricks
Keep your skin happy
See all articles
Shop Featured Skin Care products
Discover More