skin care essentials
4 of Our Best Night Serums To Use Before Bed
September 11, 2020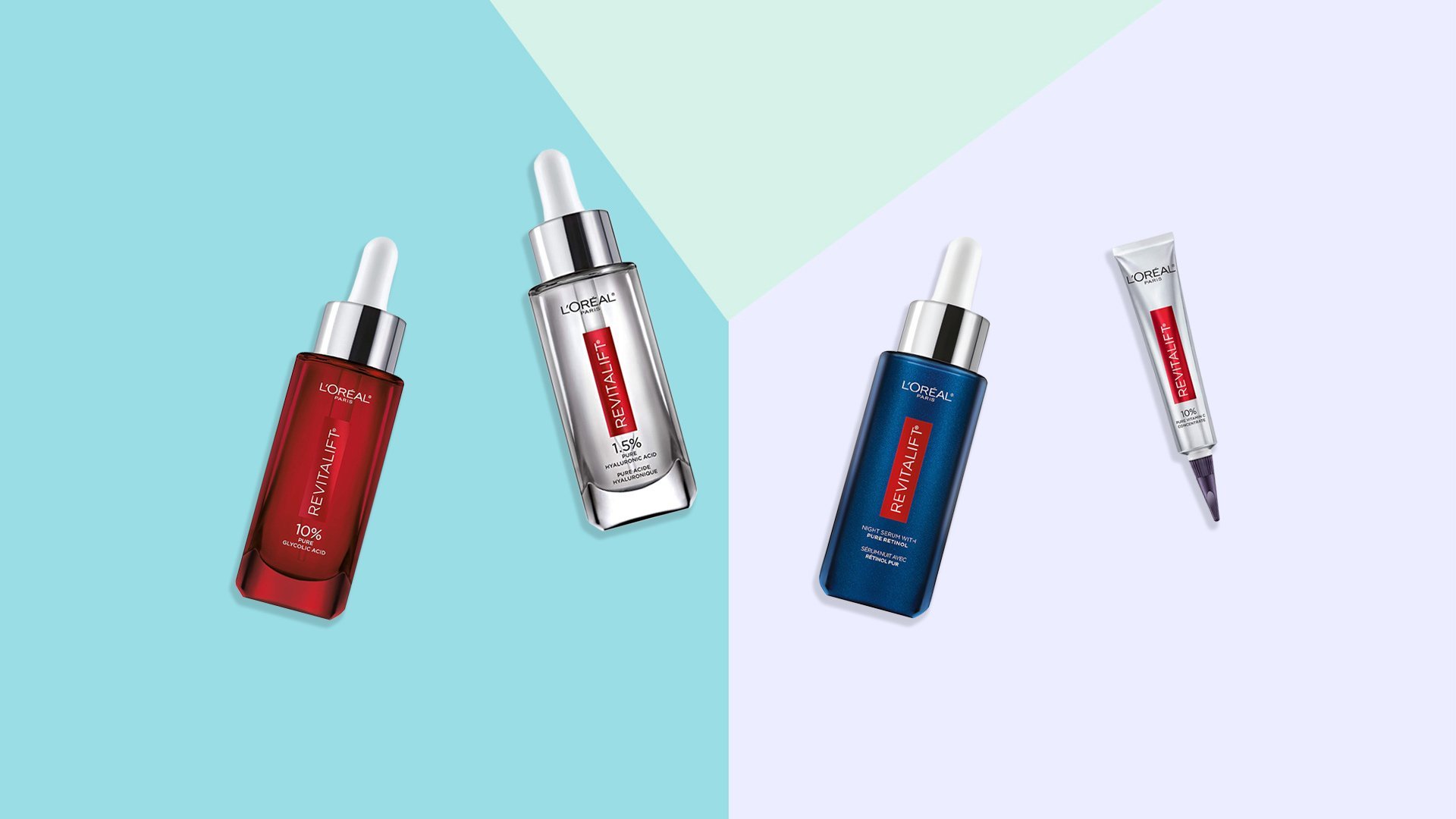 Your skin care routine shouldn't be reserved only for the morning—it's important to commit to a nighttime skin care routine, too. Whether you're already aware of this fact or late to the game, there's one skin care product in particular you may be leaving out of your nightly regimen: a night serum. Serums are a great way to show your skin some TLC, and using a night serum will allow your skin to reap the benefits while you catch some shut-eye. But, what is the best night serum? We have four—and we're here to fill you in. Read on for the lowdown on four nighttime serums to use before bed, based on your skin's needs.
OUR BEST NIGHT SERUM FOR UNEVEN SKIN TONE
If you have an uneven skin tone, allow us to point you in the direction of the L'Oréal Paris Revitalift Derm Intensives 10% Pure Glycolic Acid Serum. This face serum is formulated with glycolic acid, an alpha hydroxy acid that works to resurface your skin. It absorbs quickly to visibly even skin tone and reduce the appearance of wrinkles, fine lines, and dark spots.
How to use it: Apply four to five drops of this night serum to clean, dry skin every evening. For sensitive skin, start by using the face serum two to three times per week and build to nightly use.
OUR BEST NIGHT SERUM FOR WRINKLES
Calling anyone who's looking for a serum that will help tackle signs of aging, like wrinkles: You'll want to start using a retinol serum, like the L'Oréal Paris Revitalift Derm Intensives Night Serum, 0.3% Pure Retinol. This anti-wrinkle night serum contains pure retinol, a top dermatologist-recommended anti-aging ingredient proven to fight key signs of aging such as wrinkles—even deep ones. After the first use, your skin will feel moisturized and the texture more refined. Over time, fine lines and deep wrinkles are visibly reduced in areas such as the forehead. Skin will be appear smoother, while your complexion will be brighter, luminous, and glowing.
How to use it: To acclimate your skin to using retinol, start by applying two to three drops twice a week at night for the first week. The second week of use, apply the serum every other night. After week three, switch to nightly use if tolerated.
OUR BEST NIGHT SERUM FOR DRY SKIN
For dry skin that's in need of a hydration boost, the L'Oréal Paris Revitalift Derm Intensives 1.5% Pure Hyaluronic Acid Serum is a must. Formulated with pure hyaluronic acid, which works to enhance skin's own moisture-retention, you'll be wondering how you ever went without it. It quickly absorbs into your skin to replenish hydration immediately and visibly reduce wrinkles over time for plumped, youthful-looking skin.
How to use it: You can use this serum for both your morning and evening routines. Apply two to three drops to the face and neck and gently smooth into skin.
OUR BEST NIGHT SERUM FOR DULL SKIN
Dull skin is all too common, especially during the fall and winter months. Luckily, you don't have to rely on makeup products to give yourself a radiant complexion. The L'Oréal Paris Revitalift Derm Intensives 10% Pure Vitamin C Serum is a lightweight, highly potent vitamin C serum to brighten your complexion. The formula effortlessly glides on skin to restore its radiance and reduce the appearance of wrinkles.
How to use it: This night serum can be used in the morning and evening. Apply a dime-sized amount onto your fingertips and smooth over your face and neck, gently massaging onto your skin.
HOW TO USE A NIGHT SERUM IN YOUR EVENING ROUTINE
Now that you know about our best night serums, let's go over how to add them to your nightly regimen.
STEP #1. CLEANSE YOUR SKIN
As with any skin care routine, you'll want to start by washing your face. Try the L'Oréal Paris Micellar Cleansing Water Complete Cleanser Waterproof - All Skin Types. Saturate a cotton pad and glide it over your face to cleanse.
STEP #2. SMOOTH ON A SERUM
It's time for that nightly serum. Now is your cue to apply one—or a few—of the night serums we mentioned above. If your mixing and matching, make sure you're layering your serums correctly.
STEP #3. DOT ON EYE CREAM
Of course, the delicate skin around your eyes needs some TLC, too. Dot your eye cream of choice (we recommend the L'Oréal Paris Revitalift Triple Power Eye Treatment) onto your eye area using your ring finger.
STEP #4. MOISTURIZE
Last but not least, lock in the moisture with an ultra-hydrating overnight mask, like the L'Oréal Paris Revitalift Triple Power Anti-Aging Overnight Mask. This night cream is formulated with Pro-Retinol, vitamin C, and hyaluronic acid to visibly reduce wrinkles and firm and brighten skin. Smooth it on as the last step of your regimen.
Discover more tips & tricks
Keep your skin happy
See all articles
Shop Featured Skin Care products
Discover More