skin care essentials
How To Make Your Bathroom A Self-Care Oasis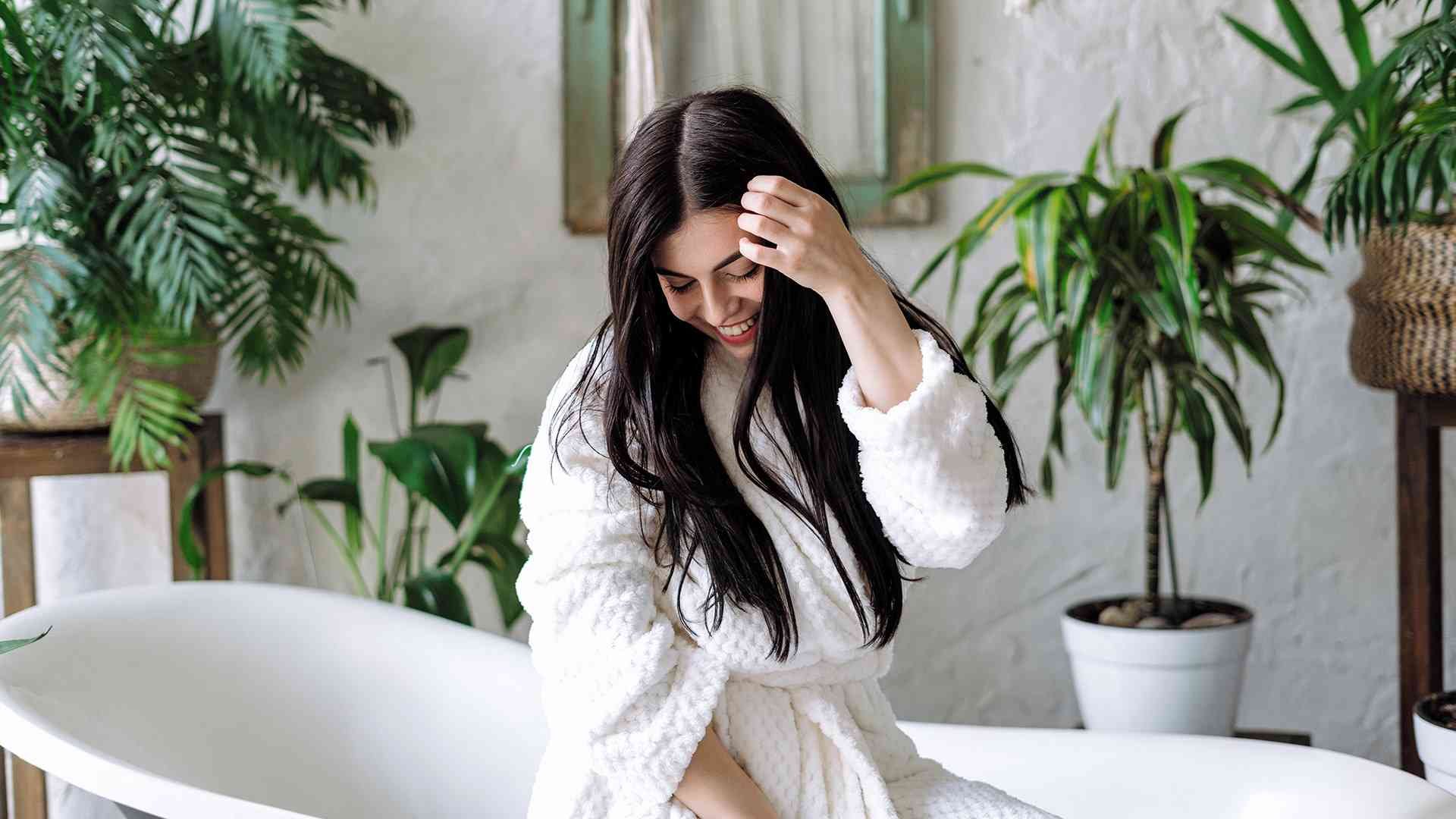 If we had to identify some good that came out of the previous year we can all probably agree that the emphasis on self-care makes the top of the list. With self-care Sunday trending across social media, bathroom photos of ladies indulging in face masks, hair masks and at-home manicures flooded our time lines. It was both inspirational, and at times, aspirational. But it can be hard to find true relaxation in a bathroom that just doesn't give calming vibes. Luckily, you can change that with small fixes. Read on to find some easy and affordable ways to transform your bathroom – no matter the size – into a self-care oasis.
1. Add Some Greenery
Beautiful plants not only liven up a space, but some can even improve the air quality in your home. Bring some of your favorite greenery into your bathroom to give it some color and to make it more inviting. If you don't have a ton of space, just a few small plants lining your window or vanity can do the trick. And if you don't have windows in your bathroom (hello big city, small spaces!) pick plants that don't need direct sunlight or consider some falsies—faux greenery has come a long way since your grandmother's dusty 1980s fakes.
2. Include A Pop Of Color
Speaking of color, while plants are a great way to add some green, paint is an easy way to add any other color you love. If you rent, consider adding an accent wall, or creating some artwork rich with different colors to make the space fun. If you own your home, a colorful mural or ceiling art could be an excellent way to bring in fun shades.
Editor's Tip: Combine your love for plants and color by adding the L'Oréal Paris Pure-Clay Exfoliate & Refining Mask into your self-care routine. Enhanced with red algae extract to refine skin in just ten minutes, it removes dead skin cells, dirt and oil to reveal a smooth and polished complexion.
3. Get Organized
Installing bathroom organizers can help you keep the room clutter free and more zen-like, especially if you're working with a small space. Since you're creating a spa-like hideaway in your home, get creative. Grab a three-tier cupcake stand that can double as a product shelf and a pretty piece of decor or add some woven baskets in lieu of your typical toothbrush and gadget holders.
4. Include Personal Touches
Do you love string lights? Are you obsessed with pearls? Can't live without your lilies? Bring those must-have elements into your bathroom to create the self-care retreat that you deserve. Whether it's with a DIY bejeweled tissue box cover, or sea shell wall accents that remind you of your favorite beach vacation, indulge in what brings you to a sense of serenity when you step into the room.
Editor's Tip: A hair mask or treatment with a calming scent can also add to your day of R&R. We love the L'Oréal Paris EverPure Sulfate-Free Scalp Care + Detox Scalp Scrub. It removes unwanted build-up from the scalp so that you can get a deep clean when you shampoo. Formulated with apricot seed and menthol, it has a relaxing fragrance that reminds you of going to the salon.
5. Add Texture
Who says rich fabrics are only for the living room and bedroom? Including different textures in your bathroom will give the space dimension and the feeling of being in a room that you can sit in for hours. Remember those space-saving woven baskets? Try putting them on the wall to serve as a place to put your skin care must-haves and to dress up the room. Swap out that shag sink mat for a luxe faux fur option. The more you think of your bathroom as a place you plan to spend time treating yourself, the more you'll want it to look and feel as luxurious as your self-care routine.
Next: 6 Skin Care Products You Should Always Keep Stocked In Your Bathroom
Discover more tips & tricks
Keep your skin happy
See all articles
Shop Featured products
Discover More