skin care essentials
L'Oréal Paris Age Perfect Manuka Honey Eye Gel Review
March 15, 2019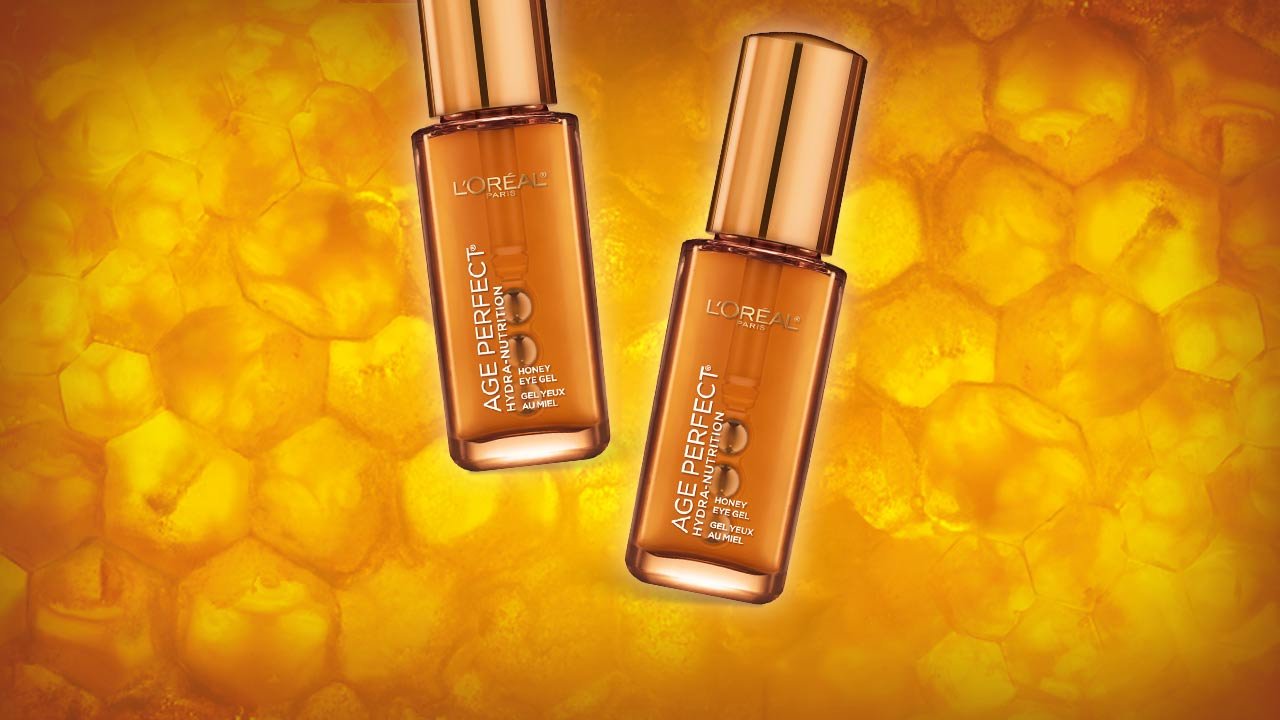 It's a fact: Every good skin care routine should include an eye cream. As the most delicate and thin-skinned area on your entire face, your eye area needs special care. The right eye cream can provide your skin with hydration, warding off dryness in the short term and helping your eyes look more youthful in the long term. Or, if your biggest eye area concerns are puffiness and dark circles, there are eye creams for that, too. In fact, some eye creams can do all of the above. One of our favorite eye creams—or should we say, eye gels—which is formulated with nurturing, protective ingredients and can be used on all skin types, fits the bill. Keep reading for our review of the L'Oréal Paris Age Perfect Hydra Nutrition Manuka Honey Eye Gel, plus our best tips on how to incorporate it into your own skin care routine.
L'Oréal Paris Age Perfect Manuka Honey Eye Gel Review
Using an eye cream every day (twice a day) can be a hard habit to start, but it's a lot easier if the whole experience is enjoyable. That's one of the reasons we love this nourishing eye gel—the de-puffing rollerball wand works with the cooling formula to create a sensorial application experience that makes us want to be religious about taking care of our under-eye area. As for how it actually works, we're fans of that, too. The eye gel cushions mature, very dry skin with nourishing moisture and massages away the look of puffiness, bags, and dark circles.
In terms of the formula, as the name suggests, this hydrating eye gel is formulated with manuka honey. You've probably noticed manuka honey popping up on skin care product ingredient lists recently, and there's a good reason for that. According to Mayo Clinic, honey—the regular kind—is more than a kitchen staple, it can also have antioxidant benefits. And manuka honey, another form of honey, isn't so different. Manuka honey is a nurturing form of honey, specially sourced from the nectar of the Manuka Tree, naturally found in New Zealand.
Editor's note: Wondering what this eye gel is formulated without? Our under-eye must-have is completely free of parabens and mineral oil!
How to Use L'Oréal Paris Age Perfect Manuka Honey Eye Gel
Not quite sure where this eye gel should fit into your regular skin care routine? Here's a breakdown of how your routine should look.
STEP #1: CLEANSE
You don't want to apply eye cream onto a complexion that's dirty, so begin your AM and PM skin care routines by cleansing with a gentle facial cleanser, like the L'Oréal Paris Age Perfect Nourishing Cream Cleanser. This daily cleanser is formulated to remove all traces of debris, makeup, and excess oil while also keeping skin hydrated.
STEP #2: APPLY THE EYE GEL
Once your complexion is thoroughly cleansed, you can grab your eye gel and use the rollerball applicator to massage the formula onto the under-eye area in circular motions. Gently pat any excess product with your fingers to help it absorb.
STEP #3: LAYER ON SERUM
Next up: facial serum. We suggest that you choose one that's super-hydrating, like the L'Oréal Paris Revitalift Derm Intensives 1.5% Pure Hyaluronic Acid Serum. This lightweight serum absorbs quickly without leaving behind any sticky residue, and over time, it will leave your complexion visibly plumped and healthy-looking in appearance.
STEP #4: APPLY MOISTURIZER
As the second to last step in your AM and PM skin care routines, you'll want to top everything off with a facial moisturizer. If it's morning, reach for the L'Oréal Paris Age Perfect Hydra Nutrition Honey Day Cream, which will keep your complexion hydrated and supple and is suitable for all skin types—even sensitive ones. If it's evening, use the L'Oréal Paris Age Perfect Hydra Nutrition Honey Night Balm instead to comfort and nourish your skin while you sleep.
STEP #5: DON'T FORGET YOUR NECK AND HANDS
Last but not least, show the same love to your neck and hands! After all, your face isn't the only area of skin on your body that needs regular moisturizing. As your final step, use the L'Oréal Paris Age Perfect Hydra Nutrition Manuka Honey All Over Balm – Face/Neck/Chest/Hands wherever you need it.
Ready for another review? Check out our write-up on the Colorista line, L'Oréal Paris Colorista Review: Semi-Permanent Hair Color, Hair Makeup, and Hair Color Sprays.
Discover more tips & tricks
Keep your skin happy
See all articles
Shop Featured Skin Care products
Discover More