skin care essentials
How To Winter-Proof Your Look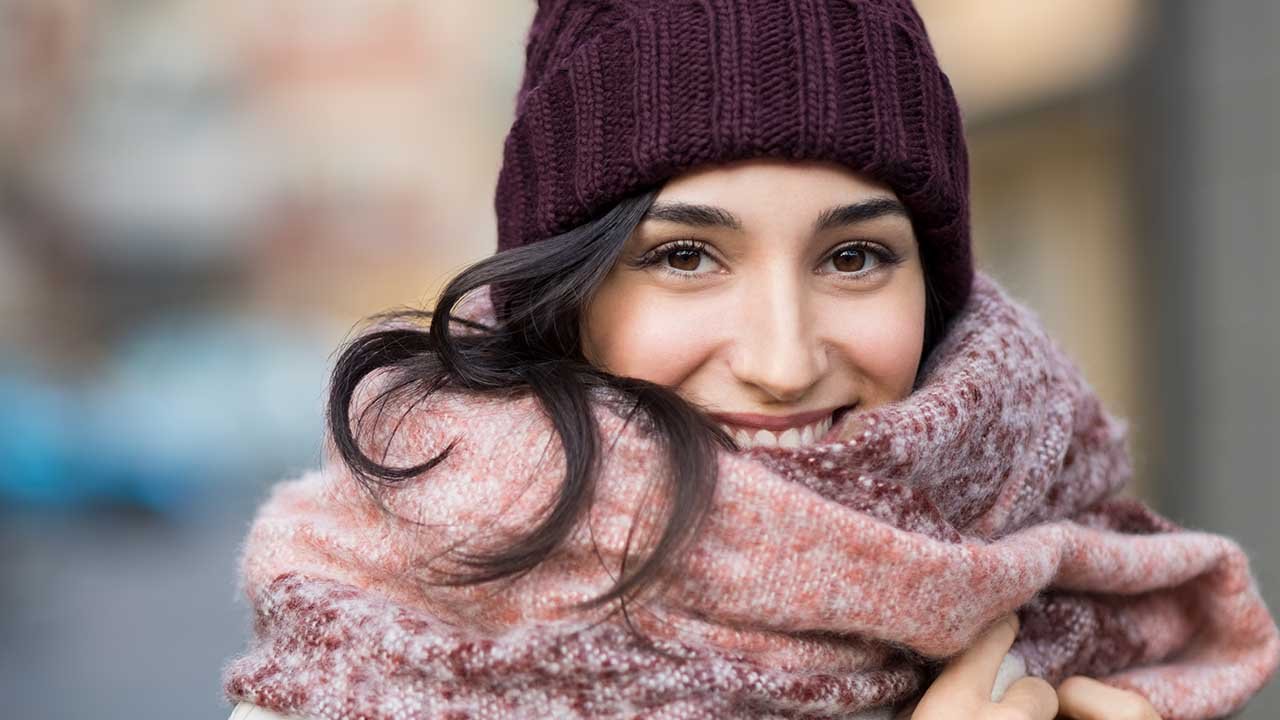 The weather may be taking a chilly dip, but that doesn't mean that your winter beauty look has to pay the price. While the winter season and cold temps go hand-in-hand with dry, dull-looking hair and skin, there are steps you can take to keep your beauty game in shape. All you need are the right skin care, hair-care, and makeup tips to get the job done. So, if you're ready to start your journey to a radiant complexion and healthy-looking strands, we're here to assist. Ahead, we're sharing nine tips to help you take your winter beauty look to the next level.
WINTER BEAUTY TIP #1: FAKE A GOLDEN GLOW WITH SELF-TANNER
No rule says you can't bring that refreshed, beachy-glow to life with your winter beauty regimen. Thanks to self-tanner, you can fake that sun-kissed look without the fuss. That way, no one has to know that you've been cooped up inside all season. If you're new to the world of self-tanner, try the L'Oréal Paris Sublime Bronze Hydrating Self-Tanning Milk Medium. This streak-free offering is formulated with vitamin E and works to nourish and soften skin while also building a gorgeous glow. Not to mention, the gradual tanning lotion can be used up to three times a week to maintain your tan.
Editor's tip: Read our article, Our Best Gradual Self-Tanner Lotion For a Natural-Looking Tan, to learn what a gradual self-tanner lotion is and how to apply it for your faux bronze glow.
WINTER BEAUTY TIP #2: ADD A CHARCOAL MASK TO YOUR BEAUTY ROUTINE
It's not news that a dull-looking visage can put a damper on your mood. Since harsh environmental factors like pollution and debris can damage your face over time, it can leave your complexion looking dull and tired. So, it's important to revamp your skin care routine with the help of a face mask, like the L'Oréal Paris Pure-Clay Detox & Brighten Face Mask. This pick is formulated with three different clays and charcoal that draw out the buildup of impurities. It also comes in handy to address the look of dullness to reveal a purified and radiant-looking face. Apply an even layer to clean, dry skin. Leave the face mask on for 10 to 15 minutes, then rinse thoroughly with water. For best results, use it three times a week.
WINTER BEAUTY TIP #3: GET FRIENDLY WITH HIGHLIGHTER
Like we said, sometimes, it's all about faking a glow until you make it. That's where the right makeup—highlighter, specifically—comes in. Give the L'Oréal Paris True Match Lumi Glow Amour Glow Boosting Drops a try. They're available in two shades: a golden hue and pink pearl. Here's a hack, just for you: Mix a few illuminating drops into your foundation to use it as an all-over highlighter. Apply the foundation-highlighter combo with a makeup blender, like the L'Oréal Paris Infallible Blend Artist Foundation Blender, using dabbing and rolling motions to blend it onto your skin.
If you want to highlight specific areas of your face, you can totally make it happen. Dot the highlighter onto your cheekbone, inner corners of your eyes, down the bridge of your nose, and onto your cupid's bow—all the places the sun would naturally hit. Diffuse the product with your makeup blender for an even finish.
WINTER BEAUTY TIP #4: FINISH OFF YOUR LOOK WITH A LUMINIZING POWDER
For those who are partial to powder makeup formulas, we have the perfect product in mind to complement your winter beauty routine. After applying your foundation, use a fluffy makeup brush to lightly dust your face with the L'Oréal Paris True Match Lumi Shimmerista Highlighting Powder, focusing on the high points of your face. Your favorite snow globe has nothing on you!
WINTER BEAUTY TIP #5: MAKE THE MOST OF YOUR MOISTURIZER
There's nothing skin needs more during the wintertime than moisture. Between the dry climate and the cold weather, your face can become dehydrated if not cared for properly. After washing your face, be sure to immediately apply a moisturizer formulated for your skin type. Applying it to a damp face can help lock in hydration, meaning it's the perfect time to switch to air-drying your face. As for which moisturizer to use, have your pick from the L'Oréal Paris Hydra Genius Daily Liquid Care - Normal/Dry Skin, L'Oréal Paris Hydra Genius Daily Liquid Care - Normal/Oily Skin, and L'Oréal Paris Hydra Genius Daily Liquid Care - Extra Dry Skin. Each offering is formulated with aloe vera water and hyaluronic acid to provide long-lasting hydration.
Editor's tip: Don't forget the skin below your chin! After patting dry post-shower, slather on your favorite body lotion or butter.
WINTER BEAUTY TIP #6: DON'T SKIMP ON SUN PROTECTION
The winter season is no excuse to skip out on sun protection. You should always make it a point to protect your skin from the sun with a broad-spectrum sunscreen with an SPF of 15 or higher every day—even when it's cloudy out. If you prefer to pare down your winter beauty routine, grab a formula that combines a moisturizer and broad-spectrum sunscreen in one like the L'Oréal Paris Revitalift Triple Power Day Lotion SPF 30
Wearing sunscreen every day shouldn't be your only line of defense. Be sure to limit your amount of time in the sun (especially between 10 a.m and 2 p.m., which are the sun's peak hours), seek shade, and cover up exposed areas in long sleeves, pants, a broad-brimmed hat, and UV-blocking sunglasses.
WINTER BEAUTY TIP #7: USE A SUGAR SCRUB ON YOUR FACE AND LIPS
It's always a smart idea to add a round of exfoliation to your winter beauty lineup. After all, this important step works wonders to slough away dead skin cells that can contribute to a dry and dull-looking complexion. However, exfoliating too much can have adverse effects. Some people can only handle exfoliation once a week, while others can do so a few times per week. Your best bet is to pay attention to how your skin responds to determine what's right for you.
For all your face scrub needs this winter, try the L'Oréal Paris Pure-Sugar Nourish & Soften Cocoa Scrub, which can be used on your face and lips. With dry fingers, apply your scrub to clean, dry skin. Avoid the eye area. Wet your fingers, then massage the scrub over your skin. Rinse off with lukewarm water. Use up to three times a week for best results.
WINTER BEAUTY TIP #8: REACH FOR A HAIR MASK
As we mentioned, the winter chill can take a toll on the look and feel of your strands. While you may have a go-to shampoo and conditioner to wash your hair with, you'll need to add some extra TLC into the mix. This is where the L'Oréal Paris EverPure Repair Remedy Balm comes into play. This rich formula helps to restore strength and brilliance to your locks, strand by strand for a strong and healthy-looking mane.
Kick things off by washing your locks with the L'Oréal Paris EverPure Repair & Defend Shampoo and L'Oréal Paris EverPure Repair & Defend Conditioner. Once complete, apply the mask to wet strands and massage through to the ends. Let it sit for three to five minutes before rinsing thoroughly.
WINTER BEAUTY TIP #9: DON'T SHY AWAY FROM HAIR SERUM
There's nothing wrong with showing your mane some extra love during the winter season., and boosting your strands with a hair serum will never disappoint. You may have set your sights on a standard three-step regimen, but you'd be surprised to see what the right pick can bring to the table. Pick up the L'Oréal Paris Elvive Extraordinary Oil Treatment, which is a lightweight serum that transforms dull strands to nourished and silky-looking locks. Smooth two to three drops throughout your mane before shampooing or pre-styling to add moisture, softness, and shine.
Next up: If you're in the mood for more winter beauty tips, we've got you covered. Check out our article, How To Help Static Hair This Winter, to get started.
Discover more tips & tricks
Keep your skin happy
See all articles
Shop Featured Skin Care products
Discover More