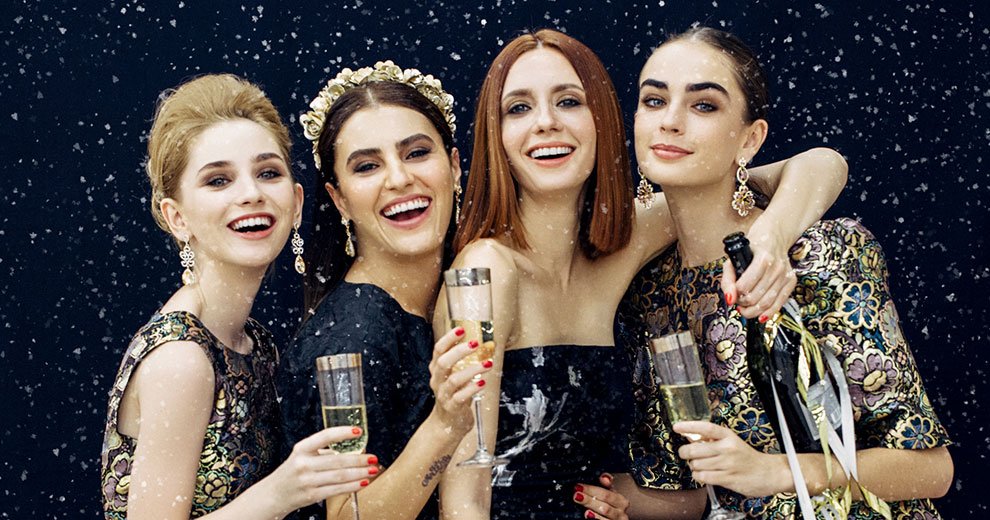 skin care essentials
Holiday Party Beautiful Skin Care Prep & Rehab
Holidays parties are a favorite, fun part of the winter season. And while they can take a good deal of time to prepare for, the good times shared with family and friends are surely worth it. Sure baking your famous dessert and finding the perfect dress can be taxing, but not all of your holiday party prep has to be stressful or take up too much time. Prepare for your party and indulge in a little me-time with a skin care routine sure to encourage radiant skin in time for your night out. And, if your party goes a little late and your skin is looking a little tired the next morning, help it bounce back with a skin care routine designed to help detoxify and illuminate your complexion, so your radiant skin can stay that way all season long.
Holiday party skin care step #1: Cleanse and exfoliate to reveal your most radiant skin. Your skin can appear merry and bright just in time for your holiday party. Simply start by cleansing your skin and removing any makeup residue from your day. Then, consider exfoliating your skin to remove dead, flaky skin cells that can pile up on skin's surface and cause your skin to appear dull and dry. A quick and effective, yet gentle, way to exfoliate involves a few simple swipes of a pre-soaked glycolic acid peel pad. The alpha hydroxyl acid can dissolve away dead cell build up on your skin's surface to reveal younger, brighter cells that were buried underneath. Your skin should feel and look more smooth and luminous, especially if used as a part of your skin care routine in the days leading up to your holiday party.
Holiday party skin care step #2: Get smooth lips ready for a little mistletoe mingling. Dry lips may be a common winter skin woe, but you don't have to let a flaky, parched pout get in the way of a holiday peck. Encourage hydrated, soft lips with the help of DIY lip scrub. In this do-it-yourself recipe from Skincare.com, lactic acid-packed yogurt is the star component. The alpha hydroxy acid gently exfoliates dry, dead cells by lifting them away from the skin's surface without scrubbing, offering a gentle way to get soft, kissable lips. Grab the ingredients and follow the directions below for a DIY lip scrub that will get you one step closer to a silky, kissable pout in time for your holiday party.
Ingredients:
-½ teaspoon of raw honey
-1 teaspoon of yogurt
-¼ teaspoon, or 2-3 drops of cucumber juice
Directions:
-Combine all ingredients in a small dish and apply to freshly exfoliated lips.
-Leave on for 5-10 minutes before removing with a soft cloth soaked in lukewarm water.
-Follow up with a hydrating moisturizer or coconut oil.
Holiday party skin care step #3: The more moisture, the merrier the skin. Don't feel limited to one moisturizing skin care product, especially in the winter season when your skin tends to experience more dryness. Consider layering your skin care products like you would items of your wardrobe when the air cold and dry outside. Once your skin is clean, apply a serum, eye cream, and then your facial moisturizer. Since you have a special night ahead, consider adding a little extra glow with a couple drops of facial oil. Apply it to areas of your skin where you would apply a highlighter, like your cheekbones, to really encourage the look of party-ready radiant skin – and that's before you even apply any makeup!
And, now that you've enjoyed a night out enjoying a little – or a lot – of the holiday spirit with your family and friends, your skin may be in need of a day-after detox.
Holiday party skin care rehab #1: Detoxify your pores with a face mask. Keep your radiant skin looking bright the day after your party by applying a detoxifying face mask after you cleanse your skin in the morning. Cleaning your pores of surface dirt, oil and sweat will help payve the way for your bright, fresh complexion to shine through. Consider a face mask formula that is formulated with charcoal, as Skincare.com reports that charcoal exudes a negative charge that is irresistible to positively charged toxins, pulling impurities right off of your skin. Apply the face mask to your skin for about ten to fifteen minutes and then rinse it away with lukewarm – never hot – water. Gently pat your skin or let air dry.
Holiday party skin care rehab #2: Apply a cold eye compress to wake up tired looking skin. If you were up late, enjoying holiday party food, drinks and dancing, your skin may look a little tired as a result of all of that festive fun. Take a few minutes to unwind and recharge your skin by applying a chilled eye mask or cold compress to your eye area. The chilled eye mask or compress can help tighten blood vessels under your eyes to help dark circles or puffy eyes appear less noticeable.
Holiday party skin care rehab #3: Moisturize to maintain the look of your radiant skin. It was an important part of your holiday party prep and is now just as important for your holiday party skin care rehab. Moisturizing can help replenish your skin with much-needed hydration, especially after a night where you might have indulged in a few holiday cocktails, as alcohol can be dehydrating. Replenish your skin with moisture, by again layering your hydrating skin care products. You can apply a serum, moisturizer, eye cream and facial oil. Just be sure that one of your skin care products is formulated with SPF broad spectrum protection so that it is shielded from the sun's harmful rays as you go about your day.
Enjoy your holiday party and the holiday season by following skin care routine steps built to help your skin look its best whether you're toasting to the night or waking to a new day that's sure to be filled of more seasonal fun.
Discover more tips & tricks
Keep your skin happy
See all articles
Shop Featured Skin Care products
Discover More