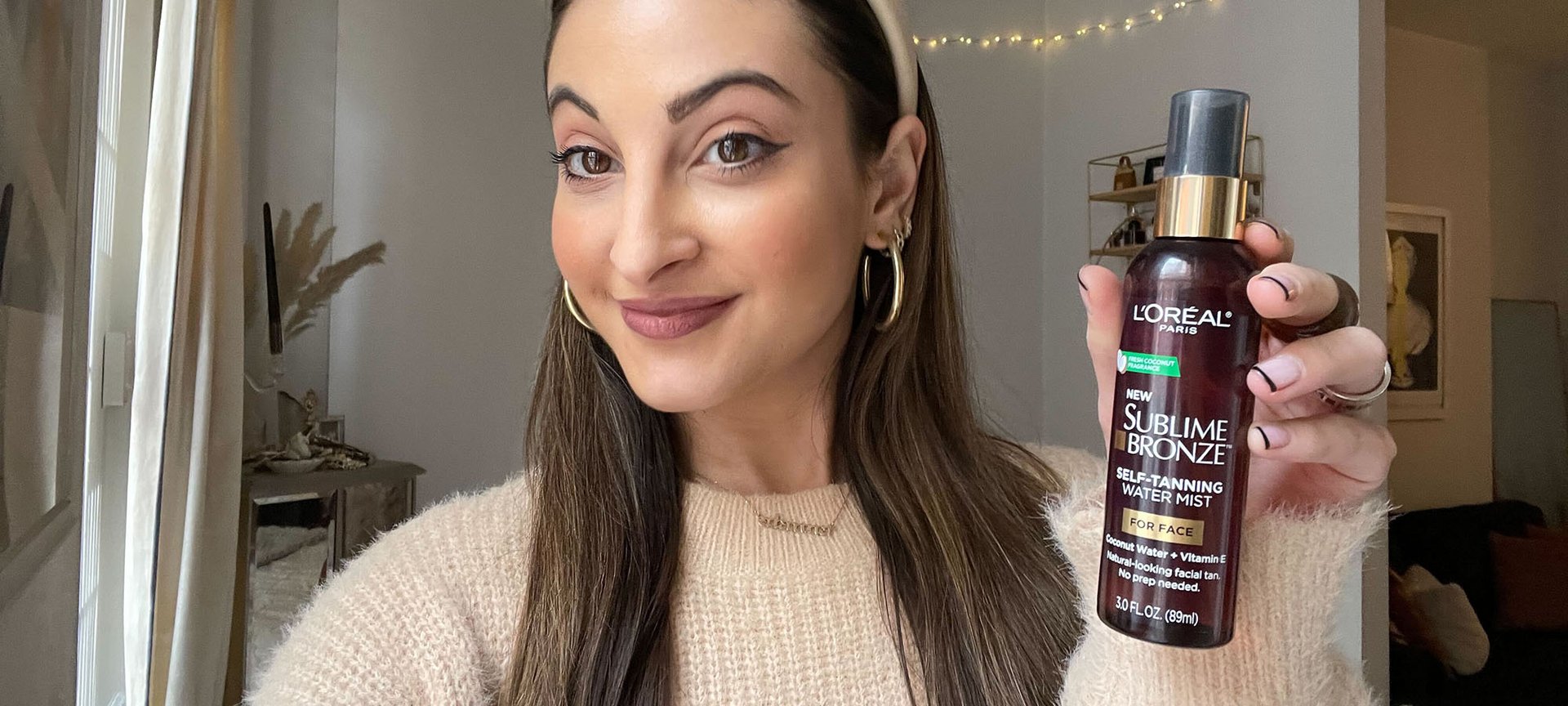 skin care essentials
How To Get A Faux Winter Glow On Combination Skin
A customizable self-tan for your complex skin.
It's wintertime and the struggle with cracked, dry and moody skin is real. If you deal with combination skin like me, you're especially no stranger to the dry patches that can creep up around the cheek areas and around the nose. This is a far cry from the radiant and glowy complexion I desire year round, which is why using the right skin care products is key.
In addition to an emollient moisturizer, self-tanning facial products have been my savior. They add just the right amount of radiance to warm up my complexion, which helps make dryness and ashiness less noticeable. So I was so excited, curious and intrigued when the new L'Oréal Paris Self-Tanning Facial Water Mist with Vitamin E came across my desk. Because my combo skin challenges me with multiple dry, peeling areas, I'm pretty particular about what I put on it, especially in the wintertime (see aforementioned issues). But after just four uses over the course of a week, I was ready to add this self-tanner to my permanent winter skin care arsenal for combination skin — here's why.
The first thing I noticed about this product was how unique it was compared to other self-tanners on the market. Typically, facial tanners come in a cream or serum-like formulas with a dropper, which allows you to mix the product in with your daily moisturizer and apply it all over your face. One of my favorites is the L'Oréal Paris Sublime Bronze Self-Tanning Facial Drops, Fragrance-Free. But this self-tanner comes in a facial mist formula, and allows you to either spritz the self-tanner directly to your face and neck or onto a cotton pad to apply over your skin. To mist it on, hold it 8-10 inches away from (but directly towards) your face and neck and spray.
After my morning skin care cleanse, I went with the former method to get a more targeted application. I saturated a cotton pad with three to four pumps of the mist and began swiping it on my face. It smells like sweet coconut and has a very lightweight texture. I made sure to cover all areas of my combination complexion (including some of those dry patches!).
This mist is infused with vitamin E that works to retain moisture, which leaves behind a plumped, illuminated complexion — something it did right away for me. I like that this formula puts skin care first, which makes it less intimidating when you have a moody complexion like mine (self-tanners can be truly unforgiving to dry patches). After application, it sunk right into my skin and did not form a film or residue on the surface, which can often happen with self-tanners on my combo skin. Instead, my skin looked fresh and glowy. About six hours after applying the mist I started to notice my tan forming and my skin looking more vibrant.
The next day, I could see a visible difference in the radiance of my skin, even through makeup. I had finally traded in my winter dullness for a more radiant, bronzy finish. Better yet, my patches of dryness looked less noticeable, and combined with the rest of my skin care routine, my skin was hydrated and nourished. The best part was that the sun-kissed tone didn't appear orange either, and didn't clump up on dry areas the way other self-tanners can on combination skin. I plan on using this formula throughout the rest of the winter, it truly gives me the faux-glow my skin deserves this time of year.
Next: How to Use A Facial Oil The Right Way — And With Makeup
Written and photographed by: Alanna Martine Kilkeary
Discover more tips & tricks
Keep your skin happy
See all articles
Improve your routine
Show your new look more love:
makeup