skin care essentials
The Ultimate Easy Skin Care Routine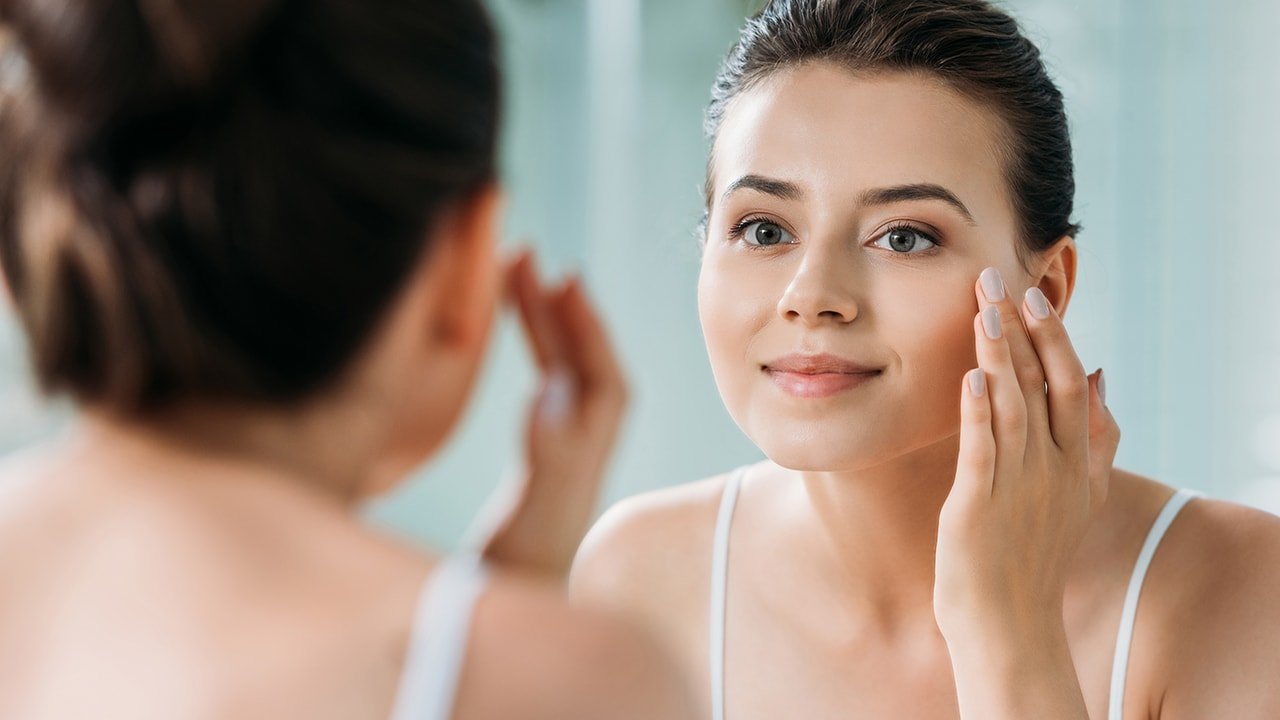 We get it—now that summer is in full swing, your calendar is likely full of sand socials and sunset screenings. And while you may be busy having fun under the sun, it's important to still find time for some much-needed skin care. Looking for a skin care routine that's as easy and breezy as a summer day? Look no further! Follow the five (super simple) steps below to tackle your skin care concerns with the ultimate easy skin care routine.
STEP #1: REMOVE YOUR MAKEUP
First things first, you'll want to remove all traces of makeup from your skin. Whether you're doing your nightly routine and removing a full face of makeup or starting with a fresh face in the A.M. and just dealing with a bit of leftover mascara from the night before, it's always a good idea to swipe a makeup wipe across your face to guarantee you're starting with totally bare skin. The L'Oréal Paris Revitalift Radiant Smoothing Wet Cleansing Towelettes are specially formulated to nourish skin and boost radiance while gently exfoliating and removing all traces of impurities and makeup. Gently wipe your face with a towelette to remove any makeup—no need to rinse!
Editor's note: All out of makeup wipes? Here's How to Take Makeup Off Without Makeup Wipes.
STEP #2: CLEANSE—WITHOUT ANY WATER
Yes, you read that right. Who says cleansing has to be a big ordeal? A sink-less, waterless cleansing option is a must to curate the ultimate easy skin care routine—especially during summer when you're constantly out and about. Saturate a cotton pad with the L'Oréal Paris Micellar Cleansing Water Complete Cleanser Waterproof - All Skin Types and gently wipe it over your face to completely clean your skin in one step, leaving it feeling hydrated and purified. Micellar water is powered by micelle molecules that cluster together to surround and lift away impurities and makeup with no rinsing or harsh rubbing required.
STEP #3: SMOOTH ON A SERUM
Next up: serum! A serum is a great way to give your skin some extra TLC. Take your pick from the two options below based on your skin concerns.
If your skin needs a boost of hydration…try the L'Oréal Paris Revitalift Derm Intensives 1.5% Pure Hyaluronic Acid Serum. This intensive hydrating serum absorbs quickly to immediately replenish and reduce wrinkles for visibly plumped, youthful-looking skin. Apply two to three drops to your face and neck and gently smooth over your skin.
If your skin needs a boost of radiance…try the L'Oréal Paris Revitalift Derm Intensives 10% Pure Vitamin C Serum. This highly potent serum effortlessly glides onto skin to immediately restore skin's radiance and reduce wrinkles. Apply a dime-size amount onto fingertips and apply to face and neck, gently smoothing over your skin.
STEP #4: COMBAT UNDER-EYE CIRCLES
We all have those nights where we don't get enough sleep. Combat the dark circles that result with the help of an eye cream. Every morning and night, apply the L'Oréal Paris Eye Defense in small dots around your eye area to reduce puffiness, lines, and dark circles.
STEP #5: REACH FOR A MOISTURIZER
Last but not least, you'll want to moisturize. To keep things simple—which is essentially the thesis of this routine—opt for a moisturizer that multitasks. That way, you won't have to apply a host of different creams and lotions. Give the L'Oréal Paris Age Perfect Hydra Nutrition Manuka Honey All Over Balm - Face/Neck/Chest/Hands a try! This silky, non-sticky balm wraps skin in soothing moisture to soften skin that feels tight and uncomfortable, leaving it looking more youthful with a healthy glow. Every morning and night (or even midday!), smooth the balm gently onto your face in an upward and outward motion, from neck to jawline, then upper chest until thoroughly absorbed. Before you wrap up your routine, use the balm on your hands too for all-over hydration.
Speaking of easy routines, a stunning makeup look doesn't have to be complicated either. Next, learn The Ultimate Easy Makeup Look for a Flawless Vacation Complexion.
Discover more tips & tricks
Keep your skin happy
See all articles
Shop Featured Skin Care products
Discover More