skin care essentials
6 Skin Care Products That Work Double Duty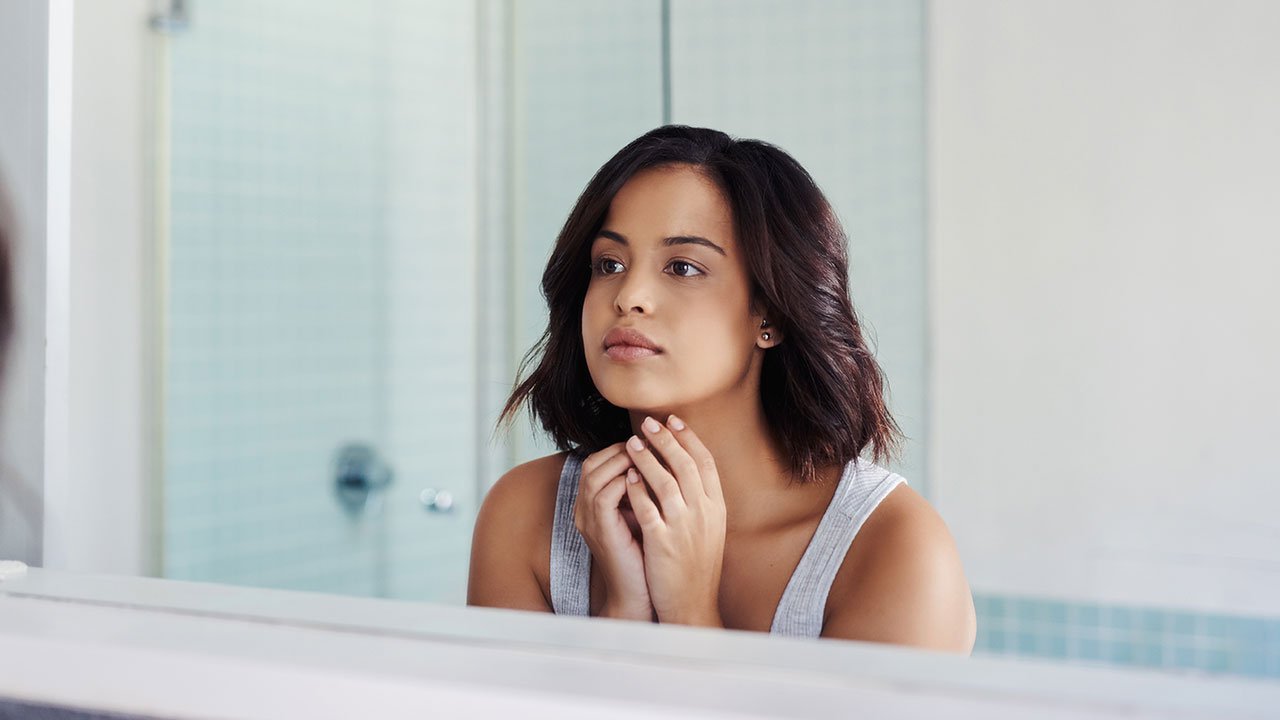 There's just something about a two-fer that gets people excited. Of course the idea of getting twice the amount of something for the price of one is nothing new, but that feeling of making a dollar stretch is just undeniable. And when it comes to skin care the benefits of a 2-in-1 can be long lasting. So if you're constantly on the hunt for multitasking skin care products that take steps out of your routine, save you time and save you money, you're not alone. To make your search easier we've gathered some of the best products that work double duty for your skin care routine so you can spend less time worrying about breakouts and hydration and spend more time outside connecting with people again.
1. MOISTURIZER WITH SPF: HYDRATES + PROTECTS
We had to start with this year-round necessity because as mask mandates are easing, our faces will be that much more exposed to the sun. It's understandable how anyone would want to decrease steps in their routines, skin care or otherwise, but applying sunscreen is a daily must. A moisturizer formulated with broad-spectrum SPF let's you combine that last two parts of your skin care routine (layering moisturizer + sunscreen application) and allows you to cut back on products without sacrificing the necessary ones. The L'Oréal Paris Revitalift Triple Power Day Lotion SPF 30 and the L'Oréal Paris Age Perfect Rosy Tone Broad Spectrum SPF 30 Sunscreen both provide intense hydration while protecting the skin from harmful sun damage and improving the overall look and feel of your complexion over time.
2. TINTED EYE CREAM: COVERS + HYDRATES
Skipping eye cream is a no-go. The sensitive skin around your eyes needs proper TLC as it matures so giving it a daily dose of hydration is a no-brainer. If you love makeup or need under-eye coverage, a tinted eye cream should be your go-to. In fact, a concealer-eye cream hybrid might be your best bet. The L'Oréal Paris True Match Eye Cream in a Concealer, 0.5% hyaluronic acid offers intense dark circle coverage while hydrating the under-eye area, reducing puffiness and improving brightness in just one week of use.
3. MICELLAR WATER: REMOVES MAKEUP + CLEANSES
Need a quick way to wash your face that doesn't require a sink? Micellar water is a no-rinse, gentle cleansing option that's perfect for both removing makeup and lifting dirt, oil, and makeup up and away from your skin. The L'Oréal Paris Micellar Cleansing Water Complete Cleanser Waterproof – All Skin Types intensely purifies while it cleanses. All you have to do is saturate a cotton pad with the micellar water and wipe the pad across your face to take off your makeup and refresh your complexion.
4. OVERNIGHT MASK: SMOOTHS + BRIGHTENS
According to the American Academy of Dermatology, your skin repairs itself while you sleep—which is why nighttime is a great time to pamper your complexion! The L'Oréal Paris Revitalift Triple Power Anti-Aging Overnight mask not only uses Pro-Retinol, hyaluronic acid and vitamin C to hydrate and brighten the complexion, it also works to reduce wrinkles and firm the skin. It's more like a four-fer. How's that for making the most of your beauty sleep?
5. CICA CREAM: STRENGTHENS + REPAIRS
Haven't used a cica cream yet? We have a feeling you're going to want to once you learn what it can do. The L'Oréal Paris RevitaLift Cicacream Face Moisturizer Pro-Retinol & Centella Asiatica is a lightweight cream that helps strengthen and repair skin barrier to help resist visible signs of aging that a weakened barrier can accentuate. Immediately, skin feels softer and smoother, while firmness and tone look improved. Plus, the appearance of fine lines and wrinkles is reduced with continued use over time. Smooth the cica cream over your skin morning and night until absorbed.
6. FACE MASK: DETOXES + BRIGHTENS
Over time, harsh cleansing can be drying and sensitizing, leaving skin feeling uncomfortable. As a result, skin needs cleansing that is effective yet gentle. Face masks are great because they can target a combination of skin care concerns depending on their formulations. The L'Oréal Paris Pure-Clay Detox & Brighten Face Mask draws out the buildup of impurities, dirt, and oils, clears the look of congested pores, and addresses dullness. Twice a week, apply an even layer of face mask to clean, dry skin, leave it on for 10-15 minutes, then rinse off thoroughly with lukewarm water and pat dry.
Photo Design: Sarah Duvivier
Discover more tips & tricks
Keep your skin happy
See all articles
Shop Featured Skin Care products
Discover More