skin care essentials
Clay Mask Indulgence: Pamper Your Skin this Weekend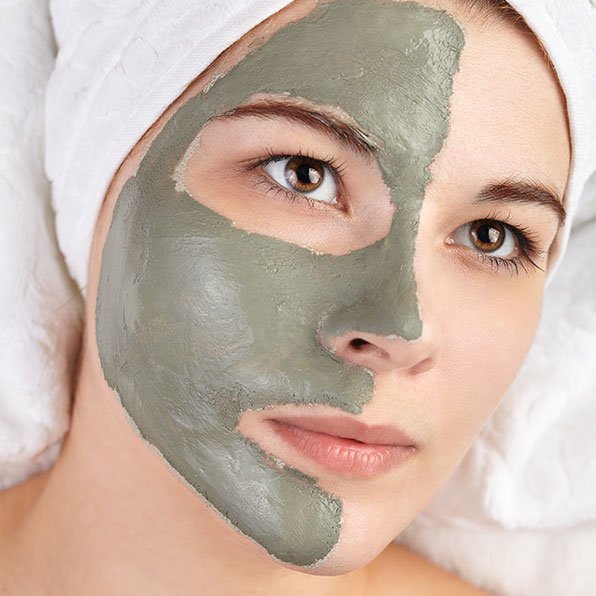 If your work week was a bit taxing or if you're simply ready for a relaxing weekend, you may be looking for little ways to treat yourself. One rewarding way to unwind is to spend some extra time on your skin. Not only will the process of treating your face to a little TLC feel good, but your skin can also receive a visible boost. If you could address your skin concerns and de-stress with some quiet, me-time, in just ten minutes, why wouldn't you? So, consider indulging your skin this weekend and delight it with a clay mask for each day designed to detox, purify and refine your skin in just three days.
Your clay mask for Friday night: Pure-Clay Mask Detox & Brighten Treatment Mask. Your skin may be in need of a quick detox after a long week of waking up early, commuting to work, running errands and taking care of your family. Your skin encounters daily stressors that can negatively impact its quality and appearance. Help remove debris and built up congestion from the skin's surface that can mix with dead skin cells and lead to clogged pores or dull-looking skin. Illuminate the look of your skin by applying Pure-Clay Mask Detox & Brighten Treatment Mask, its creamy cushiony texture is formulated with pure clays and Japanese charcoal. The strong attracting properties of the charcoal will help to detoxify your pores by drawing out toxins and heavy metals located on your skin's surface; what it picks up will be washed away once you rinse off your clay mask. Apply this clay mask to your skin Friday night after cleansing to help remedy some of the built up toxins it has accumulated over the week, leave it on for ten minutes while you sip some tea or give your feet a relaxing massage. Then rinse it away completely and follow with your regular moisturizing routine.
Your clay mask for Saturday morning: Pure-Clay Mask Purify & Mattify Treatment Mask. Now that you took the time to detoxify your skin, it should appear more radiant, but why stop there? Saturday morning, apply the Pure-Clay Mask Purify & Mattify Treatment Mask to help remove excess shine and clean your pores. The blend of three pure clays and eucalyptus will encourage a clean, fresh complexion for your day ahead. For best results, rinse away the clay mask after ten to fifteen minutes and then moisturize your skin with a serum and/or a day lotion with SPF to protect and replenish your skin.
Your clay mask for Sunday night: Pure-Clay Mask Exfoliate & Refining Treatment Mask. This blend of natural volcanic particles, apricot seed powder, pure clays and red algae will help exfoliate and refine your skin at the end of your weekend, so that your skin looks reenergized and refreshed in time for Monday. Along with the clays' ability to draw out impurities, dirt and oils, the Pure-Clay Mask Exfoliate & Refining Treatment Mask formula is specifically infused with apricot seed powder to exhibit an exfoliating effect on your skin's surface, leaving your skin to look and feel smooth. A bonus: Your makeup application the next morning should benefit too, thanks to your newly even, smooth skin. Apply the clay mask for ten to fifteen minutes and then rinse off the face mask by massaging it into the skin with lukewarm water. Consider applying a nourishing night cream or overnight mask to further reap the benefits of this clay mask.
Now that makes for a relaxing – and productive – weekend! You'll be able to care for your skin and hopefully unwind some too. Indulge your skin with clay masks perfect for any day of the weekend – or week – that can help you address your most common skin concerns.
Discover more tips & tricks
Keep your skin happy
See all articles
Shop Featured Skin Care products
Discover More