skin care essentials
5 Essential Skin Care Tips For Men, According to an Expert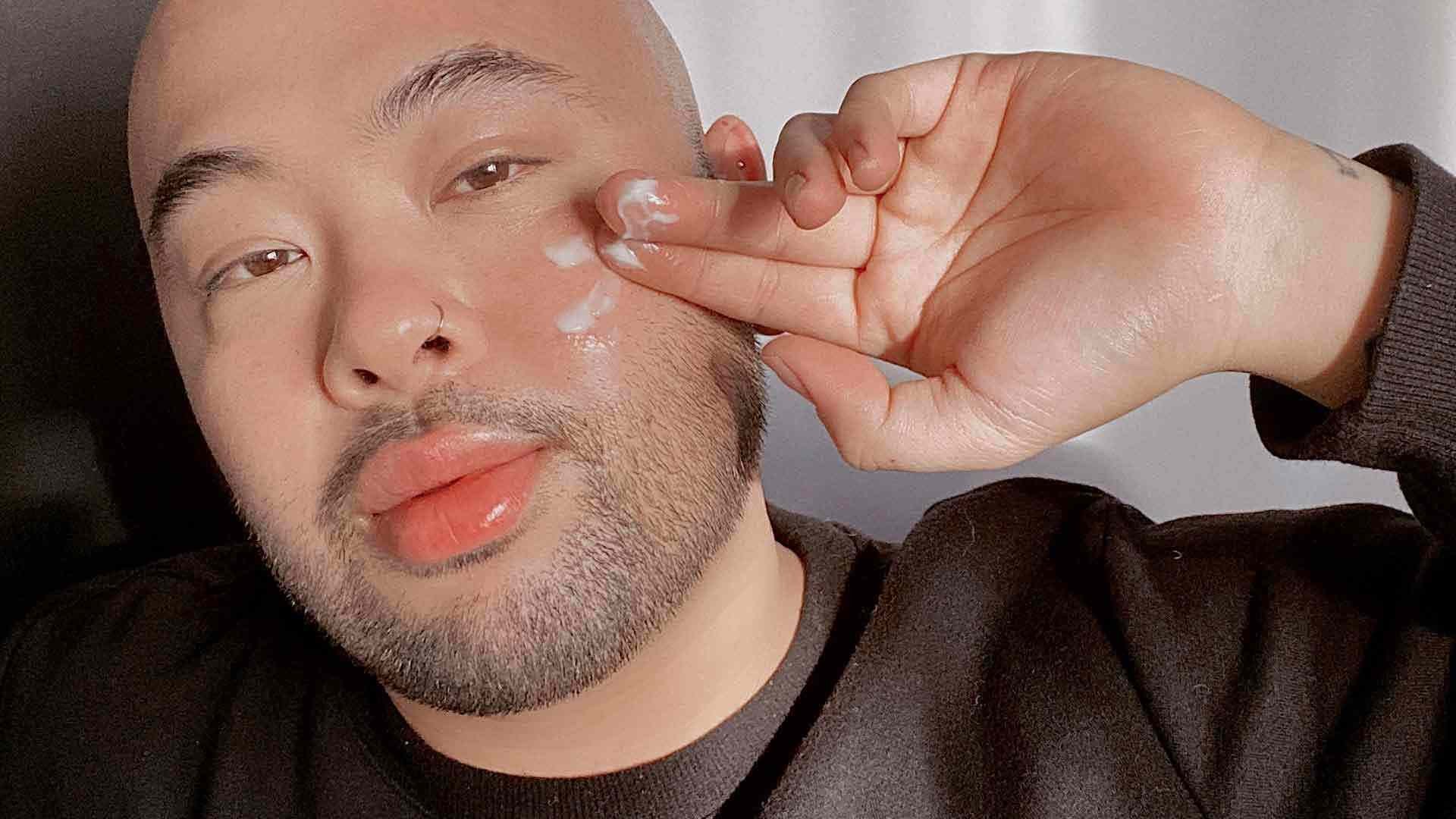 A quick rinse in the shower and a brush of your teeth will no longer suffice as a morning and nighttime routine, fellas. Taking care of your skin requires much more effort than that, and when done correctly, your skin will reap big rewards. So if you've been noticing your skin looks a bit dull, feels extra oily, or spotted a few wrinkles in the mirror, it's definitely time to upgrade your skin care routine. So to help you in your journey, we've consulted with Dr. Rocio Rivera, Vice President of scientific communications for L'Oréal Paris, for the best men's skin care tips and products to help address your concerns and help you look your best. They require more than a splash of water to the face, but they're simple and easy to incorporate into your daily routine.
Tip #1: Use Cleanser Formulated For Your Face
Cleansing in the morning and at night is essential for ridding your skin of dirt and other impurities it comes into contact with throughout the day. If you have dry skin, or if it feels sensitive after shaving, look for a cream cleanser, like the L'Oréal Paris Age Perfect Nourishing Cream Cleanser. If your skin tends to get shiny and feel oily, reach for the L'Oréal Paris Pure-Clay Detox & Brighten Cleanser, which works to draw out dirt to the surface and leave you with a refreshed glow. For combination skin, consider a face wash formulated with glycolic acid, like the L'Oréal Paris RevitaLift Bright Reveal Brightening Daily Scrub Cleanser. Whichever cleanser you choose, wash your face with lukewarm—not hot—water. "Piping hot water can cause a heightened level of skin sensitivity after cleansing," explains Rivera. "So by simply using warm water to wash your face, your cleansing will be much more efficient."
Tip #2: Don't Skip Moisturizer
No matter your skin type, your skin needs moisture and the best time to apply facial moisturizer is after cleansing, while your skin is still damp. Rivera recommends looking for a moisturizer that will protect your skin against irritation, so you're less likely to experience the negative side effects of shaving (if you shave, that is). For daytime, consider a moisturizer with SPF—like the L'Oréal Paris RevitaLift Bright Reveal Brightening Day Moisturizer SPF 30—to protect your skin against UV rays that can spark early signs of skin aging like fine lines, wrinkles, age spots, and sagging skin. Just remember to reapply throughout the day to stay protected! For nighttime, try an anti-aging moisturizer like the L'Oréal Paris Revitalift Triple Power Anti-Aging Moisturizer Fragrance Free so that you can wake up with softer and brighter skin.
Tip #3: Focus On Your Eye Area
The skin around your eyes is likely to show the first signs of skin aging, as it is very thin. An eye cream can help bring moisture to this area, which is prone to dryness and can also help address skin concerns around the eyes, such as crow's feet, dark circles, and puffiness. Rivera notes that if you keep your eye cream in the refrigerator it offers an extra cooling effect, which will help depuff your eyes as well. Suddenly, applying eye cream is a total treat! Reach for the L'Oréal Paris Age Perfect Eye Renewal Eye Cream to help minimize your eye concerns.
Tip #4: Tend To The Skin Under Your Beard Or Mustache
Don't forget, the skin under your facial hair needs attention. And dry skin and itchiness tend to be a common problem for this area. So try to keep the skin beneath your beard or mustache clean and moisturized. Every time you get out of the shower, apply a beard balm or rich moisturizer by massaging it well into your beard and skin. Then comb it out, and you're good to go! This way, you won't be met with an unpleasant surprise—like ultra-dry and irritated skin—the next time you shave off your facial hair.
Tip #5: Don't Be Afraid To Pamper Yourself—and Your Skin
Men deserve self-care, too! Spend a little extra time on your skin two to three times a week by applying a clay mask for 10 to 15 minutes before rinsing it off with lukewarm water. Try using the L'Oréal Paris Pure-Clay Detox & Brighten Face Mask or the L'Oréal Paris Pure-Clay Exfoliate & Refining Face Mask. These clay masks will help reveal a smoother complexion and remove impurities within the skin. Once you have these basics down, you can consider taking your skin care regimen up a notch by adding a few more products and steps.
Discover more tips & tricks
Keep your skin happy
See all articles
Shop Featured Skin Care products
Discover More